Top Travel Experiences in Uganda
Nick-named the Pearl of Africa by Sir Winston Churchill in 1907, Uganda is one of the most wildly compelling destinations in Africa. Blessed with various attractions ranging from powerful primates like mountain gorillas to hippos and crocs in her sparkling waters of the world's longest River, the Nile. Her diverse landscape hosts hundreds of Rocky Mountains including the snow-capped block host of Rwenzori and a variety of volcanic summits both active and dormant. Uganda's travel menu is so diverse in nature to be fully explained but we have chosen some of her top travel experiences that you can enjoy while on your Uganda safari.
Trekking mountain gorillas in Bwindi
Many travelers deem gorilla tracking as the best wildlife experience in the world. The vast UNESCO-protected rainforest of Bwindi is home to more than half of the world's remaining mountain gorillas. The habitat has got more than 15 habituated gorilla families with between 15-30 individual gorillas moving under the guidance of a powerful male silverback. Coming face to face with these close relatives of ours is an indescribable experience, it is the ultimate highlight of a typical Uganda safari and it will ever remain as your life's top wildlife experience
A trip to River Nile's Murchison Falls
The world's longest River originates from Uganda's section of Lake Victoria and it forms this magnificent waterfall view as it flows northwestwards through the vast Murchison Falls National Park. Watching the Nile's waters descend 43 meters deep into a wide plunge pool at the base of the cliff in Murchison Falls National Park is such an incredible and breathtaking experience. Murchison Falls National Park is Uganda's biggest wildlife reserve hosting a high density of game varieties including elephants, lions, buffaloes, leopards, giraffes that can be seen in most parts of the park. Hippos, crocs and other aquatic dwellers in the park can be viewed while on a boat cruise.
Hiking to the Margherita Peak of Rwenzori Mountains
The Rwenzori Mountains with its peaks known as the mountains of the moon are a dream destination for hikers. It is rarely hiked compared to other mountains in Africa but this just gives it a unique quality of untouched terrain.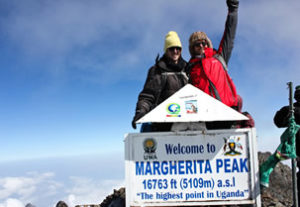 The Rwenzori Mountains are made up of six massifs including Mount Stanley where the highest point of Margherita peak sits at 5,109 meters above sea level. Other massifs include Mount Speke, Mount Baker, Mount Emin, Mount Gessi and Mount Luigi di Savoia.
As you hike the summits to the top, you go through the overlapping vegetation zones where you meet a variety of fauna species including L'Hoest monkeys, three-horned chameleons, hyraxes, among others. At the top, you arrive at the ice-capped peaks and some characterized by unusual vegetation and mist-covered alpine lakes.
Game drives at Queen Elizabeth National Park
This is Uganda's second largest wildlife reserve after Murchison Falls National Park and it is second to none in terms of wildlife diversity. The park has got over fauna 600 species including many Rift Valley endemics. The park hosts a good number of chimpanzees, antelopes, buffalo, elephants, hyenas and any more. However, the tree-climbing lions in the Southern Ishasha sector of the park are the most anticipated by every visitor. They are very easy to watch as they hang across the transparent acacia branches while they watch closely their prey in the nearby grazing antelopes. The boat cruise along the Kazinga channel brings closer to the park's water dwellers including hippos, crocs, and elephants that hang around its shores.
Kampala City Tour
This is Uganda's capital and it acts as a display window for every human aspect from the country's diverse culture. Kampala is such a unique and amazing city with plenty of stuff to explore. From the chaotic early morning and late evening traffic jam and the desperate traders straddling the streets and other city corners to the calm and refreshing gardens of the uptown section, the city gives a mix of Uganda's set up. Among Kampala's hotspots include the busy markets of Owino and Nakasero where all kinds of foodstuffs grown across the country are sold, the historical and cultural sites including the burial ground of Buganda kings at Kasubi Tombs, Namugongo Martyrs Shrine and the National Museum. The hospitable nature of the locals allows to interact freely and ask them about anything that you may want to know about the city and Uganda at large.
To book a wildlife safari in Uganda and Rwanda,