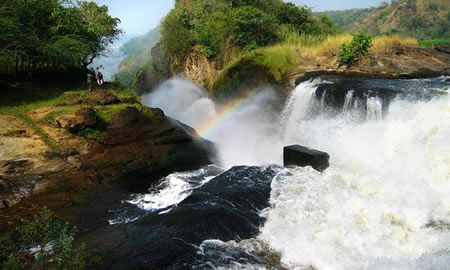 Murchison falls national park was established in 1952 to protect the unique flora and fauna at the Northern end of Albertine Rift Valley .The park is divided by the Nile into  two parts; the south consists of Budongo forest reserve  and the north is more of a savannah habitat. The spectacular attraction of the park is the Murchison falls. It is the largest national park in Uganda covering an area of 3,893 sq kilometers. The conservation area includes Karuma (675 sq. km) and Bugungu ( 501 sq.km) buffer reserves.
It is located in northwestern Uganda covering four districts that is to say Masindi which is the nearest town to the park, Nwoyo, Bullisa and Kiryandongo. These districts are inhabited by diverse tribes  including acholi, Banyoro, Alur and Langis. It takes about a 5 hour drive(270km) from Kampala or Entebbe to Murchison falls. The park can also be accessed by flight through Pakuba or Chobe airstrip
Vegetation in Murchison falls national park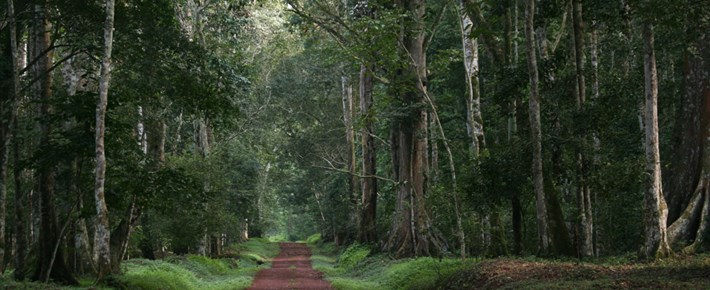 The park has different types of vegetation for example, savannah and tropical rain forest. The north part of the park is covered with  savannah consist of open savannah where most of antelopes prefer to be so as watch their prey, woodland containing acacia thickets where lions and leopards tend to stay during day, riverrain forest along the north bank of river nile.
The south of the park is covered with tropical rainforest taking the parts of budongo forest, Kaniyo Pabidi forest,Rabongo forest. Budongo forest is found in the northern escarpment of lake albert. It is categorized under  semi deciduous medium altitude forest. The forest supports about 465 tree species but is famously known for its largest buttressed giant mahoganies that are 60 meters tall.
Others like ironwood trees where chimpanzees and monkeys spend most of their time. It harbors over 600 chimpanzees,  and other primates like olive baboons, red tailed monkeys, black and white colobus monkeys,360 birds like yellow footed fly catcher, 24 mammals  like leopards, elephants,antelopes, buffaloes, 20 amphibians for example, frogs and toads, salamanders, newts, caecilians among others. Budongo forest can be visited in dry seasons, that is to say June to September or December to February.
Because of different vegetation types, the protected area harbors a rich biodiversity including over 450 bird species and 77 mammal species
Wildlife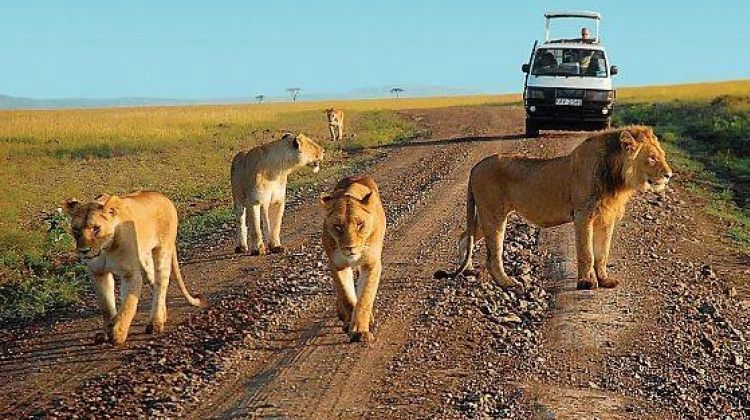 The park is famous for its large herds of animals and as well the vast and amazing landscape. It has about 77 mammal species and it supports four of  the big fives which includes; lions, elephants, buffaloes, leopards.
There have been no  rhinos since they were poached in 1983 but can be  found in Ziwa rhino sanctuary Nakasongola. There are also other wildlife for example hartebees, oribis, Rothschild's giraffes, side striped jackals, uganda kobs and hyenas.besides the large mammals there are also primate species such as rare patas monkeys living in savannah and in budongo and Kaniyo Pabid forest  including about 800 chimpanzees as well as olive baboons, black and white colobuses, red tailed,velvet monkeys
The park has got over 450 birds species including water birds like shoebill stork, kingfisher, egyptian goose, pelicans, savannah birds including; blue breasted roller,african fish eagle, abyssinian ground hornbill, gray crowned crane,martial eagles, heron. these are well spotted with aid of binoculars
What to do and see in Murchison falls national park
Game drive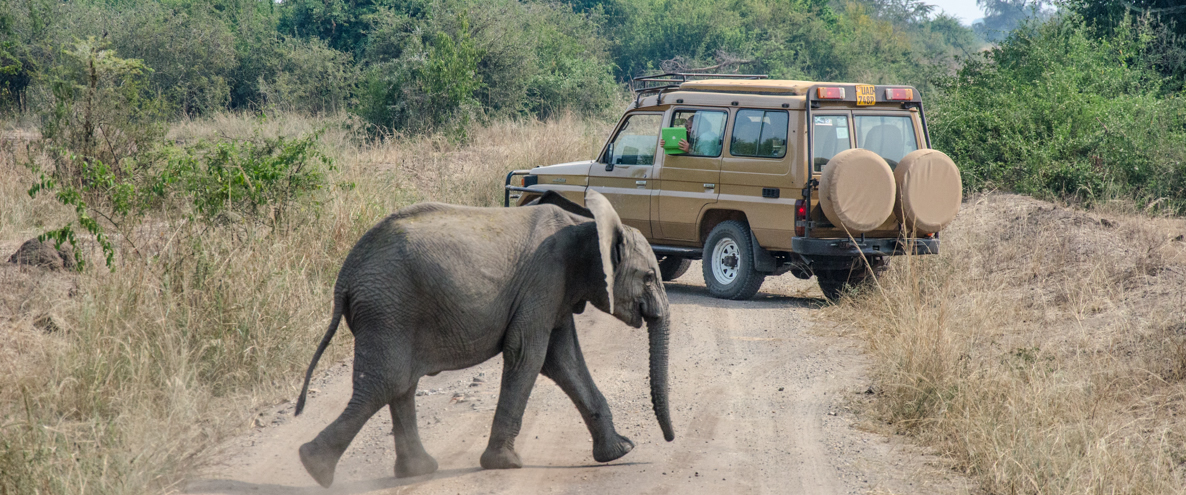 Murchison falls national park offers 4×4 morning ,evening and night game drives,  morning game drives  begin early  between 6:00am  to 6:30am in order to view the beautiful sunrise. there is also a high chance of spotting predators like leopards, lions, spotted hyenas  when hunting.herbivores like elephants, nubian giraffes, buffaloes, angelates like orbis, uganda kob, jackson hartebeest, bushbucks, waterbucks . Night game drive starts between 7:30pm to 9:30 so as  to spot the nocturnal animals for example leopards, lions, side striped jackals, hyenas, serval cats and birds like owls. Tourists doing night game drives should be accompanied by game  rangers for safety. In order to maximize wildlife viewing, try out different game  tracks and waterholes like lake Albert delta.
Birding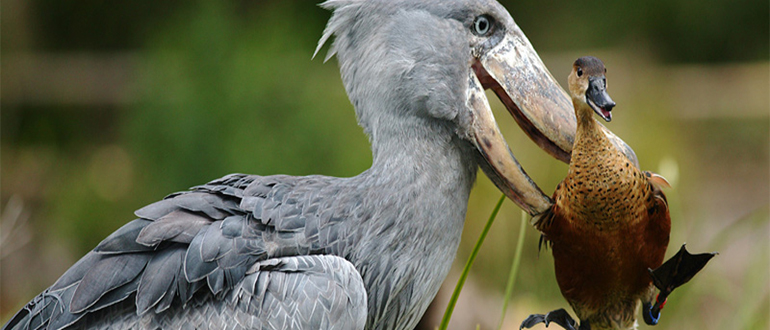 There are over 450 bird species in Murchison falls national park including Albertine rift endemics, water birds and savannah birds. The park is one of the best places in Africa to see the amazing shoebill stork which is always spotted while on the boat cruise on Victoria Nile towards the lake Albert Delta. Other bird species commonly seen in the park include giant kingfisher, long-toed plover, African darter, grey-headed kingfisher, giant heron, among others.
Boat cruise.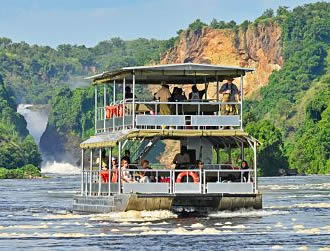 Murchison falls national park offers two boat cruises, that is to say; cruise to the albert delta  and to the bottom of the falls. boats move from para dock sailing towards the shores of lake Albert, this is done by tourists intending to  see shoebill stork. This can be done any time  of the day, especially in the evening. It gives a great view of the sunset . The Boat cruise to the  bottom of falls  begins from 2pm to 5pm where the boat sails  upstream to the falls giving one a view of water from falls flowing  in the 7 meters gorge producing a rainbow. The boat doesn't reach up to the falls due to the rocks in between the Nile and the falls. Tourists are able to see acqualife for example Nile crocodiles on shoreline of the Nile, herds of hippos in water,  water birds like kingfishers, elephants on the shoreline of the Nile, cliffs besides the nile.
Top of the fall hike
It is a must do for keen photographers given that it gives a clear view of the twin falls and how the river stretches downstream. It takes tourists to the devil's cauldron point which exposes how water from the falls squeeze in the 7 meters narrow gorge making the grounds to tremble and water to splash  . This must be done with the help of the guide and ranger.
Accommodation
The park provides a wide range of accommodation ranging from budget, middle range and luxury lodges  inside and outside the park. Some of the most popular safari lodges around the park include Pakuba safari lodge, Chobe safari lodge, Budongo eco lodge, Redchilli, Hornbill lodge,Murchison river lodge