Rwanda Safaris; What to See & Do
Tailored Rwanda gorilla tours with Gorilla Trek Africa, for gorilla tours in Volcanoes National park Rwanda's best spot for gorilla trekking experiences. The land of a thousand hills is a home to the highest population of mountain gorillas with 10 habituated gorilla families. The park covers an area of about 46 square miles a home to six volcanoes which share borders with the Uganda and Democratic Republic of congo. It's in Volcanoes National park that Dian Fossey set up her base and research center. Rwanda gorilla tours are slightly less strenuous than at Bwindi forest since mountain gorillas move around a little less. The open bamboo allow more light penetration making it better for photography compared to the impenetrable forest of Bwindi. Rwanda gorilla groups include susa A group, susa B group, Agashya group, Bwengye group, Amahoro group, Kwitonda group,Hirwa group, Sabyinyo and Umubano group each of which is visited by eight people.
In addition to mountain gorillas, our Rwanda tours also entail visiting the endangered chimpanzees in Nyungwe Forest National Park to meet man's closest relative the "chimps". We further offer you guided game viewing tours to Akagera National Park which home to the big five game and many other wild animals and birds.
For adventure travelers, enjoy Mt karisimbi and Bisoke hiking for the mountaineering experience in Rwanda
What to do on your Rwanda Safaris
Mountain Gorilla Trekking: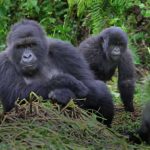 This is the number one travel activity, the focus of most travelers on Rwanda Safaris. Rwanda gorilla safaris tae place in Volcanoes National Park located in North Western Rwanda. The Park is home to the highest mountain gorilla population in the Virunga Conservation Area. There are over 400 gorillas in VNP habituated into 10 gorilla groups. Each gorilla permit in Rwanda costs $15000 but it's worth it.
Chimpanzee Trekking:
This takes places in Nyungwe Forest National Park in the south western region of Rwanda. Enjoy a close encounter with the endangered chimpanzees of Rwanda seen in either the main Nyungwe Forest or the Cyamudongo Forest. Chimpanzee trekking in Nyungwe Forest costs $90 which make it a bit cheaper compared to the sister mountain gorillas. In most cases, chimpanzee trekking in Nyungwe Forest is done alongside canopy walk which offer you great aerial views of Nyungwe Forest, Virunga Volcanoes and the neighbouring communities
Game Viewing: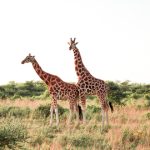 Explore the big five game in Akagera National Park with Gorilla Trek Africa. The guided game drives in the morning, evening and night offer you great views of wild animals such as Lions, Elephants, Buffaloes, Leopards, Rhinos, Giraffes, Topis, Oribis, Waterbucks, Warthogs, Zebras, Duikers, Impalas and Hyenas among others. Also in Akagera National Park, join a boat ride at Lake Ihema best for bird watching on the shores
Kigali City Tour:
Enjoy the Kigali city tour and appreciate the beauty and cleanness of this small city ranked top in Africa. You will visit numerous destinations in the city centre such as the iconic Kigali Convention Centre, Kigali genocide memorial Centre, Presidential Palace, Art galleries and local markets.
Volcano hiking: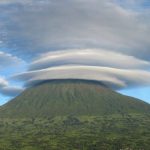 Join our Rwanda adventure safaris to hike Mt Karisimbi located in the borders of Rwanda and the Democratic Republic of Congo guided by Gorilla Trek Africa. The volcano stad at 4507 meters above sea level making it the tallest volcano in the Virunga Conservation Area.The 2 Days Mt Karisimbi hiking tour is the best package to conquer this iconic volcano. The other Volcano to hike in Rwanda is Bisoke Volcano which can be hiked up and down in one day.
How to Book a Safari with Gorilla Trek Africa
Do you have a query on any of the above tours? When you are interested in booking any of the above safaris, you can do it online by filling our Reservation Form or call and book with one of our knowledgeable vacations specialists. Our vacation specialists are available 7 days a week and are happy to answer any questions you may have.