Before confirming any trip with Africa Adventure Safaris, it is paramount for you to carefully read through these Terms and Conditions as they set out our respective obligations and form the basis of your contract with us. In these terms and conditions laid out, "you" refers to all persons named on the booking (including anyone who is added or substituted at a later date) while "we" and "us" refer to Africa Africa Adventure Safaris Ltd. These terms are subject to revision from time to time depending on the prevailing circumstances. Conditions in Africa may not look similar to those in developed countries and the service standards may seem inferior to those of your home countries especially in upcountry lodges. Please note that the terms and conditions of our service to you are subject to the laws and regulations the country in which we operate.
When You Cancel the Trip
In an event that you want to call off your safari, you are obliged notify us in writing, clearly spelling out the circumstances surrounding your need to cancel your confirmed safari. Your cancellation is only effective once we confirm receipt of your notification. In order to cover our estimated loss as a result of your cancellation and since we may not be able to resell your holiday, cancellation fees / penalties will be applied.
In rare occasions where two people are booked to travel together on a shared cost basis and for unforeseen reasons one drops out/cancels the trip, he/she will bear the single supplement costs for the one that will now travel solo. Alternatively, the two can agree on sharing that additional cost or reschedule their trip together to a future date if the reasons for cancellation is beyond their control
When We Cancel the Safari
On rare occasions do we have to cancel a confirmed booking. We always try to avoid canceling, but we must reserve the right to do so. We shall not cancel your confirmed holiday less than 40 days before departure unless we are forced to do so as a result of unusual and unforeseeable conditions beyond our control, the consequences of which we could not have avoided even with all due care. We reserve the right to cancel your holiday in case; you have failed to make the payment or as a result of force majeure. In such events, we shall offer you a chance of purchasing an alternative holiday from us of a similar standard to that originally booked if available in future. If the chosen alternative is less expensive than your original holiday we shall refund the difference but if it is more expensive, we shall ask you to pay the difference.
Except where we cancel for reasons other than those mentioned in this section, we shall not charge any additional fee to you.
Cancellation Policy
Cancellations received and approved will be subject to the following cancellation penalties in percentage of the tour cost which the guest will lose. Please note that the tour cost in this case refers to the total safari package cost remaining after the gorilla permit and flight cost where applicable have been removed. Below is the percentage of the money that you will forfeit in an event of cancellation:
- 101 days and above 20%
- 61-100 days 30% of the safari cost
- 46-60 days 50% of the safari cost
- 16-45 days 80% of the safari cost
- 0-15 days 100% of the safari cost
 Gorilla permits and air tickets are 100% non-refundable.
There will be no refund for any unused services, late arrival or no-show of any of the members of the tour.
 There is no refund of any unused portion of your safari once inaugurated.
Importantly to note is; Gorilla Permits in Uganda, Congo and Rwanda are not refundable when already booked, as this is the policy of the respective Gorilla permit issuing bodies of those countries.
Voluntary Execution
By advancing of a deposit to Gorilla Trek Africa ltd to confirm your safari, you will have declared that you have fully read and understood the contents of the Terms and Conditions, especially those regarding cancellation and refund policies, the responsibility borne by trip participants and limitation of liability. On the advance of a deposit to Gorilla Trek Africa, the depositor / his or her family and beneficiary agree to be bound by the above Terms and Conditions.
Accommodation
We do accommodate our clients in tasteful and clean hotels/Lodges/Camps which are attractive with good and comfortable facilities, hot water, friendly staff, and reasonable prices. We request all our clients in advance to advice us in case they have any special dietary needs. We reserve the right to change any accommodation for its equivalent or superior with no prior consultation if we deem it necessary.
All the accommodations we use are either hotels or up country safari lodges. We are sorry, we do not offer camping except for mountain hiking activities.
Client's Complaints
If you have any complaint, we advise that you report it immediately to the Safari guide or Manager who will make sure your concern is addressed. If you are not satisfied, you should submit a written report to the Manager/Supplier as soon as possible after the incident and it should not be later than 10 days after completing your holiday. This will allow us to investigate fully. Unfortunately, we shall not accept any complaint not notified in accordance with this procedure.
Accuracy & Information
The information, descriptions, and opinions offered by us in respect to itineraries, national parks, gorilla permits, animal sightings, accommodation, and security are given in good faith, based on the up to date information available at the time. Care and caution have been taken to ensure the truthfulness and accuracy of the information provided. We are not liable for any mistakes or omissions caused by issues past our control.
Kindly note that full payment is required to confirm bookings made within four weeks to the start of your tour.
Forced Cancellation
We do not offer any compensation where the proper performance of our duty is affected by an incident which we or the supplier of the service(s) in question could not, even with all due care, predict or avoid. Such events may include war, terrorist activity, unexpected government acts, riots, civil conflicts, natural disasters, border closures, industrial disputes, fire outbreaks, road closures, thefts, epidemics, quarantines, land and air travel interruptions, extreme weather conditions and other similar events beyond our control.
In such unforeseen and unavoidable scenarios, we offer no refund or compensation but rather a chance to postpone or reschedule your tour to a safer and convenient future date.
Some activities in our packages carry with them the natural risk of personal injury, hence extra care and caution is emphasized while doing them. These activities may include; gorilla tracking, chimpanzee tracking, canoe/boat rides, white water rafting,  bungee jumping, cycling, walking safaris/ tours and mountaineering among others. However, you must understand that such involvement in the above activities will be at your own risk and that we bear no responsibility for any injury or death resulting from any accidents.
Mountain/Lowland Gorilla Permits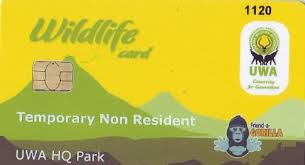 Once the payment has been received, your gorilla permits are reserved or purchased. Getting a gorilla permit is not a guarantee of seeing a gorilla. However, the chances of seeing them are about 99% since these are wild animals that move freely within their habitat range.
Unpredictable conditions sometimes mean that access to the gorillas may be made impossible at short notice. We are not liable for any circumstance that might lead to gorilla viewing being canceled; whether it is the closure of the National Park or borders, absence of the gorillas, security threats, unbearable weather conditions or a volcanic eruption. Refunds are at the discretion of the relevant authorities and we do not accept liability for them.
Payment
At the time of booking your safari, you will have confirmed that you are in agreement with our terms and conditions and pay the appropriate deposit of 50% of the total price including the fees for the Gorilla permits. The balance should be paid before the start of your safari. Please note that full payment is required for bookings made within 4 weeks to the start of your tour.
Insurance
It is important to know that when booking your holiday, you are required to purchase a suitable personal travel insurance. Persons not fit for long trips due to heart disease, chronic illness, physical handicap, advanced pregnancy or mental illness are advised not to participate in such rigorous travel programs. The insurance should cover flight delays, abrupt cancellations, death, injury, theft of the clients' personal property and medical expenses. Activities with the greater risk such as white water rafting and mountaineering should be covered as well.
Baggage
We bear no liability for any loss or damage of the traveler / guest's personal belongings and baggage during or after the trip.
Code of Conduct in National Parks
We greatly discourage the collection of any specimen from its natural habitat. Our safaris offer the opportunity to  only watch and photograph sceneries, fauna and flora, but not to disturb or interrupt their natural state. Take nothing but photographs and memories and leave nothing but your footsteps'.
Taking & Use of Photographs on Safari
We reserve the right to take photographic images of individuals on our safari to use for promotional purposes of our safaris unless someone expresses his discomfort about it ahead of time.
What is Included in our Safari Quotes
Our safari package prices include; the gorilla permits (if a gorilla trek is included in the itinerary), all accommodation, all ground transportation in private 4WD vehicles, Full- time English-speaking safari guide and his associated expenses, all meals (as per the meal plan indicated in the itinerary), bottled drinking water in the vehicle, entrances fees in National Parks, ranger guide fee where applicable, chimpanzee permits, golden monkey permits, boat/canoe rides, all applicable government taxes, and administrative costs. However these packages
What is Excluded in Our Safari Quotes
The safari quote we send yo exclude international flights, Country visas, any items of personal nature like; drinks, laundry, telephone bills, souvenirs, porters at the park, travel / medical insurance, gratuities, optional activities indicated in the itinerary and any extras not mentioned in the itinerary.
All our packages are usually on full board basis except for accommodation in major cities which are usually booked on bed and breakfast basis and guests are expected to pay of their meals separately
About Tipping
There are no specific tipping procedures or standard amounts. Local culture believes the level of tips should be at the discretion of the guest and any token of appreciation is happily received. Nonetheless, most travelers have made it a culture to tip as follows; about $5-10 in restaurants at lodges/camps, $15-20 per day for driver guides,  $5 - 10 for the park guides and rangers during primate tracking, $5-10 for porters at parks.
For more information, clarification or travel advice, do not hesitate to contact us, our safari consultants will be eager to help.