Situated in southwestern Uganda in the borders of Rwanda and Democratic Republic of Congo, Bwindi impenetrable forest national park is Uganda's natural wonder. The national park covers a total land area of 331 square kilometers a home to countless wild animals, birds, reptiles, and amphibians, which make it worth visiting. The forest was initially inhabited by Batwa pygmies who claimed its ownership with free access to all forest resources living peacefully with wild animals. Before its establishment into a national park, Bwindi was a forest reserve named crown forest reserve that was dived into kayonza crown forest reserve in the north and kasatora crown forest reserve in the south. The two forest reserves spread over 207 square kilometers and were later combined into one impenetrable central crown forest covering in 1942. As time went on, new plots of land were added onto the forest to expand the habitat of mountain gorillas reaching the present 331km2. In 1991, Bwindi forest reserve was transformed into a national park and Batwa were expelled to the forest edges and denied access to forest resources. The park is bisected into four sectors, which are Buhoma in the north, Ruhija in the east, Nkuringo and Rushaga in the south. In 1994, Bwindi was listed by the United Nations Educational, Scientific and Cultural Organization (UNESCO) as one of the heritage sites protecting the critically endangered species.
Wildlife in the park
Mountain gorillas (Gorilla beringei beringei)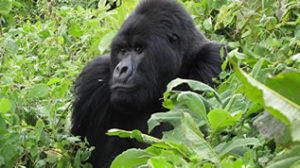 are the popular attractions for which Bwindi has been widely known. The park shelters over 480 mountain gorillas, which is half of the world's total population and gorilla trekking the most done activity in the park. These gorillas have been habituated into 12 families, which comprise a different number of adult females, juveniles, babies and a dominant silverback. Besides gorillas, Bwindi is a habit for forest elephants, antelopes, blue monkeys, colubuses, mangabeys, forest hogs, fogs, insects, geckos, chameleons, lizards and snakes among others. Besides animals, Bwindi is a home to over 347 bird species 26 of which are endemic to the Albertine region. The most spotted birds include African emerald cuckoo, dusky crimson, rusty-faced woodland, white tailed blue catchers, bar-tailed trogon, honey guide, dark caped bulbul, rusty faced woodland, yellow-eyed flycatcher, western green tinker bird, blue-headed sunbird, black-faced rufous warbler, barbets, woodpeckers, apalises, raptors, tinkerbirds, kingfishers and bee-eaters among others.Travelers are reminded to bring binoculars to capture all bird species without missing any.
Vegetation
Concerning vegetation, Bwindi is a rain forest comprised of over 220 tree species, 110 fern species, virgin forest and brown mahoganies and swamps (Mubwindi swamp) which favor the habitation of different wild animals and birds. Some trees have never been cut are as old as 1000 years forming a canopy that is indeed impenetrable. Vegetation serves as food for mountain gorillas and other animals in the national park.
Activities
Gorilla trekking is the key activity in Bwindi impenetrable forest national park and 96 gorilla permits are issued out everyday for travelers to see and interact with mountain gorillas. Interestingly gorilla trekking in Rwanda is quite cheap with a gorilla permit costing 600usd, which is relatively low compared to 1500usd in Rwanda. Also, endeavor to visit the batwa and Bakiga community village's ion the outskirts of the park. Here travelers are introduced to the traditional forest life of Batwa pygmies hunting, dances, dressing in hides, fruit gathering, collecting honey and storytelling among others. Nature /forest walk is the best way to explore Bwindi impenetrable forest national park on foot. Here travelers visit different spots such as waterfalls, which make a safari undeniably interesting. On your forest walk, expect also to meet different wild animals while listening to the sweet sounds of birds which continuously sing up in the trees.
How to get there
Fortunately, Bwindi impenetrable forest national park can be reached both by road and air. By road, travelers can use Kampala- Mbarara-Kabale-Kanungu-Buhoma connection through the northern sector of the national park. Alternatively, travelers can use Kampala-Ntungamo-Rukungiri-Buhoma route, which is the easiest and quickest route according to those who have been there before. Also, travelers can use Kampala-kabale-ruhija-buhoma route driving through the park from Ruhija to Buhoma, which is an added opportunity. For those connecting from Rwanda, Bwindi can be reached through Cyanika border in Kisoro or katuna border in Kabale connecting to Rushaga sector south of the national park.
Accommodation in Bwindi
There are several accommodation facilities in Bwindi luxury, midrange, and budget offering excellent food and sleeping services to travelers at fair rates. These lodges include Mahogany springs, Buhoma lodge, Bwindi Jungle lodge, Buhoma community rest camp, Gorilla mist Lodge, Bakiga lodge, Gorilla Safari Lodge, Ichumbi Gorilla Lodge, Agandi Uganda, chameleon hill safari lodge, silverback lodge, Ruhija Clouds Mountain Gorilla Lodge, Lake kitandara Tented camp, Engagi Lodge, Trackers Safari Lodge, Buhoma Community Haven Lodge, Crested crane Bwindi hotel and Gorilla Valley lodge among others.
in conclusion, Bwindi impenetrable forest national; park offers it all you need to meet and exceed your travel expectations. Trek mountain gorillas, do forest walks and support the local communities adjacent to the park