Do you ever dream being among a team of people going for Gorilla trekking one day? An encounter with the endangered species in their natural habitats is the best wildlife experience you should add on your travel bucket list. Gorilla safaris take place in Africa's most spectacular rain forests of Bwindi impenetrable Forest and Mgahinga gorilla national park in Uganda, Virunga National Park in Congo and Volcanoes National Park in Rwanda. At Gorilla Trek Africa, we organize different gorilla trekking tours that take you deep into these rain forests in search of the endangered giants. These trips are available all year round and can be taken any time of the year! Gorilla treks are complemented by other activities which include game viewing in the open Savannah parks, Volcano climbing in the Virunga massif, bird watching, chimpanzee trekking, cultural tours, golden monkey trekking, bird watching and forest walks among others. A Combination of these make a complete safari package to meet, satisfy and exceed all your travel expectations.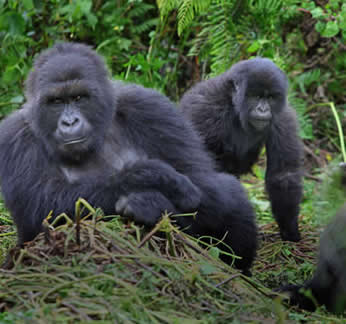 Tips for Gorilla Trekking
Gorilla trekking in Rwanda is a very well run conservation project. In the morning you are taken to the park headquarters where you are assigned to a gorilla group and given a briefing.
It's possible to choose a particular gorilla group to track, but that is only possible if it was requested for early enough. If you are in a large group, it's best if you trek the same gorilla group to easily coordinate your pickups. Also if the tour group has some unfit people, it's best not to go for long treks. You get an hour with the gorillas once you find them. Reaching and seeing them is virtually guaranteed nowadays.
It is variable how long it takes to trek to the gorilla group because they are obviously free to roam anywhere,
The different Gorilla Groups
Amahoro Group (18 gorillas, ranging through all ages) 30 minute drive over extremely bumpy road to car park to start trek. Then 2 minute walk to the gorillas (loads of hurtful nettles - wear robust or waterproof-type pants because they can perforate through anything thin; if you get stung it will hurt initially but it settles within about 30 minutes or so). After nearly 10-15 minutes in the gap of the jungle (abundance of sunlight), you begin to view the gorillas move down the mountain into an area with a lot of bamboo, still reasonably open ground area but much less light. The weather is very uncertain its best to wear layers but it also gets pretty hot after walking. The whole hour with the gorillas is spent in a forested/bamboo area (low light).
Directions regarding photography
Accelerated lenses are virtually sure necessary. It is not necessary when the gorillas were in the space in unswerving sun but most of the time they aren't in such strong light.
Gorilla Trekking Packing List
Gorilla Trekking Packing List
The packing list below is just a mere guideline as you may have your own preferences:-
– 1-2 long sleeved shirts
– 3 short sleeved t-shirts
– 2 –3 pairs of light weight slacks/trousers – that can dry quickly (if wearing on treks)
– 1 pair of shorts
– 1 sweater or sweatshirt
– A waterproof and windproof jacket
– Gloves – gardening or similar (for gorilla trekking)
– Strong waterproof walking boots – pants should be tucked into socks and boots while trekking
(heavy soled rain boots also work well)
– Pair of sports sandals like Tevas
– Hat-wide brim or with a visor for sun protection
– Kleenex tissues
– Underwear
– Lightweight wool socks
-Miscellaneous
– Sunscreen
– Sunglasses with neck strap
– Insect repellent with DEET
– Small day pack
– Flashlight
– Binoculars
– Extra batteries
– Camera and extra lenses
– Film particularly fast film for the gorillas.
– Prescription medicines and possibly prescription itself
First Aid Kit including rehydration sachets, anti-diarrhea medicine, aspirin, cold medication, antiseptic cream, band-aids, motion sickness pills, lip balm, eye drops and personal medication.
Inquire