Enjoy Congo gorilla tours in Virunga national park in the eastern province of Democratic Republic of Congo with Africa Adventure Safaris Limited. A Congo gorilla tour is a remarkable Africa adventure experience that leave lasting impressions.Despite the less visits, Congo is an exceptional travel destination sheltering a quarter of the world's mountain gorillas in Virunga national park covering Congo's share of the Virunga Conservation area.Besides mountain gorillas,Dr Congo is home to the Eastern lowland gorillas in Kahuzi Biega national park in Bukavu. At Africa Adventure Safaris, we arrange Congo gorilla tours from Kigali crossing over to Congo. Gorilla encounters in Congo are complemented by Nyiragongo volcano climbing which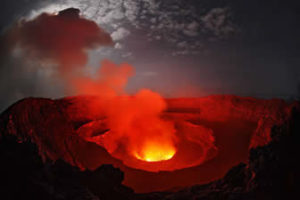 together makes a complete Congo safari package.
Gorilla tours to Congo are done through Kigali were travelers fly to Kigali international airport and cross over to Congo through Rubavu/Goma border in North Kivu province and Cyangugu south of Lake Kivu. Besides gorilla trekking, Congo offers you the most exceptional hiking tours to the top of the active Nyiragongo Volcano whose summit shelters the world's largest lava lake.
Featured Congo Gorilla Safaris & hiking Packages
Guide to Congo Safaris
Due to continuous insecurities in the Democratic Republic of Congo, the government and Park managements have put strategies to ensure safety of travelers on gorilla safaris and hiking experiences. For that case, armed rangers guide all safaris to Congo right from the hotel/lodge to the park and back. Your Guide from Gorilla Trek Africa will take you to the Lodge and wait fro you from there. However despite the instabilities, gorilla safaris and other travel experiences in Congo remain exceptional and worth doing. Check the MUST do things in Congo with Gorilla Trek Africa
Mountain Gorilla Trekking
Enjoy guided Congo mountain gorilla treks to Virunga National Park. The park is one of the four parks where these endangered primates live in the whole world. Virunga Park is believed to shelter over 300 mountain gorillas, which travelers chance to experience this magical feeling of looking into the eyes of the silverback gorilla. There are 8 habituated gorilla families in Congo which guarantee availability of 64 gorilla permits everyday. Interestingly, a Congo gorilla permit costs $450 which make it cheaper and affordable compared to Rwanda @$150 and Uganda @700 per permit. Congo is therefore the best gorilla tour destination for budget travelers.
Lowland Gorilla Trekking
Go to trek the endangered eastern lowland gorillas in Kahuzi Biega National Park! The lowland gorillas are the largest specie compared to other species in the world. It's only in this Park that travelers can trek lowland gorillas in the globe.
Nyiragongo Volcano hiking
For adventure travelers, Nyiragongo hiking is the best experience for you in Congo. Enjoy a trek on the lose rocky slopes to the summit of the active Nyiragongo and get chance to peep into the world's largest crater lake with boiling lave. The 3 Days Nyiragongo tour is the best package for you to conquer this Volcano. The permit for hiking Nyiragongo volcano costs $300 paid at the head quarters of Virunga National Park. You can s combine Nyiragongo hiking and gorilla trekking to make your experience more enjoyable.
Birding and nature walks
A guided walk through the jungle forests of Congo is a magical experience you will live to remember. Walking on foot through the forest gives you chance to discover the hidden gem you cannot see on a vehicle. Also, enjoy birding experience to see various bird species in Congo some of which are jot found anywhere else in the world. Some birds to see in the Democratic Republic of Congo include White faced whistling duck, White backed duck, Knob billed duck, Spur winged goose, Gadwall, Yellow billed duck, Flamingoes, Cape shoveler, Maccoa duck, Northern Pintail and Black guineafowl among others.
Generally, Congo is naturally gifted by nature to offer you all you need on a safari. Contact Gorilla Trek Africa and book a tailor made Congo safari to trek mountain gorillas, lowland gorillas and Nyiragongo Volcano experience.