For gorilla tours, Rwanda has positioned herself as the best gorilla trekking destination in the world. Are you interested in budget or luxury trips to Uganda or DR Congo?  Book a lifetime wildlife experience to see the endangered primates in their natural habitats. Our emphasis on exceptional travel services has made Gorilla Trek Africa Ltd (GTA) one of the best tour operators in Africa.  Book an exceptional gorilla tour to Volcanoes, Virunga, Bwindi forest, and Mgahinga national parks.  Besides gorilla safaris, we also organize other adventure experiences including  chimpanzee trekking & habituation, bird watching, and mountain climbing to make your African safari a complete package.
We also tailor-make itineraries that include Tanzania's premier national parks including Serengeti, Ngorongoro, Tarangire and Lake Manyara; Egyptian and Ethiopian world class archaeological sites; and a visit to the world largest Victoria waterfalls in Zimbabwe.
Visit our  useful travel information  page for detailed advice on when and how to book  gorilla permits.
Luxury Rwanda  Gorilla Tours & Wildlife Packages in Uganda
Enjoy our tailored luxury gorilla tours and wildlife packages to Uganda, Rwanda and the Democratic Republic of Congo. In addition to our standard safaris, Gorilla Trek Africa is offering luxury packages which feature luxury hotels and lodges across Africa.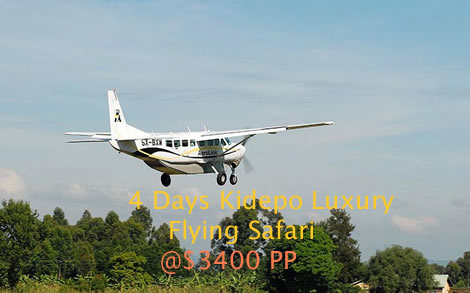 Enjoy a 4 Days Kidepo Valley luxury flying safari with Gorilla Trek Africa. Enjoy the gem in Kidepo Valley within the shortest time possible. Read More
Frequently Asked Questions About Gorilla Tours
About gorilla tours
Gorilla trekking is ranked as one of the best wildlife adventure experiences in the world that attracts  high numbers of travelers from different parts of the world. For over a decade, Gorilla Trek Africa has been making adventure safari dreams come true (refer to our tripadvisor reviews). Your tour with us will be characterized by magical moments – You'll laugh, you'll cry and you'll perhaps fall in love with the beautiful wilderness. Get off the beaten track and into the scenery with our 4WD- off-road vehicles with luxury coach seats and air-conditioning. There are no hidden extras. There has been a common report from all travelers who have trekked the gorillas, describing the experience as the best in all wildlife encounters. You will feel inspired, emotional and satisfied after looking into those liquid brown eyes of these human-related apes. There is still much to see in Rwanda away from mountain gorilla watching, visit the mountain-ringed Lake Kivu in the West of the country and feel an inland sea atmosphere. Or you can head South to Nyungwe Forest National Park and see her rich flora of the montane tropical forests; and fauna including chimps, monkeys and amazing avian life. Our safaris range from 1 to 24 days and give you the option to arrange a relaxing break; so it's easy to see everything a country has to offer.