Rwanda Gorilla Tours: Gorilla Trekking & Wildlife Safaris
Book customized gorilla tours and trekking adventures in Rwanda, Uganda, and Congo with Gorilla Trek Africa the leading travel agent in East and Central Africa. Book exceptional gorilla trekking to Bwindi forest, Mgahinga gorilla, Virunga, and Volcanoes national park  and enjoy this once in a lifetime wildlife experience. Besides gorilla safaris, we immerse you with memorable Africa holiday experience. We help you explore the natural beauty, sunny weather and stunning environment in Africa at affordable rates with unparalleled value. Venture further for chimpanzee trekking, bird watching, and mountain climbing to make your African safari a complete package.
We further offer you useful travel information about what to pack for gorilla trekking, best time to trek gorillas, age limit,when to book for gorilla permits and give answers to all faqs on gorilla safaris in Africa.   With 15 years experience in offering memorable gorilla trips and  game viewing tours with Gorilla Trek Africa guarantees you a memorable experience. wildlife safaris across Africa perfectly tailored to fit your interests to ensure you have a successful and enjoyable African safari holiday.
Join a 3 Days Queen Elizabeth National park tour  for game viewing and boat cruise at kazinga Channel with Gorilla Trek Africa. Explore the beauty of Uganda's second largest park. Read More
Book a 4 Days Rwanda gorillas and dian Fossey grave hike with Gorilla Trek Africa. Trek Rwanda gorillas in Volcanoes National park at discounted rates with GTA. Read More
3 Days Eastern Lowland gorilla tour to Kahuzi Biega National Park is your prefect package to meet the biggest gorilla specie in the world.  Gorilla Trek Afrrica is your perefct guide. Read More
Join our Adventure 5 Days Congo Nile trail to explore a thousand rolling hills of Rwanda on a bicycle with Gorilla Trek Africa. The experience entails riding through farms and local communities. Read More
COVID19 STANDARD OPERATING PROCEDURES
*  Boarding your plane, you will be required to show your covid 19 negative test results which should be valid for not more than 72hrs (applies for both Rwanda and Uganda)
* Also you are supposed to fill a locator form (link below) which you will also be asked before boarding (failure to have it, you will be denied boarding)

http://www.rbc.gov.rw/travel/
* Once you arrive in Kigali, you will take another covid 19 test and be in self quarantine at any of the chosen hotels in Kigali for 24hrs as you wait for your covid 19 test results
* These results expire every after 72hrs, hence if your tour is still going on, you will need another test to allow you enter any other park or do any other activity after 72hrs of your test. (This applies to Rwanda only, not Uganda)
* Before departure from Rwanda or Uganda, you need to do another covid 19 test not more than 72hrs before your departure as you will be required to present your results before boarding your departure flight.
* While on your tour, you are advised to carry your masks and maintain social distance whenever you are in the public
VISA INFORMATION
* Foreign Nationals wishing to obtain Rwandan Visas, can obtain visas at the airport without prior application.
*To apply for an East African Visa, follow the following links
https://irembo.gov.rw/rolportal/en/web/dgie/newhome (via Rwanda)
* https://visas.immigration.go.ug/ (Via Uganda)
Note: If the point of departure and arrival is the same in any of both countries (Rwanda & Uganda), but visiting either country in the same leg, an East African visa is recommended.
You can apply for it through the links above depending on which country you will be arriving in first.
Yellow Fever Vaccination is recommended unless you are from a yellow fever free country
* Remember plastic bags are prohibited in Rwanda
*  We do not offer insurance, hence you are all ecxnouraged to purchase your own insurance cover from your home country before travelling
Detailed answers to all gorilla trekking questions with Gorilla Trek Africa, the number one travel company in Uganda, Rwanda and Congo
• What is gorilla trekking
The experience is all about getting up close with the endangered mountain gorillas in their natural habitats. Gorilla trekking entails all day search and interaction for mountain gorillas. The encounter is reviewed as magical and the most wonderful wildlife experience in the world.
• What are the trekking rues and regulations?
At the start of each gorilla trekking day, travelers are introduced to gorilla trekking rules and regulations to ensure safety of the endangered gorillas and travelers in the jungle.
The do's and don'ts of gorilla trekking include
1. Keep a distance of seven meters away from gorillas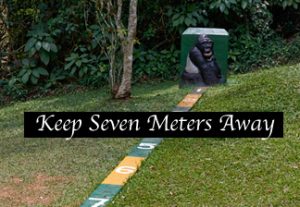 2. Do not trek gorillas when sick
3. Do not throw rubbish in the jungle
4. Keep within your groups
5. Speak at low tone
6. Do not touch the gorillas
7. Avoid direct eye contact with gorillas'
8. Avoid flash light cameras
• Where to go for gorilla trekking
Gorilla trekking is done in Uganda's Bwindi forest and the Virunga conservation area shared by Mgahinga, Volcanoes and Virunga national parks in Uganda, Rwanda and Congo respectively. You can choose to trek gorillas in any of the three destinations or do a combined gorilla safari to all gorilla parks for accurate comparisons and exceptional experience.
• Cost of gorilla permits in Rwanda
A single gorilla permit in Rwanda costs $1500 paid by all travelers regardless of one's nationality. Rwanda gorilla permits are bought from Rwanda Tourism Board or through Gorilla Trek Africa Limited.
Due
• Cost of gorilla permits in Uganda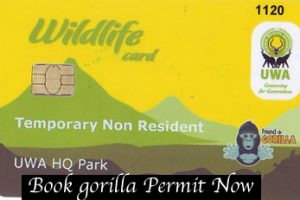 The cost of Uganda gorilla permits varies depending on one's nationality. A single gorilla permit to Bwindi/Mgahinga costs $600 for foreign non-residents, $500 for foreign residents and 250,000shs for east African residents. All permits are bought direct from Uganda Wildlife Authority (UWA) or through Gorilla Trek Africa.
• Cost of Gorilla permits in Congo
Congo gorilla permits cost $450 each to visit gorillas in the Virunga national park and eastern lowland gorillas in Kahuzi Biega national park. Gorilla Trek Africa helps you secure and reserve Congo gorilla permits at a relatively low cost. Due to high demand for gorilla permits, travelers planning gorilla trips are reminded to book for gorilla permits as early as 6 months before the trekking date. Also, you are required to pay 30% booking fee to secure the permit and avoid any disappointments.
•Is gorilla trekking safe?
YES, gorilla tracking in Uganda, Rwanda and Congo is safe and done all year round. Respective governments have deployed tourism police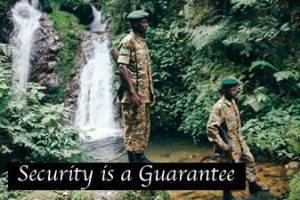 in all gorilla parks to ensure safety of endangered mountain gorillas and travelers in Bwindi, Mgahinga, Volcanoes and Virunga national parks. Also, mountain gorillas have been habituated hence pose no harm to travelers.
• What if I fails to see mountain gorillas?
The possibility of seeing mountain gorillas is 99.9 if not 100%. Early in the morning, park rangers and trackers hike into the jungle before clients to trace the where about of gorilla families. They then give directions to travelers on where gorillas are located. In case you fail to see gorillas after a full day of trekking, you are given a second chance to trek gorillas in the next day.
• Should I carry packed lunch?
Yes, travelers are given packed lunch while going for gorilla trekking. This entails energy giving snacks, fruits and drinking water to keep you strong during hiking.
• Uganda Or Rwanda? Which one is best for gorilla trekking
How best is gorilla trekking experience in Uganda or Rwanda depends on the client. Each gorilla destination is unique in its own kind offering exceptional gorilla encounters. Travelers are therefore advised to trek gorillas in both Uganda and Rwanda to have better comparisons.
• How many gorillas are living?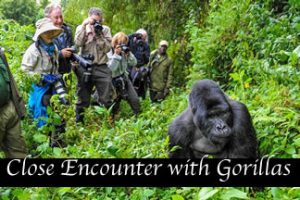 According to the 2018 gorilla census, there are 1004 mountain gorillas in Bwindi forest and Virunga conservation area. These gorillas have been habituated into 36 gorilla families altogether. 17 gorilla groups live in Bwindi forest, 10 gorilla families in Volcanoes, 8 in Virunga and 1 in Mgahinga gorilla national park. Also, two gorilla groups of Kutu and Bikingyi are still undergoing habituation experience in Rushaga sector of Bwindi forest national park.
About gorilla trekking safaris
Gorilla trekking is widely known as the best wildlife experience in the world which attracts the highest number of travelers from all parts of the world
For over a decade Gorilla Trek Africa has been making gorilla safari dreams come true. Your tour with us will be characterized by magical moments – You'll laugh, you'll cry and you'll perhaps fall in love with the beautiful wilderness. Get off the beaten track and into the scenery with our 4WD- off-road vehicles with luxury coach seats and air-conditioning. There are no hidden extras.There has been a common report from all travelers who have trekked the gorillas, describing the experience as the best in all wildlife encounters. You will feel inspired, emotional and satisfied after looking into those liquid brown eyes of these human-related apes. There is still much to see in Rwanda away from mountain gorilla watching, visit the mountain-ringed Lake Kivu in the West of the country and feel an inland sea atmosphere. Or you can head South to Nyungwe Forest National Park and see her rich varies of chimps, monkeys and amazing birds that include Rift Valley Endemics. All the meals, entry fees, accommodation, cruises are included in the total price as per the itinerary. Our safaris range from 2 to 24 days and give you the option to arrange a relaxing break, so it's easy to see everything a country has to offer.