The 5 Days Rwanda-Uganda safari is an ideal package for primates enthusiasts. This is an opportunity to see gorillas in both Uganda and Rwanda. The experiences in Volcanoes park Rwanda and Bwindi impenetrable national park in Uganda may differ. Enjoy the guided golden monkey trekking and a visit to Dian Fossey graveyard at Karusoke.
The 5 Days double gorilla trekking starts and ends in Kigali Rwanda. It takes a 3 hours drive to Volcanoes national park. Depending on availability of gorilla permits in Uganda, a drive to Mgahinga national park from Musanze is just 2 hours including immigration check-ups at Chyaka boarder crossing. If gorilla trekking is to be done in Rushaga Bwindi southern sector, one may require a 4 hours drive from Musanze; and 5 hours to Ruhija or 6 hours to Buhoma - the northern sector of Bwindi impenetrable park.
5 Days Rwanda-Uganda Safari (Summary)
Day 1: Transfer to Volcanoes National Park
Day 2: Gorilla tracking in Volcanoes national park
Day 3: Golden Monkey tracking / Dian Fossey Hike
Day 4: Gorilla tracking in Bwindi impenetrable national park
Day 5: Transfer to Kigali
Detailed - 5 Days Rwanda-Uganda Safari
Day 1: Transfer to Volcanoes National Park
You will be picked from your hotel in Kigali or the airport on arrival by our Driver/guide and drive northwards to Volcanoes national park in Ruhengeri, a home to an estimated 360 Mountain Gorilla individuals.
Day 2: First Gorilla Tracking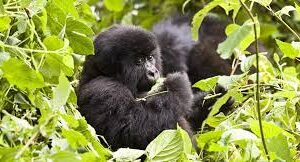 At 7:30am, assemble at the park headquarters for a briefing with your trekking gear and drinking water and packed lunch. Later transfer to the forest to track the gorillas, an activity that will take you 2-8 hours depending on the movement of the apes in their natural wild. After meeting and staying in the presence of the gorillas for a maximum of an hour, return to your lodge for relaxation. In the evening you may go for nature walk or visit the Banyarwanda community.
Day 3: Golden Monkey tracking / Dian Fossey Hike
Early morning, you will gather at the park headquarters for briefing, and later Either go for golden monkey tracking or hike up to Karisoke research Centre, established by Dian Fossey, an American primatologist who dedicated all her life to conserving mountain gorillas until she was killed and is buried there next to Digit, a mountain gorilla. You will learn more about the lives of the mountain gorillas at the research Centre. On return, you will cross over to Uganda and drive to Bwindi impenetrable national park, home to half of the world's remaining mountain gorillas.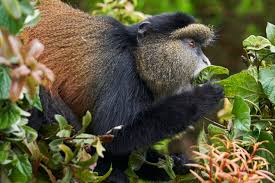 Day 4: Second Gorilla Tracking
Assemble at the park headquarters for briefing from the park rangers before 8:00 am. At 8:30 am all members of your tracking group will transfer to the hiking point for the gorilla trek.
Depending on the movements of the gorillas the previous night, it may take between an hour and 3 to encounter them. You will be allowed to stay in their presence for an hour and then return to your lodge. In the evening your have an option of either a nature walk or visiting the local communities or an orphanage.
Day 5: Transfer to Kigali
In the morning after a relaxed breakfast, you will transfer back to Kigali, with stop over on the way to admire the beautiful topography, and shopping. Have city tour in Kigali where you will visit the local market, museum, genocide memorial center. Dinner and overnight at your chosen hotel or transfer to the airport for your departure flight.
Inclusions of the 5 days Rwanda-Uganda Gorilla safari
• 2 Gorilla permits
• Park Ranger Fees
• Relevant Government Taxes
• Full Board Accommodation
• Full-time English speaking Driver/Guide
• Ground Transportation by a 4×4 safari vehicle
• Airport transfer, as long as your flight is on the same day on which the safari ends.
Exclusions:
• Airfares
• Visa Fees
• Personal Insurance
• Expenses of personal nature such as; drinks, tips, laundry, telephone, cigarettes, accommodation & meals not indicated in the itinerary and optional activities.
Volcanoes national park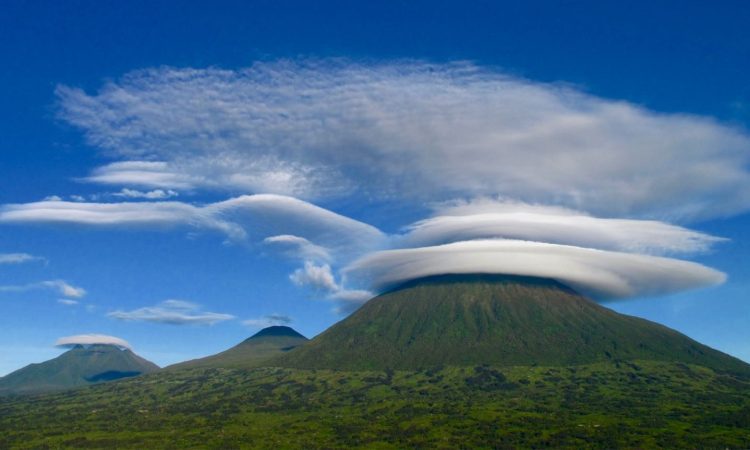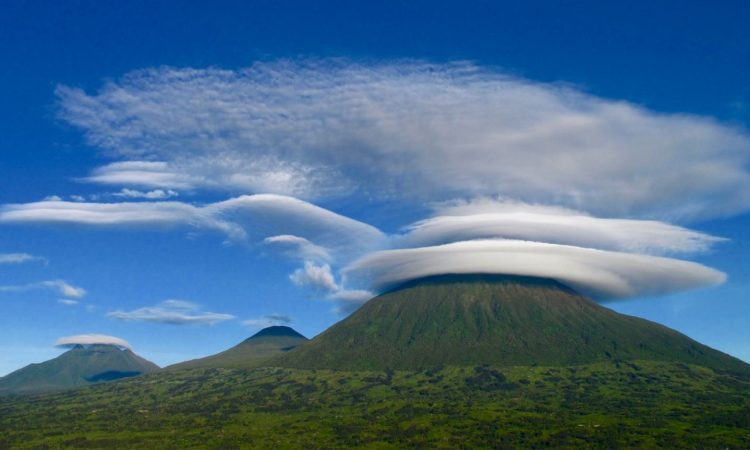 Volcanoes national park is located in northwest Rwandan and part of the Virunga Mountains that straddle the borders of Rwanda, Uganda and Democratic republic of Congo (DRC). The park covers 160 sq. km consisting of montane rainforests. In addition to wildlife, Volcanoes national park is home to five of the 8 Volcanoes of the Virunga Mountains. These include Karisimbi, Bisoke, Sabyinyo, Muhabura and Gahinga. The park is mostly known for the presence of the endangered mountain gorillas which attract thousands of travellers from across the word for a gorilla trekking experience.
There are over 350 mountain gorillas in the park while 10 gorilla families have been habituated for tourists to visit. Some of the habituated gorilla families commonly visited by trekkers in Volcanoes national park include Karisimbi, Susa, Sabyinyo, Kwitonda, Amahoro, Umubano, Hirwa, among others. Volcanoes national park also protected golden monkeys that also attract a good number of travellers to see them. Volcanoe hiking is a popular experience in Volcanoes national park with summits such as Karisimbi and Bisoke attracting many mountain climbers. The Dian Fossey tomb is a popular site in the park where travellers regularly visit to pay tribute the American primatologist who initiated the incredible work of gorilla conservation in the park. Permits to trek mountain gorillas and golden monkeys in Volcanoes national park cost $1,500 and $100 per person respectively.
Bwindi impenetrable national park
Bwindi impenetrable national park is located in southwest Uganda near the border with DR Congo and Rwanda. The park is easily accessible by travellers via Kigali, Rwanda due the shorter distance compared to the one from Kampala. Bwindi protects the highest number of mountain gorillas in the world with about 500 of them living within the park. The park has also got the highest number of habituated gorilla groups (about 20) which are visited daily by trekkers. Some of the habituated gorilla groups commonly visited by trekkers in Bwindi include Rushegura, Habinyanja, Mubare, Bitukura, Orugonzo, Kyaguriro Nkuringo, Mishaya, Nshongi, Kahugye, among others.
There are four gorilla trekking sectors with Bwindi impenetrable national park here mountain gorillas are trekked. These include Buhoma, Ruhija, Nkuringo and Rushaga. Bwindi is also the only gorilla park where visitors are allowed to take part in the gorilla habituation process. This experience is booked differently at $1,500 per person and visitors spend four hours tracking gorillas alongside trackers and rangers. Gorilla habituation in Bwindi impenetrable national park takes place in the Rushaga sector.
Safari Lodges & Vehicles