The 2 days Rwanda gorilla tour with a cultural experience leads you to Volcanoes National Park to enjoy a breathtaking encounter of trekking the endangered mountain gorillas. The tour starts with an amazing cultural experience at the Gorilla Guardian Village, formerly known as 'Iby'Iwacu Cultural Village,' which is located near the park.
2 days Rwanda gorilla tour in detail
Trip summary
Day 1: Transfer to Volcanoes National Park, enjoy a cultural tour in the evening
Day 2: Gorilla trekking and transfer back to Kigali
Detailed Itinerary
Day 1: Transfer to Volcanoes National park and go for an evening cultural tour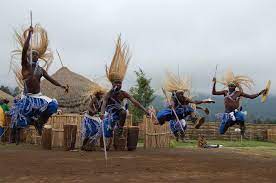 After breakfast, you will be picked from your hotel for a transfer to Volcanoes National Park in the northwest of Rwanda. Over the 3-hour drive you will enjoy magnificent views of Rwanda's beauty including en route communities, beautiful rolling hills, tea plantations, among others. In the evening after checking and relaxing in at your lodge, head to Iby'Iwacu cultural village for a cultural tour. Meet and interact with local people, enjoy the thrilling traditional music and dance performed by the famous 'Intore dancers' as well as learning about Rwanda traditions and history. After this memorable experience, return to your lodge for dinner and overnight as your prepare for the gorilla trekking encounter the following morning.
Alternatively, you can hike mountain Bisoke which is also located in Volcanoes national park instead of a cultural tour.
Day 1: Pick –Transfer to Volcanoes NP & Mt Bisoke Hike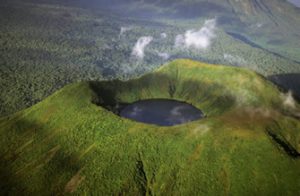 Very early in the morning at 4:30AM, your driver-guide will pick you from Kigali airport or your hotel and transfer to Volcanoes National park.Join a briefing for Bisoke hiking and with your packed lunch drive to Bisoke trailhead to start off the hiking. Hiking to the summit of Mt Bisoke takes roughly 4 hours and 2 hours descending. The summit offers you exceptional views of Volcanoes National park, Virunga volcanoes, and Rwanda local villages. Overnight stay at Davinci Gorilla Lodge (Deluxe), Tiloreza Volcanoes Eco Lodge (Luxury), Muhabura Hotel (Budget)
Day 2: Gorilla Trekking and transfer back to Kigali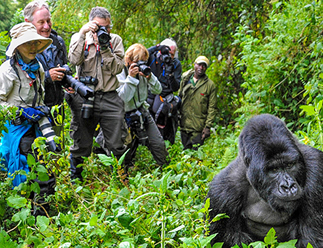 In the morning, assemble at the park headquarters for a briefing from the park warden along with your trekking gear, drinking water and packed lunch. Later proceed to the forest to track the gorillas, an activity that will take you between 1-6 hours depending on the location of your allocated gorilla family. Upon encountering the gorillas, observe the gorilla the gorilla-trekking guidelines which include keeping a distance of 10 metres away from the gorillas, avoid looking directly into their eyes, maintaining silence while in their presence, avoid using flashlights while taking photos, and avoid littering their habitat. The hour spent in the presence of gorillas has been described as 'magical' due to the amazing behaviour of the gorillas which leave their visitors thrilled and emotional. Gorillas share 98% of the human DNA and this is clearly observed in the way they feed, play, and relate with one another while in their natural habitat. This breathtaking encounter with the endangered gorillas will leave you with lifetime memories that you will always draw upon.
Included in this tour
Gorilla permit fees
Park entrance fees
Relevant government taxes
Full board accommodation
Full-time English speaking driver/guide
Ground transportation by a 4×4 safari vehicle
Airport transfer, as long as your flight is on the same day on which the safari ends
The tour excludes the following items
Air ticket
Personal Insurance
Expenses of personal nature such as; drinks, tips, laundry, telephone, cigarettes, accommodation & meals not indicated in the itinerary and optional activities.
Habituated gorilla families in Rwanda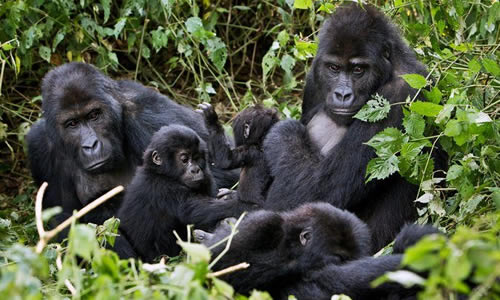 There are 12 habituated gorilla families in Volcanoes National Park which are visited by trekkers everyday. The park allows a maximum of 8 trekkers to visit a gorilla family per day, meaning that a total of 96 gorilla permits is issued per day. Rwanda's habituated gorilla families include; Umubano, Karisimbi, Susa, Hirwa, Agasya, Titus, Pablo, Kwitonda, Amahoro, Bwenge, Ugenda and Sabyinyo.
More Rwanda safari experiences
Volcanoes National park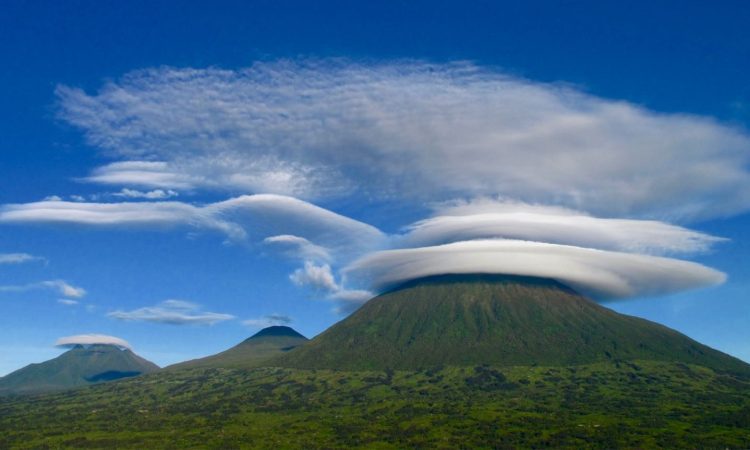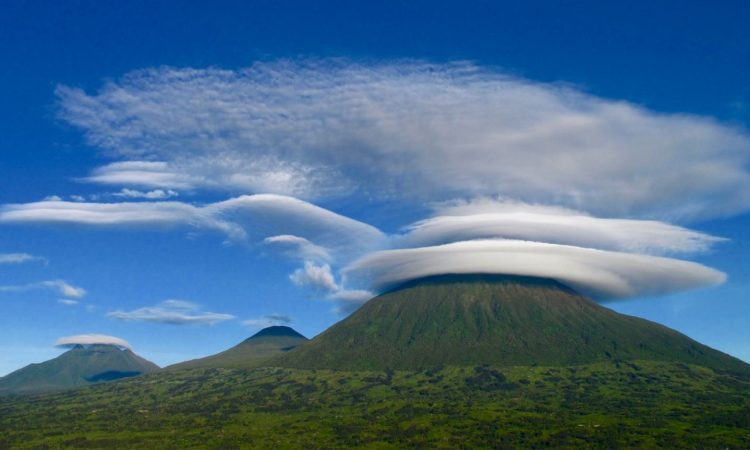 Volcanoes national park is located in northwest Rwanda and it is one of the 3 national parks in the Virunga Mountains that protect mountain gorillas. The park is mostly made up of montane rainforests and 5 volcanoes, namely Karisimbi, Bisoke , Sabyinyo, Gahinga and Muhabura. Volcanoes national park is bordered by Virunga national park in DR Congo and Mgahinga gorilla national park in Uganda. In addition to mountain gorillas, the park is also home to several primate species including the endangered golden monkeys. Other wildlife species recorded in the park include African buffalo, spotted hyena, harnessed bushbuck, African elephant as well as about 180 bird species. Volcanoes national park was the base of American primatologist Dian Fossey and her tomb is located within the park at Karisoke Research Centre.
Game viewing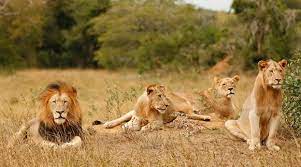 Rwanda's game viewing safaris take place in Akagera National Park in the east of the country along the border with Tanzania. The park has got amazing game species including the famous 'big five' featuring lion, leopard, elephant, buffalo, and rhino. Other common game species in the park include giraffe, antelopes, zebra, warthog, among others. The park also features hundreds of bird species including the rare shoebill stork as well as a variety of Albertine Rift endemics. A relaxing boat cruise along Lake Ihema is another major highlight of Akagera National Park which offers amazing views of several water-loving animals like elephants, hippos and crocks as well as aquatic birds.
Chimpanzee Tracking and canopy walk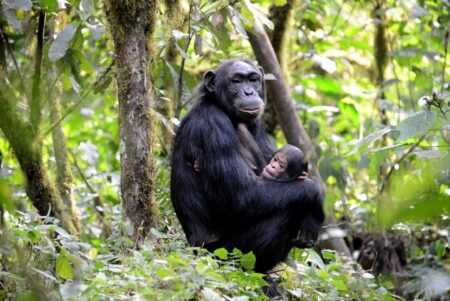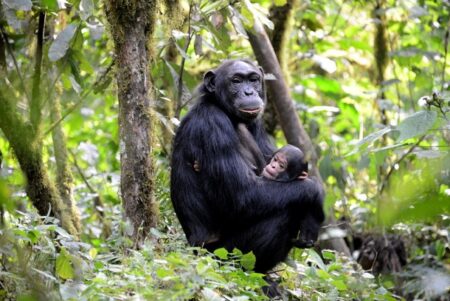 Both Chimpanzee tracking and the canopy walk experience take place in Nyungwe National Park located in the southwest of Rwanda. Nyungwe is home to 13 primate species and is probably the best preserved montane rainforest in Central Africa. Chimpanzees are the most common primate species in the park with hundreds of travellers visiting Nyungwe to track these intelligent and cunning apes. A canopy walk along a suspending bridge over the Nyungwe forest is an exclusive experience of the park that cannot be found anywhere else in the region. The canopy walkway offers magnificent views of the surrounding communities, beautiful rolling hills, as well as a variety of wildlife species including birds.
Bird watching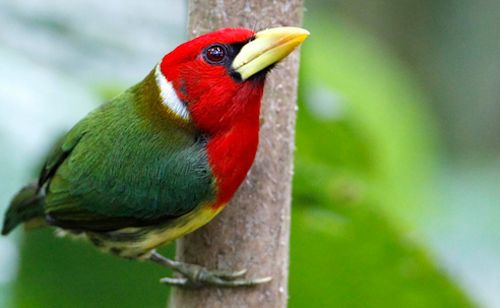 Rwanda is also a bird's haven with over 700 bird species including 29 Albertine Rift Endemics. Nyungwe National Park and Akagera National Park are Rwanda's leading bird watching destinations. Volcanoes National Park and Giswati Mukura National Park also protect several bird species which are often seen by those who visit these parks. Some of Rwanda's most outstanding bird species include; the Red-collared Babbler, Rwenzori Turaco, Grauer's Warbler, Northern Brown-throated Weaver, Papyrus Gonolek, White-collared Oliveback, among others.
Safari route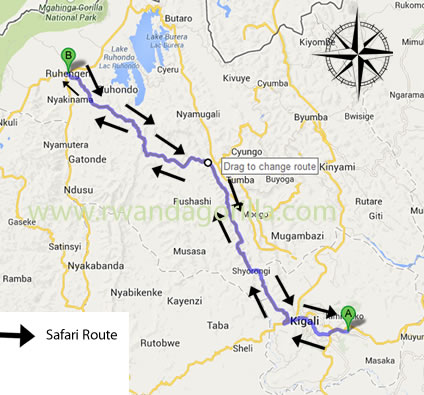 Safari Vehicles and Lodges