This 3 days Rwanda gorilla tour is a customised safari which includes trekking endangered mountain gorillas and golden monkeys in Volcanoes National park. The park is located in the northwest of the country, 2 hours drive from the capital Kigali. There are over 350 mountain gorillas in the park some of which have been habituated into 10 groups that are visited by trekkers everyday.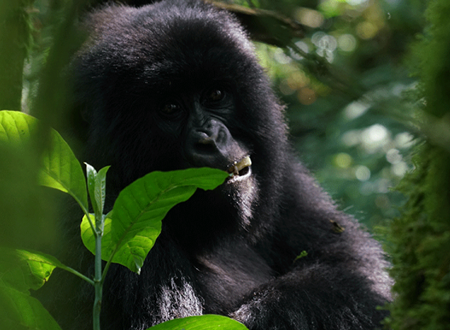 Trip Summary
Day 1: Transfer to Volcanoes National Park
Day 2: Mountain Gorilla Tracking and afternoon nature/cultural walk.
Day 3: Golden monkey tracking and transfer back to Kigali.
3 Days Rwanda Gorilla Tour - Detailed itinerary
Day 1: Transfer to Volcanoes National Park
Prior to a transfer to Volcanoes national park, you may visit Gisozi Genocide site in the suburb of Nyarutarama, Kigali. This museum is a big highlight for any one wishing to get an insight of the political history of Rwanda.
The estimated 3 hours transfer from Kigali to Kinigi - the Volcanoes park headquarters follows a scenic and picturesque drive on a very smooth and safe road to the north-east of Rwanda at the foothills of of the Virunga ranges. Dinner and overnight stay at Bisate lodge / Sabyinyo Silverback lodge. FB
Day 2: Gorilla tracking and afternoon nature/cultural walk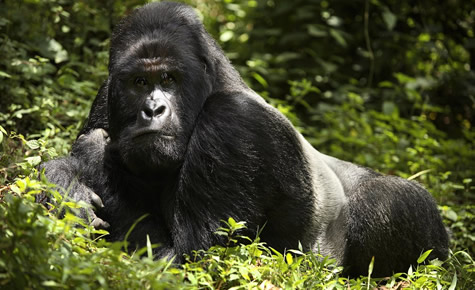 At 8:00 am in the morning, assemble at the park headquarters amidst cultural songs and a cup of coffee that will ignite your enthusiasm for a gorilla hike. The park warden will take you through a 30 minutes briefing and later transfer to the starting point of hiking trail.
Once you encounter the mountain gorillas, an hour with them is the most thrilling wildlife experience.
In the evening, you may go for a cultural walk to the Iby'wachu village or undertake a nature walk to the twin lakes. Dinner and overnight stay at your Lodge.
Day 3: Golden monkey tracking and transfer back to Kigali
In the morning, you will go for briefing at the park headquarters and proceed for golden monkey tracking, a somehow easier trek that is less strenuous compared to the gorilla trek. You are also allowed to stay in their presence for at least an hour. On return, you will transfer back to Kigali.
End of Tour
Price: From USD6800 per person staying at Bisate lodge
USD4800 per person staying at Sabyinyo Silverback lodge
Key aspects of the 3 Days Rwanda gorilla tour
• Volcanoes national park is the ultimate destination of this safari
• The guest is welcomed at Kigali International airport by a representative from Gorilla Trek Africa Ltd and transferred directly to the park or to the lodge for an overnight stay
• This package is fully prepaid by the guest before the trip commences
• This safari is conducted in a state-of-art customized safari vehicle
• Accommodations range from budget to luxury facilities subject to the choice of price of the package
• The tour guide is chosen basing on the choice of language the guest is comfortable with.
Included in this tour package
• Gorilla Permit
• Ugandan visa fees
• Park Ranger Fees
• Relevant Government Taxes
• Full Board Accommodation
• Full time English speaking Driver/Guide
• Ground Transportation by a 4×4 safari vehicle
• Airport transfer, as long as your flight is on the same day on which the safari ends.
Exclusions:
• Airfares
• Visa Fees for Rwanda
• Personal Insurance
• Expenses of personal nature such as; drinks, tips, laundry, telephone, cigarettes, accommodation & meals not indicated in the itinerary and optional activities.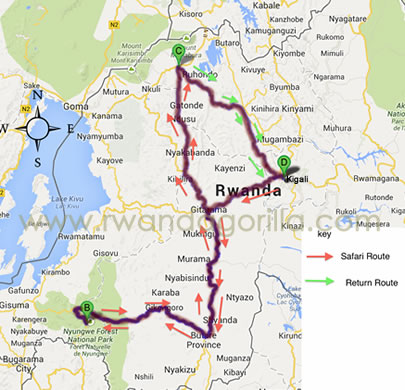 More about the 3 days Rwanda gorilla tour in Volcanoes national park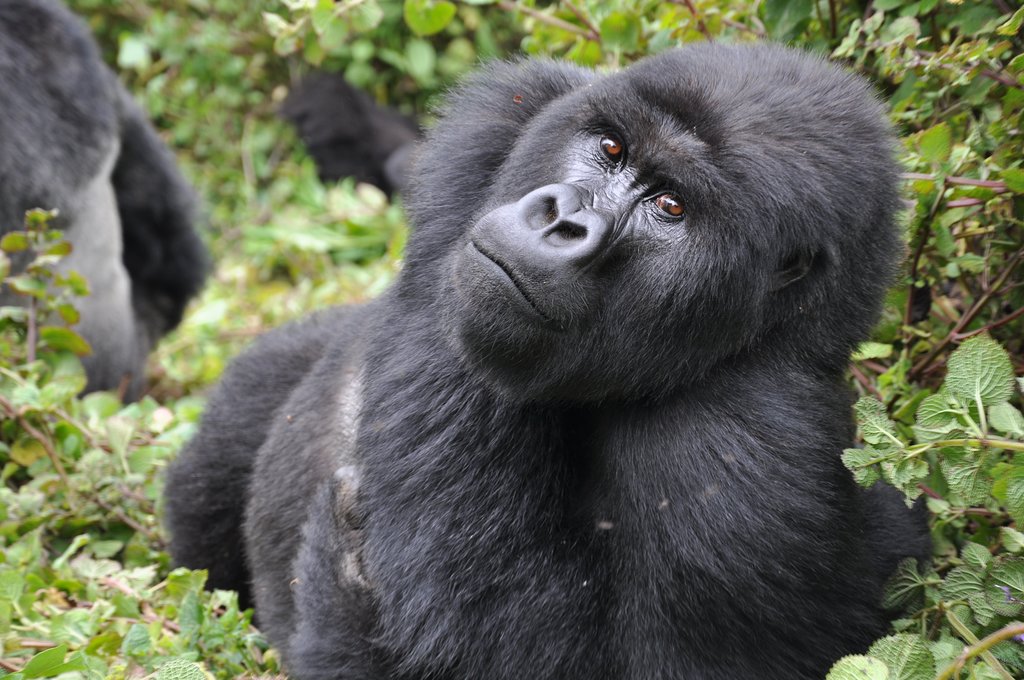 Enjoy a face to face encounter with the endangered mountain gorillas and observe their human-like social characters which make them man's closest relatives. You will also enjoy a trek to meet the endangered, lively and playful golden monkeys in their communities. Two troops of golden monkeys comprised of between 80-100 monkeys have been habituated in VNP to ease trekking. Volcanoes National park covers 160 square kilometers bordered by Mgahinga Gorilla National Park in Uganda and Virunga National park in the Democratic Republic of Congo. The bamboo forest park is home to over 300 mountain gorillas habituated into 10 families, this make it the best gorilla safari destination in the Virunga Conservation Area. Rwanda gorilla groups include Hirwa, Umubano, Agashya, Kwitonda, Amahoro, SusaA, Sabinyo, Karisimbi, Titus and Pablo. Each gorilla family is unique in its own kind in terms of size, location and history of formation. Volcanoes National park is also home to the endangered golden monkeys, Bushbucks, Forest Elephants and colobus monkeys among other animals.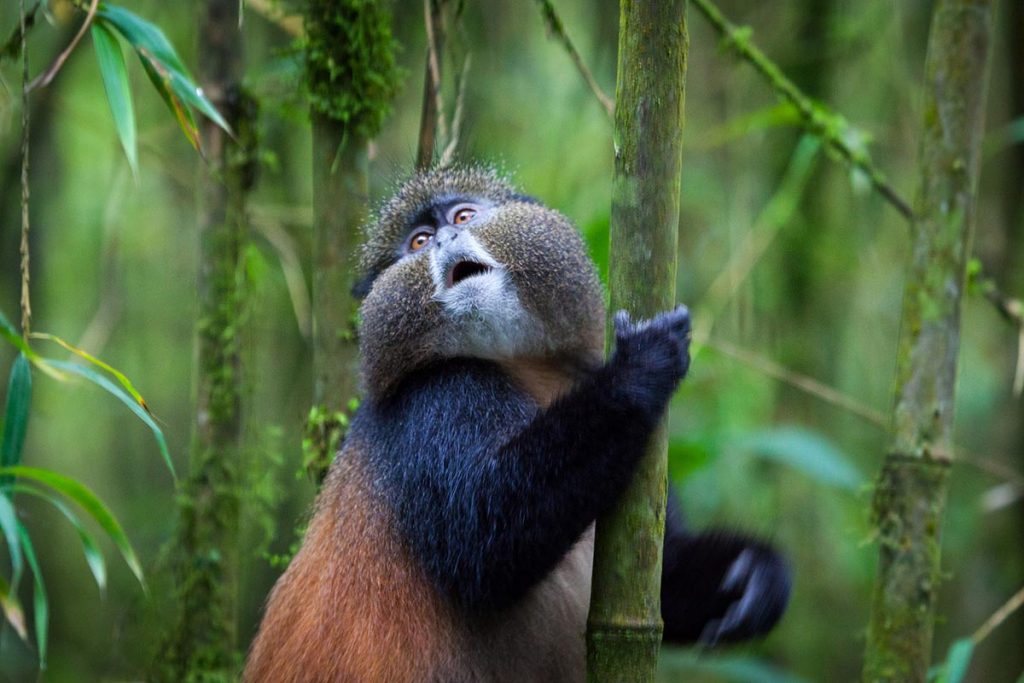 For birders, Volcanoes National Park is home to 180 bird species which make it one of the birding spots in Rwanda. Some notable birds in VNP include Blue Spotted Wood dove, Baglafetch weaver, Bateleur, Cinnamon Chested Bee Eater, Red backed Shrike, Blue Spotted wood Dove, African Long Eared Owl, Ruwenzori Batis, Ruwenzori Apalis, Strange Weaver, Ruwenzori Turaco and Brown Necked parrot among others. The park was also a base for Dian Fossey, An American primatologist who was murdered during her campaign to save the endangered gorillas. A 4 Days Rwanda gorillas & Dian Fossey grave hike is a not miss if you have more days in Rwanda. Volcanoes National Park is moreso a centre for mountain climbing experiences being home to Mount Bisoke and Mount Karisimbi.
Other activities to do in Volcanoes National Park include a bot ride on the twin lakes of Bulera and Ruhondo, visiting musanze caves, Kigali city tour and a cultural visit to the Ibyiwacu cultural village and nature/forest walking
Safari Lodges and Vehicles