The 5 days Uganda gorilla safari and wildlife tour will rewards you with beautiful sights of savannah animals like buffaloes, elephants and plenty of antelope species as well as their predators like lions and hyenas. The tour will climax with the most rewarding gorilla tracking experience. The tour goes to Queen Elizabeth NP; one of Uganda's most magnificent parks popular for its rich biodiversity of over 95 mammal species and about 600 bird species and Bwindi NP; home to half of the remaining mountain gorilla population in the world.
Trip summary
Day 1. Pick up from Entebbe or Kampala and transfer to Kibale Forest NP
Day 2. Chimpanzee tracking and transfer to Queen Elizabeth NP
Day 3. Transfer to Bwindi NP via Ishasha
Day 4. Gorilla tracking and evening community visit
Day 5. Transfer back to Entebbe or Kampala
Detailed Itinerary of the 5 days Uganda gorilla safari
Day 1: Pick up from hotel or airport and transfer to Kibale Forest NP (5hrs drive)
After a good breakfast at your hotel, our driver guide will pick you up and drive you westwards to Kibale Forest NP, home to 13 primate species, the highest primate density of any single park in E. Africa. The Park's lowest point is at 1100m above sea level on the floor of the Albertine Rift valley to the south and its highest point is at 1590m above sea level to the north. The drive from Entebbe or Kampala to Kibale Forest NP is about 5hrs, with mini stops for sightseeing along the way. Do not miss out on the beautiful scenery of the volcanic rock out crops in Mubende and the beautiful and clean city of Fort Portal. Proceed to check in at your lodge. Overnight and dinner at Chimpanzee Guesthouse (budget)/ Turacco Tree Tops / Isunga lodge (deluxe)/ Kyaninga lodge / Primate lodge (luxury). Meal Plan; lunch and dinner
Day 2: Chimp Tracking and transfer to Queen Elizabeth NP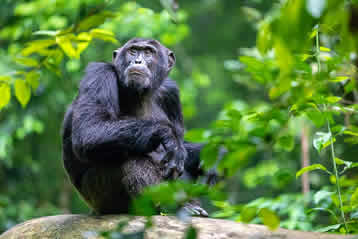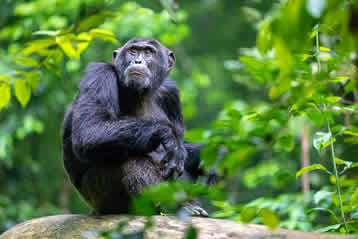 In the morning, you will take an early breakfast and head out to the Kanyanchu park headquarters for briefing about the dos and don'ts while you are out on the trek. You will then head into the forest with a team of rangers and park guides in search for the chimpanzees. This Park is home to 13primate species including chimpanzees, about 70 mammal species including forest buffaloes and elephants as well as about 375 bird species. As you trek through the forest, your eyes may not miss out on some of the 351 tree species, some of which are as old as 200yrs and raise above 55m high. Your guides will lead you as they track for the chimps until you come across these primates. Once you have reached them, you will be allowed a maximum of 1hr to be with them as you take photos and observe their behavior. On return, you will drive to Queen Elizabeth NP with en route views of the Rwenzori mountains at a distance. Upon arrival have lunch if time allows and, in the afternoon, head to the Mweya peninsular for a rewarding boat cruise along the Kazinga channel that connects Lakes; George and Edward. The channel is often crowded with hippos and crocodiles and the hot afternoons bring enormous wildlife populations as they crowd the channel to drink water. Elephants, buffaloes and some antelope species are some of the sightings you may not miss out. In the evening, retire to your lodge. Dinner and overnight at Katara Game lodge/ Elephant Plains (luxury)/ Park view safari lodge / Enganzi lodge (deluxe). Meal Plan; breakfast, lunch and dinner.
Day 3: Transfer to Bwindi NP via Ishasha sector (5-6hrs drive including game drive time)
In the morning, after breakfast, you will drive southwards to Bwindi NP with an en route game drive in Ishasha sector; the southern sector of Queen Elizabeth NP popular for its endless plains and huge fig trees that shelter the tree-climbing lions. The lions are usually resting on the branches of these trees ready to pounce on the unsuspecting herds of kobs. A game drive in this area may reward you with. Ore sights of wildlife including topis and tree climbing lions before proceeding on your journey to Bwindi NP. The journey from here to the northern section of Bwindi NP (Buhoma) is about 1-2hrs drive). Overnight at Mahogany Springs / Gorilla Heights/ Four Gorillas lodge (luxury)/ Bakiga lodge/ Ichumbi Gorilla lodge/ L. Mulehe Safari lodge (deluxe)/ Trekkers' Tavern cottages (budget). Meal Plan; Breakfast, lunch and dinner.
Day 4: Gorilla Tracking and evening community tour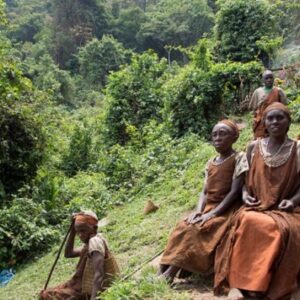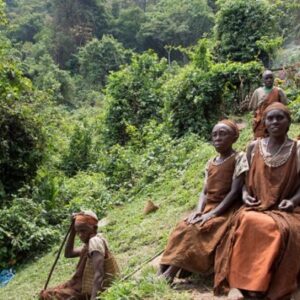 In the morning, you will take breakfast and head out to the park headquarters with your packed lunch or snack and drinking water. At the park office, you will receive briefing about what to expect and how to conduct yourself during this trek before rolling out into this misty forest in search for the gentle giants. You will be grouped in groups of 8 people maximum to track a particular gorilla family. You will then get into your vehicles The forest is also home to a variety of bird species as well as some forest mammals like forest elephants. Upon reaching the gorillas, you will be allowed to spend a maximum of 1hr to observe and take photos. You will then return to your vehicles and drive back to the lodge. In the evening, you may go for a community visit to the Batwa community to experience their way of life. Overnight at day 3. Meal Plan; Breakfast, lunch and dinner.
Day 5: Transfer back to Entebbe or Kampala (8-9hrs drive)
In the morning, you will set off on a relaxed drive back to Kampala or Entebbe. The long but relaxed drive will get you through beautiful sceneries and charming land scapes. You may have a short stop for an early lunch in Mbarara and visit the Igongo cultural center to learn about the area's rich cultural history. Cast your eyes on your right side of the road as you leave Biharwe township to catch a glimpse of the 1520 AD eclipse monument set on top of Biharwe hill. The eclipse of 1520 AD was of great significance as it saved the then Ankole kingdom from the raid by the then king of Bunyoro kingdom who deemed the eclipse to have been a bad omen and a retaliation from the Ankole gods against his raid. It is said that King Olimi of Bunyoro kingdom had swept through the neighboring Buganda and Karagwe kingdoms and had approached Ankole kingdom from the south while raiding their cows and other possessions. When he reached at Biharwe to camp and take a rest before continuing back home, it is said, the area experienced a total solar eclipse which prompted the king and his men to think that the Ankole gods were furious about their actions and would destroy them. The king and his men fled for their lives, leaving all their loot behind. A few kms from Mbarara, don't miss out on the views of the beautiful cattle farms that are sometimes populated by zebras that usually stroll from the neighboring L. Mburo NP. You will proceed to have another stop at the equator to take photographs and stretch your legs as you embark on your final journey to Kampala or Entebbe reaching in the evening for drop off at the airport or hotel.
The above itinerary costs USD2350 per person sharing in budget, USD2550pp sharing deluxe and USD3050 per person in luxury accommodation guided by Gorilla Trek Africa
Safari Includes
Included in this tour package;
• Gorilla Permits
• Nyiragongo hiking fees
• Park Ranger Fees
• Relevant Government Taxes
• Full Board Accommodation
• Full-time English speaking Driver/Guide
• Ground Transportation by a 4×4 safari vehicle
• Airport transfer, as long as your flight is on the same day on which the safari ends.
Exclusions:
• Airfares
• Visa Fees
• Personal Insurance
• Expenses of personal nature such as; drinks, tips, laundry, telephone, cigarettes, accommodation & meals not indicated in the itinerary and optional activities
Safari Lodges & Vehicles