Group tours have for long been cherished for the unlimited fun and excitement that comes along with it. You meet many people with new behaviors and stories, which make it more lively and enjoyable. If you are a people's person, a group tour is the best choice for you. In most cases, incoming solo travelers ask whether there is a group they can join to make their trip more fun. Traveling in a group comes with lots of good things including shared costs, which make a safari affordable and fairly cheap than private tours. Travelers are advised to choose a group that they can fit in best with no difficulties. Touring with right people assure of good times and memorable experiences while traveling with wrong people ruin the whole trip. It's undeniable that some travel activities especially gorilla watching in the jungles of Bwindi/Mgahinga/ Volcanoes and Virunga national park is best done in groups. To ensure you have a nice time with a group of travelers you join, we offer you tips on how to choose the right group tour suitable for you.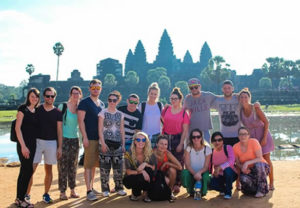 Understand the variety of group tours available
While reserving your trip, endeavor to ask the travel agent which variety of group tours are available for you to choose the one you feel comfortable with.
Understand the type of people in the group, their lifestyles, their travel interests and age among others to see whether they are of your type. Travelling with people of your traits make you feel at home, which at the end make your safari memorable.
Consider the right size group for you
Group tours can be small or large. Its up to a client to choose whether to join a smaller of larger group. Whether big or small, each group size has its good and bad. A large group reduces the cost of the trip through cost sharing while which is not a case with small groups where there are few people to share costs. On the other hand, small groups tend to move quickly and have chances of doing some experiences that cannot be done by lager group.
Check the activities to be done
Everyone in a group has his/her travel interest, which must be included in the itinerary. With no doubt, each traveler has that activity that he/she cannot wait to do on a safari. Before confirming to join a group, make sure the activities you are interested in are in the itinerary. That's one reason why group members should be of your character. If the activities in the itinerary are not your type, do not join the group.
Understand the pace of the tour
You must understand the flow and pace of the tour before joining a group. Some people may like a no break tour while others may like a tour with some free days to relax. You must confirm that the flow of the itinerary favors your interests, if not, then that's not your type of group tour. If you an elderly traveler, do not join a group of young people since they can change the itinerary any time, something that will not favor you.
Book with a local tour company
Booking with a local company based in the region you is interested in touring is a great deal. This offers you intense involvement with local people who introduce you to their traditions, cultures and norms making your trip memorable. Disclose your travel interests to your travel agent and he will choose the suitable group for you.
Understand how the tour is priced
When you travel in a group, you share travel costs amongst yourselves. A group leader is responsible for negotiating prices with the travel agent who gives you a quote. Once you receive a quote, look through the itinerary and learn how the final price came about. Try to price the itinerary yourself, breakdown the costs and compare your final price with the travel agents final price. If the two prices are related, confirm the tour and if you fell over quoted, inquire more. Also, check what is included in prices for example meals, accommodation, driver guides, and admission tickets and gratuities among others.
In general, group tours are undeniably fun and interesting, join a group tour today, meet new people, have fun and enjoy a lifetime experience.