Primates are the top travel attractions in Rwanda. Travel statistics by Rwanda Development Boras shows that the highest numbers of travelers to Rwanda choose to visit primates as their top priority. The land of a thousand hills is one of the best places to see primates in the whole world. Being home to a variety of primates, Rwanda is undeniably your best destination for primate trekking. Gorilla Trek Africa is your best guide to see primates in Rwanda. Top Primate safaris in Rwanda include:
Mountain gorilla trekking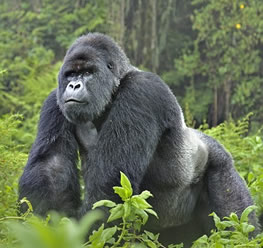 YES, mountain gorilla trekking is the number one primate encounter in Rwanda. The endangered mountain gorillas in Rwanda live in the bamboo rain forests of Volcanoes National Park, which shelters the highest population of gorillas in the Virunga Conservation Area. Volcanoes Park is bordered by Mgahinga National Park in Uganda and Virunga National Park in Congo, which also shelter the gorillas. Rwanda Development Board has habituated 10 gorilla families for trekking in Volcanoes National Park. These gorilla families in Rwanda are Hirwa family, Karisimbi family, Ugendo Family, Susa A family, Kwitonda family, Amahoro Family, Umubano Family, Sabinyo Family, Agashya Family, Amahoro Family and Bwenge gorilla group. Each family is visited by 8 people a day hence 8 permits for each gorilla family. Altogether, Rwanda has 80 gorilla permits available every day. Gorilla permit issuing in Rwanda is based on forest come first serve basis. Advance booking and payment of deposit on gorilla permits is highly recommended for all people planning to visit Rwanda for gorilla trekking.
Cost of gorilla permits in Rwanda
You must first know the cost of gorilla trekking in Rwanda before booking any Rwanda gorilla safari to Volcanoes National park. Each permit in Rwanda costs $1500 paid by all travelers despite the nationality. Rwanda Nationals also pay the $1500. Rwanda Development Board issues all permits! You can book directly with RDB or through Gorilla Trek Africa, the number one gorilla safari company in Rwanda.
Golden Monkey Trekking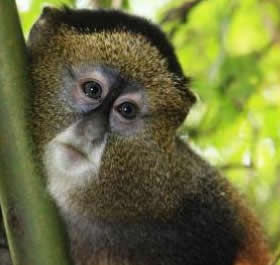 Also done in Volcanoes National Park, golden monkey trekking is yet another interesting primate encounter in Rwanda. The experience is the second most done activity in Volcanoes Park after mountain gorilla trekking. Two groups of golden monkeys have been habituated for easy trekking in Volcanoes National Park. These playful primates continuously jump over your head as if they want to grab your camera! This makes the golden monkey trekking experience more fun and enjoyable. Interestingly, the trekking time to meet golden monkeys is normally short compared to gorilla treks
Each golden monkey permit in Rwanda costs $100, which makes it pocket friendly even for budget travelers.
Chimpanzee Trekking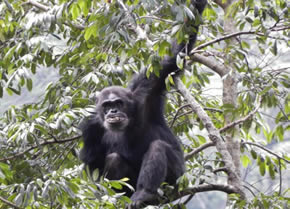 Enjoy guided chimpanzee trekking in Nyungwe Forest National Park on your Rwanda primate's safari. You can either trek in the main forest of Nyungwe or in Cyamudongo Forest depending on your choice. Each chimpanzee permit in Nyungwe Forest National Park costs $90 inclusive of park entrance fees, government taxes and conservation fee. In most cases, chimpanzee trekking in Nyungwe Forest National park is complemented with canopy walk, which offers great aerial views of the park and neighboring attractions. The treks to meet endangered chimpanzees last for between 2-6 hours depending on the location of the primates and the speed of their movements.
What to Pack for Rwanda Primates Safari?
Travelers visiting Rwanda for primate trekking are advised to carry the right attire fit for the jungle. Dressing right for trekking is one of the key features for a successful, enjoyable and stress free primate trekking experience. Your primate trekking packing list should include:
Hiking boots/ shoes. They should be light, closed and waterproof
Gardening hand gloves
Rain jacket/coat. Forest weather is unpredictable, it can rain any time of the day despite the season
Long sleeved shirts/sweaters or blouse to protect your arms from scratches by thorny bushes
Long pants/sweater pants are good
Insect repellent. Primates destinations helter numerous insects some of which are poisonous when they bite you
Sanitary wear and toiletries for ladies
Emergency medicine
Bottled drinking water
First aid kit for any emergencies
Best time for primate trekking in Rwanda
The dry/peak season in June, July, August, September, December, January and February is the best time for gorillas, chimpanzees and golden monkey trekking in Rwanda. This season is generally dry which makes it easy to trek though the forested jungle. Also, sunlight in this season is good for photography and scenic viewing. On the other hand, you can trek in the wet/low season in the months of March, April, May, October and November. The season is associated with low visits which give you chance to see the primates with out crowds. Also, service providers especially lodges give discounted offers in low season to encourage more visits.
Other top things to do in Rwanda
Besides primate trekking, there are other magical things you should not miss on your Rwanda safari. These include game viewing in Akagera National Park. There you drive through the savannahs of the park, which give you great views of numerous wild animals feeding and predators hunting. Game viewing in Akagera Park is accompanied by a boat cruise at Lake Ihema
More so, enjoy a hike to the iconic Mount Karisimbi, the highest volcano in the Virunga massif standing at 3,507 meters above the sea level. A 2 Day Mt Karisimbi hike takes you to summit of this tall Volcano. The slopes of Mt Karsimbi shelter the endangered mountain gorillas and many other primates plus birds.
Conclusively, primate trekking in Rwanda is worth doing. A close encounter with the endangered mountain gorillas, chimpanzees and golden monkeys is the best wildlife experience you will live to remember. Book now and be part of this memorable experience.