Travel and leisure has listed Rwanda's Volcanoes National Park as one of the amazing 10 National Parks in Africa. The gorilla national park is one of the MUST visit National Parks on your African safari. Located in northwestern Rwanda, Volcanoes National Park is home to the highest number of mountain gorillas in the Virunga Conservation Area. The park has over 400 mountain gorillas habituated into 10 families. Each gorilla group is visited by 8 people a day hence 64-gorilla permits issued out everyday. Gorilla trekking and conservation in Volcanoes National Park is managed by Rwanda Development Board. In 2017 Rwanda transformed into a luxury gorilla safari destination following the double increase of a its gorilla permit from $750 to $1500. Gorilla trekking in Rwanda is undeniably expensive compared to the neighboring Uganda and the Democratic Republic of Congo. However, the magical experience of meeting face to face with the endangered gorillas of Rwanda is worth the $1500. The other gorilla parks in Africa are Bwindi Impenetrable Forest/Mgahinga Gorilla National Parks in Uganda and Virunga National Park in the Democratic Republic of Congo.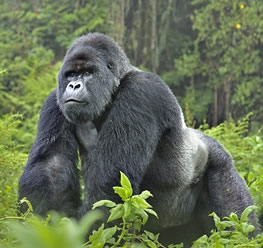 In addition to mountain gorillas, Volcanoes National Park offer other interesting activities such as golden monkey trekking, Mt Karisimbi hiking, Visiting the Musanze caves, Hiking Mt Bisoke Bird watching, Nature walks and a boat ride on Bulera and Buhondo lakes. You can combine your gorilla trekking experience in Volcanoes National park with other travel activities in Rwanda such as chimpanzee trekking and canopy walk in Nyungwe Forest National Park, game viewing in Akagera National Park and city tour through Kigali capital Centre to make a complete Rwanda safari package. Unlike other gorilla parks, which require full day driving to reach, Volcanoes National Parks is just 3 hours drive from Kigali International Airport. It's the easiest to reach park for short time traveler's especially those on business trips.
The other top Nine National parks in Africa are:
Namib-Naukluft National park
Located in western Namibia, Namib Naukluft National Park was listed number one must visit park in Africa. The emergent landscapes, complete silence and dark night skies make your visit to this park a memorable experience. Namib, Naukluft is one of the largest National Parks in the world and the largest Park in Africa spreading over nearly 20,000 square miles. Some part of the park is covered by Namib Desert while the other one covered by Atlantic Ocean. Some people call Namib-Naukluft a park of contrasts and extremes. The top tourist attractions in this park include Sossusvlei, Deadvlei, Kuiseb Canyon, Sesriem Canyon, Elim Dune, Hidden Vlei, Dune 45 and Hamilton Hills among others.
Hwange National Park
Sheltering the highest number of elephants in the world, Hwange National Parks is your best place to visit. The Park is located in Zimbabwe in the borders of Botswana. Besides Elephants, Hwange National Park is famous for Rhinos, Cheetahs, Lions, Leopards and wild dogs among other animals. Hwange Park is in the borders of Botswana. The top things to do and see in Hwange National Park are visiting the painted dog project Centre, Village experience, Game Viewing, Bird watching, Victoria falls, Sleep put deck, Walking Safaris, Treatment at the Spa, Enjoy a sundowner at the watering hole and Pack pencils among others.
Kruger National Park
Located in South Africa, Kruger National Park could not miss on the list of the best National Parks in Africa. Kruger National Park is famous for its big five game sheltering numerous Elephants, Lions Leopards, Buffalos and Buffalos. More so, Kruger National Park is known for its luxurious safari lodges, which offer you excellent food and sleeping services at affordable rates. The top travel experiences in Kruger National park include Camping, Nature/ Bush walking, game viewing, Bird watching, Mountain bike trails, Play Golf and community visits among others. A combination of various travel activities in Kruger National Park makes your safari more enjoyable.
Serengeti National Park
Explore Serengeti National Park located in Northern Tanzania for scenic viewing experience. The park covers a land area of 14,763 kilometers squared and was established in 1951 making it one of the oldest National Parks in Africa. Serengeti National Park is known for its great wildebeest migration crossing over to the nearby Masai Mara National Park in Kenya. The top attractions and activities in Serengeti National Park include game viewing, Guided nature walks, Hot air balloon safari, Visit the Serengeti Visitor Centre, Olduvai Gorge, Wildebeest Migration, Masai Community visits, Camping, Visiting the Bologonja Springs, Visit the Lobo Valley, Visit the Moru Kopjes, Retina Hippo pool, Bird watching and Lake Natron.
Odzala-Kokoua National Park
Odzala Kokoua National Park is located Northern Congo and is among the least visited National Park in Congo and the whole Africa. The park covers a 13,546 square kilometers and was designated in 1935 making it one of the oldest National Parks in Africa. Some part of Odzala Park is covered by the Congo Basin rain forest which some people call "second lungs". The ark is home to the endangered Western lowland gorillas. The other activities in this park include Stream swimming, Nature trails, Village visits and boat trips among others. The fewer visit to this park has kept it natural offering you the off beaten kind of experience
Queen Elizabeth National Park
Located in western Uganda, Queen Elizabeth National Park is an interesting destination found in the borders of Uganda and the Democratic Republic of Congo. The Park spreads over a 1,978 square kilometers and it are Uganda's second largest National Park after Murchison Falls National Park. The Park is home to the famous tree-climbing lions seen in Ishasha sector south of the Park. The other interesting features in Queen Elizabeth national Park are the Kazinga Channel, which connects Lake 3EEdward and George, the Mweya Peninsular and the Kyambura gorge (the under ground forest sheltering the endangered chimpanzees). The Park also contains various crater lakes including Lake Katwe for salt mining, Lake Munyanyange famous for the flamingoes, Lake Bunyampaka and many more. The top activities to do in Queen Elizabeth National park include game viewing (Game drives), Bird watching, chimpanzee trekking, boat cruise on Kazinga Channel and community visits to the neighboring fishing villages. Game viewing in Queen Elizabeth National park can be complemented with mountain gorilla trekking in Bwindi Impenetrable Forest National park to make it more fun and interesting.

South Laungwa National park
This park is located east of Zambia's Luangwa River after which the park was named. Game drives to the banks of Luangwa river offer you great views of numerous wild animals gathered for drinking water. The top activities in South Laungwa National park include Walking safaris, bird watching, Game viewing, mountain biking, bush camping and watching elephants.
Pendjari National Park
Spreading over 2,755 Square Kilometers, Pendjari National Park is located in Northwestern Benin in Tangule City. The Park is home to African Lions, Hippos, Elephants, Hartebeests and Waterbucks. Leopards and Cheetahs are rarely seen but are also present in the Park.
Conclusively therefore. the above listed National Parks are a not miss on your next African Safari. The inclusion of Volcanoes National Park Rwanda is a blessing for he small Rwanda. More travelers from across the globe are expected to visit Volcanoes Park to experience the lifetime gorilla trekking experience. Gorilla Trek Africa is your best guide!