Grab the chance to explore Uganda the Pearl of Africa at discounted rates! Uganda Wildlife Authority is still offering discounted travel offers valid till 31st March 2021. These offers started in December 2020 running to end of March 2021 with a sole a purpose of recovering from the negative impacts of covid19, which greatly affected the travel industry in the whole world. The discounted rates are meant to to encourage more travels and help travelers refresh their minds from the stresses of the deadly virus. Fortunately, the offer has been warmly welcomed by most travelers whom we have seen come to visit Uganda amidst covid19 still roaming. Gorilla Trek Africa gives you a detailed guide about discounted travel offers in Uganda. These include:
1. Discounted mountain gorilla trekking permit from $600 to $300 for foreign residents
2. Discounted gorilla permits from $700 to $400 for foreign non residents
3. Discounted gorilla permits from UGX 250,000 to UGX 150,000 for Ugandans and East African Citizens.
4. Discounted chimpanzee permits from $200 to $150 for foreign non residents
5. Discounted chimpanzee permits from $150 to $100 for foreign residents
6. Discounted chimpanzee permits from UGX 150,000 to UGX 100,000 for East African citizens
7. 50% discount on birding fees in all birding sites in Uganda
8. 50% discount on Park entrance fees of all savannah parks of Uganda. These are Murchison Falls, Queen Elizabeth, Lake Mburo, Kidepo Valley, Semuliki National Parks, Pian Upe Wildlife reserve, Katonga wildlife reserve, Toro Semuliki Wildlife reserve, Kabwoya Wildlife Reserve and all other tourism sites in the Pearl of Africa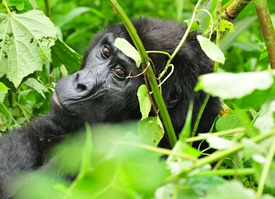 Travelers and tour operators are further reminded that these discounted offers are valid till 31st March 2021. More so, the discounts do not allow rescheduling after the set dates (3ist March 2021)
Also, the permits, which had been booked and deposited on before covid19, do not qualify for discounts.
The Uganda wildlife authority has also put Standard's Operating Procedures for tourism services and activities in all protected across the country. UWA's SOPS include:
• UWA provides hand washing facilities at entrances of all National parks and protected areas in the country
• UWA provides sanitizing services at entrances to protected areas
• All UWA staff have been given masks to ensure their safety and that of the endangered wild animals
• Visitor are reminded to carry their own masks
• UWA has put a waiting tent at the office headquarters for clients booking or rescheduling the permits. The seats in the tents are arranged with 2-meter distance.
• Social distancing is highly emphasized at visitor information centers in Uganda's national parks
• Only five people are allowed to entre UWA's reservation office at the same time
• The desired payment is by credit card, debit card or mobile money.
SOPS for research activities in Uganda National Parks and other protected areas
1. Everyone must wear a surgical facemask
2. You must keep a distance of 10 meters from the animals especially gorillas and chimpanzees
3. Research time is limited to 5 hours maximum
4. Every researcher must carry a hand sanitizer when going into the filed
5. Researchers must wear disinfected footwear and clean clothings when going into the field
6. Only three researchers are allowed to move together as a team
Top travel activities in Uganda
Uganda offers lots of interesting travel experiences that last for a lifetime. However, there are top things you MUST do on your Uganda safari. These include:
1. Mountain gorilla trekking in Bwindi Impenetrable Forest and Mgahinga Gorilla National parks. Uganda is home to half of the world total gorilla population, which make it a premier gorilla safaris destination in the world
2. Chimpanzee trekking in Kibale Forest National park. This park shelters the highest number of chimpanzees in Africa hence the name "primate capital of Africa"
3. Game viewing in the savannah parks of Uganda. The best parks for game viewing in Uganda are Murchison Falls, Queen Elizabeth, Kidepo Valley and Lake Mburo National parks. Morning, day and evening game drives offers you great views of wild animals grazing, browsing and hunting
4. Cultural tours to experience the traditions, norms and customs of Uganda's indigenous people. Uganda has over 54 tribes each with unique cultures you ought to explore. However, Batwa pygmies in southwestern Uganda and Kalamajong pastoralists are the most visited cultural groups in Uganda.
Book your Uganda safari today, take chance of the discounted rates and explore the Pearl of Africa at cheaper rates with Gorilla Trek Africa