Could you be wondering why visit Rwanda on your post covid19 African safari? The small country has it all to meet, satisfy and even exceed your travel expectations. People wonder what Rwanda is doing lately. Before the covid-19 pandemic, Rwanda featured in several international media as one of the top destinations in the world to visit in 2020 including National Geographic, Conde Nast Traveler, Forbes, Vogue, Travel + Leisure, Jetsetter, Fodors, Trip Savvy among others such as Travel Pulse. This glowing recommendation is an assurance for those intending to visit Rwanda for gorilla safaris and other wildlife experiences. In addition, the country has been handling the covid-19 pandemic well with strict standard operating procedures to follow including regular use of disinfectants and wearing of facemask even in the rainforest. Rwanda is safe both in terms of covid-19 and crime, therefore a good destination to travel to for your post covid-19 African safari.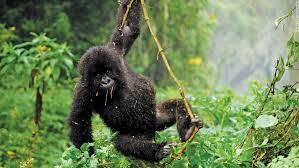 The east African country having witnessed genocide against Tutsi in 1994 with more than 800000 people killed in 100 days now has a Gross Domestic Product (GDP) of $10.33 and is aspiring to achieve the middle income status by 2035 as indicated by the latest World Bank statistics. Despite being one of the fastest growing economies in Africa, the civil war remains an enduring trauma for the people of Rwanda. Her economic growth is driven by gorilla trekking, coffee and tea the major foreign exchange earners among other factors such as innovation and political stability. Kigali the capital city is the cultural center with Kigali genocide memorial, which you can visit to get the sad story of what happened. The city is also one of the cleanest cities in Africa because the country focuses focus much on environmental conservation with the Landscape Approach to Forest Restoration and Conservation (LAFREC). The program has restored big five mammals in Akagera including lions, eastern black and southern white rhinos while the degraded Gishwati Mukura forest is now the fourth national park of Rwanda. All this demonstrates that wildlife safaris in Rwanda go hand in hand with responsible tourism and conservation. Nicknamed as the "land of a thousand hills", Rwanda's landscape encompasses scenic landscape including the Virunga volcanoes that offer a chance to visit the mountain gorillas in their natural habitat. The landlocked country has a population of 12.5 million people with relatively limited natural resources, therefore wildlife conservation and tourism constitutes a major driver of local economic growth especially among the communities that live near the protected areas including Volcanoes, Nyungwe Forest, Akagera and Gishwati Mukura Forest National Parks.
Rich culture and history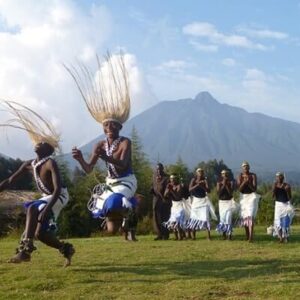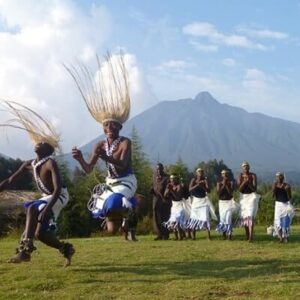 Rwanda is made up of three ethnic tribes including Tutsi (cattle keepers), Hutu (farmers) and Batwa minority (pygmies). Rwandan culture and traditions include the famous Intore dance performances, arts and craft centers especially Imigongo (cow dung paintings) and Agaseke baskets which inspired the architecture design of Kigali Convention Center (KCC) building. Kigali city is the cultural hub for those looking to do Kigali city tour and explore art centers and museums of Rwanda, shopping for souvenirs, Kimironko food market, nightlife and contemporary music. Furthermore, in contrast to the modern vibes, Kigali's neighborhood Nyamirambo situated 25-minute drive from Kigali airport is more vibrant and local. Majority of people are of Muslim faith, despite the Nyamirambo walking tour offers old architecture, street art scenes, fresh food markets, milk and party bars such as Chap Chap, Remba and Discover bar; shops for those looking to shop crafts and second hand and made-to-order fashion clothing.
If it's authentic cultural experience you are looking for, your Rwanda safari itinerary should include the Gorilla Guardians (Iby'iwacu) cultural village in Musanze and the King's palace in the Nyanza town the former capital of the monarchy. These sites offer a chance to engage with local people and cultural activities including banana beer brewing activity, traditional dance performances, long-horn cow (Inyambo sacred cow experience), local food preparation, guided community walks among others such as Ethnographic museum just across in Huye town which offers insight into the ancient and modern history of Rwanda.
Rwandan genocide tours
Over 15 locations connected with the 1994 Rwandan genocide against Tutsi were turned into tourist attractions including the Kigali Genocide Memorial a burial ground for 250000 victims, Bisesero memorial of resistance, Ntarama and Nyamata church memorials among others. The Kigali memorial is the largest given the number of victims buried there and offers a detailed historical look into the Rwandan civil war that lasted 100 days. The tour offers a story of the events in audio and visual format increasing awareness among visitors and citizens of the long-lasting impacts on the Rwandan community.
Wildlife safaris in Rwanda
Mountain gorilla trekking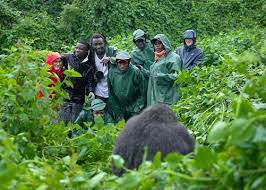 Hiking in Volcanoes National Park to see mountain gorillas is one of the true example of responsible tourism. The park hosts the annual gorilla naming ceremony known as "Kwita Izina", a wildlife conservation holiday dedicated to help the communities that protect the endangered animals including rangers, trackers and gorilla doctors among others such as ex-poachers. Since its initiation in 2005, a number of 328 gorillas have been named which indicates the success of gorilla conservation in Africa. Visiting Rwanda for gorilla safaris offers a chance to see mountain gorillas in their natural habitat and learn more about the conservation efforts needed to protect them. Now with the increasing number of mountain gorillas, Rwanda is on the quest to expand Volcanoes National Park through acquisition of land from the neighboring local communities. In addition, the country is unveiling the first permanent gorilla research and education center in Africa.
The Ellen DeGeneres campus of the Dian Fossey Gorilla Fund will replace Karisoke research center founded in 1967. The Dian Fossey hike is available for those intending to visit Karisoke and follow the footsteps of the American primatologist. The Rwandan gorilla trekking permit cost is $1500 per person available for booking through the Rwanda Development Board (RDB) or tour operator. For those searching for luxury gorilla tours, the tourism board has attracted high-end eco-lodges that minimize impact on the natural habitat including Singita Kwitonda and Bisate Wilderness Lodge among others such as Virunga Lodge which support job creation and preservation of environment in and around Volcanoes National Park. Local community tours are available after gorilla trekking including visiting the Gorilla Guardian Cultural Village (Iby'iwacu). This way, you know your money is going back into the community helping people such as ex-poachers and women.
Big Five safari in Akagera National Park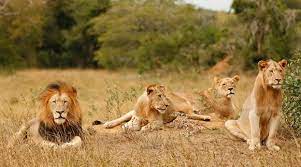 This protected area was once known for harboring the big five African mammals. Wildlife populations greatly diminished during the Rwandan genocide due to poaching that led to extinction of lion, critically endangered eastern black and southern white rhinos. The Rwandan government entered into a long-term partnership with African Parks Network (AP) to restore the park. Since 2010, the Akagera Management Company reintroduced 23 black rhinos, lions in 2015 and 30 white rhinos at latest. Akagera is now a big five safari destination offering game drives and boat cruise on Lake Ihema. Situated in the eastern part along the border with Tanzania, Akagera National Park spans 1112 sq.km of wilderness including savannah grasslands, rolling hills, woodlands, riverine forests, wetlands and lakes. The protected area is rich in biodiversity including over 500 species of birds, 10 antelope species such as impala, eland, topi, kobs, waterbucks and klipspringer among others such as Masai giraffe, hippos, plains zebras, hippos and crocodiles. The African Parks works to rebuild Akagera and visiting the park holds the key for revenue generation needed to fund conservation and community development. The 3 Days Akagera game tour offers you chance to see all the big five game grazing, hunting and browsing in the open plains of Akagera National park.
Nyungwe Forest Canopy walk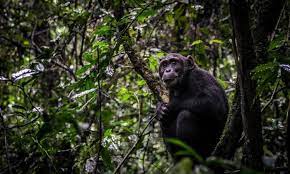 The canopy walk in Rwanda is the only one of its kind in East African region. The tree top walkways offer a chance to explore Nyungwe Forest National Park famous for harboring 13 primate species of including chimpanzees, L'hoest monkeys, black and white colobus monkeys, red colobus monkeys, Hamlyn's monkeys among others and over 300 species of birds of which 16 are Albertine Rift Valley including red-faced woodland warbler, short-tailed warbler, stripe-breasted tit among others such as Rwenzori turaco and great blue turaco. The canopy offers spectacular bird's eye view of the montane tropical forest spanning for over 1000 sq.km. In addition, visitors can enjoy chimpanzee trekking, colobus monkey tracking, bird watching, hiking and mountain biking among others such as community visits.
These are some of the reasons to visit Rwanda on your post covid-19 African safari. The country is part of the east African single tourist visa therefore can be combined with Uganda or Kenya for wildebeest migration.