Uganda Wildlife Authority has temporarily suspended gorilla trekking, research, and all other related tourism activities in Bwindi Forest and Mgahinga Gorilla National Park. The initiative is to prevent the spread of the deadly Corona Virus (Covid 19), which poses high risks to the endangered mountain gorillas. This came few days after the neighboring Volcanoes National Park in Rwanda and Virunga National Park in Congo that temporarily closed for mountain gorilla trekking. Mountain gorillas are the most visited primates in Africa attracting the highest number of travelers from all over the world. Uganda, Rwanda and the Democratic Republic of Congo are the only destinations to trek gorillas in the whole world. Also, gorilla trekking is the major source of foreign exchange contributing over 50-% of the respective countries' Gross Domestic Product. Apparently, there are no ongoing gorilla tours to Bwindi Forest or Mgahinga Gorilla National park till 30th April 2020. However, travelers are humbly asked not to cancel trips but rather to postpone o save gorilla tourism in Africa. Mountain gorillas are one of the endangered primate species that were once on the verge of extinction. In order to avoid disappointing travel operators and travelers, Uganda Wildlife Authority has relaxed in its terms and conditions of gorilla permit rescheduling unlike before.
What about chimpanzee trekking?
In the same way, Uganda Wildlife Authority has put a halt on chimpanzee trekking tours to Kibale Forest National Park, Kyambura gorge, Budongo Forest and Karinzu forest where the endangered chimpanzees live. Like the mountain gorilla's chimpanzees are close relatives to people sharing over 99% of human genes which makes them susceptible to human infectious diseases. In the meantime mountain gorilla habituation experience in the Rushaga sector of Bwindi Forest and Chimpanzee habituation in Kibale Forest has also been hated till further notice.
The official letter from Uganda Wildfe Authoruty to all conbsrened patnesers read as follows: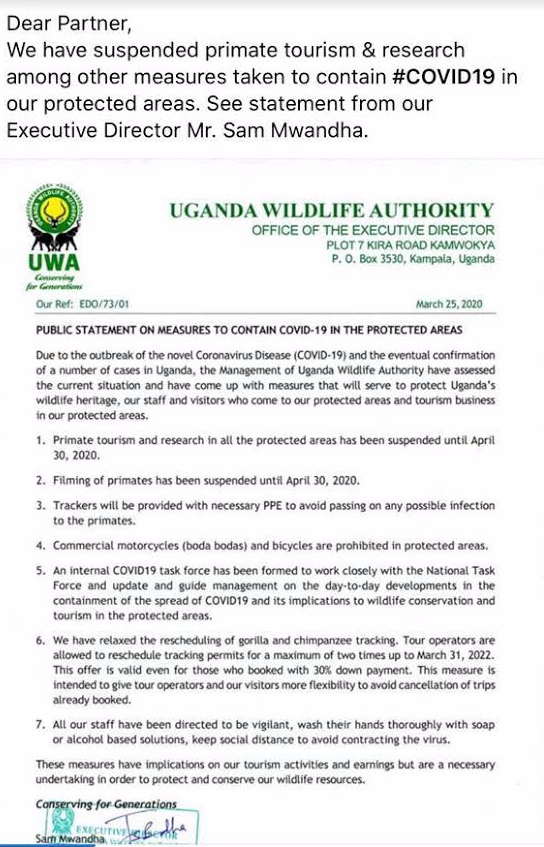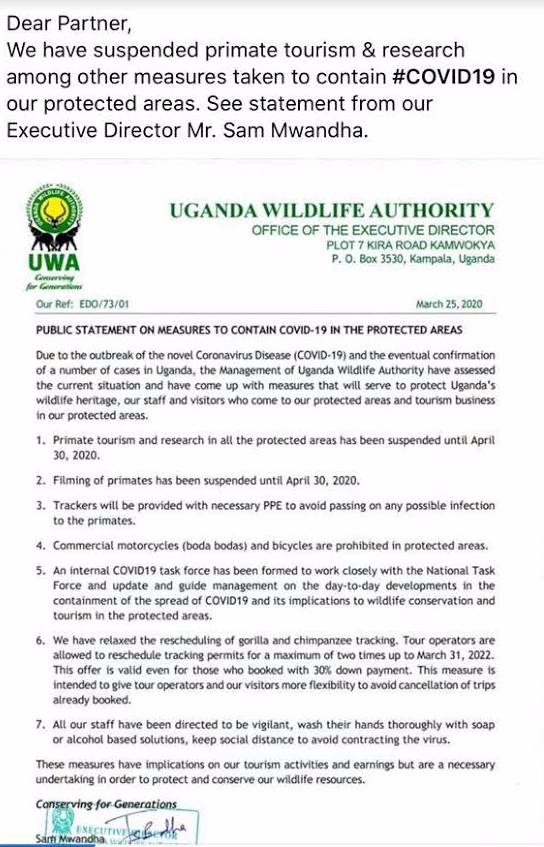 Conclusively, all gorilla trekking, gorilla habituation, gorilla filming, and other related chimpanzee trekking activities have been suspended till further notice to prevent the spread of the deadly Covid19 to the endangered gorillas. Travelers are asked to postpone trips to a further date. Gorilla Trek Africa waits to host you when the situation stabilises.