Uganda was once home to two African rhino species which included the southern white rhino and the  eastern black rhino. Unfortunately, since the civil wars of 1970s and 80s, rhino conservation has been a big challenge. Uganda's last rhino in any protected area was seen in 1983 in Narus Valley Kidepo National Park. Widespread poaching was responsible for the loss not only in Uganda but across 15 African countries. The number of rhinos continues to decline for the same reason.
In particular, the northern white rhino is extinct in the wild. Only two individuals are kept at a sanctuary in South Sudan. The southern white rhino population now stands at 15,942 according to the African Rhino Specialist Group report, 2017. As a result, they were declared near threatened species according to the international Union for Conservation of Nature (IUCN) Red List.
The Uganda national constitution of 1995 put a mandate to protect and preserve natural resources from oil and gas to flora and fauna. In particular, the lost rhinos were to be restored following the National Rhino Conservation Strategy.
Five years later, Ziwa Rhino Sanctuary was established through Uganda Wildlife Authority a long term partnership with Rhino Fund Uganda. Between 2001 and 2006 with support from several partners 6 southern white rhinos were flown into the country. Since then, the number of rhinos has multiplied.
Now Uganda is home to over 30 rhinos at the sanctuary situated in Nakitoma Village, Nakasongora district about 168 km (3-hour drive) north of Kampala. Tracking rhinos on foot with a ranger is available for booking through tour operators.
The Ziwa rhino permit is sold at $50 per person excluding entrance fees. The sanctuary also features midrange and budget accommodation. Guests intending to spend a night there have the opportunity to take part in several activities such as canoe riding and bird watching.
Besides rhinos, the sanctuary which covers about 70 hectares contains savanna plains, woodlands and swamps. Among other wildlife species that you might spot while at Ziwa Rhino Sanctuary include shoebill stork the highlight of over 200 species of birds recorded as well as waterbucks, bushbucks and duikers.
Challenges facing rhino conservation in Uganda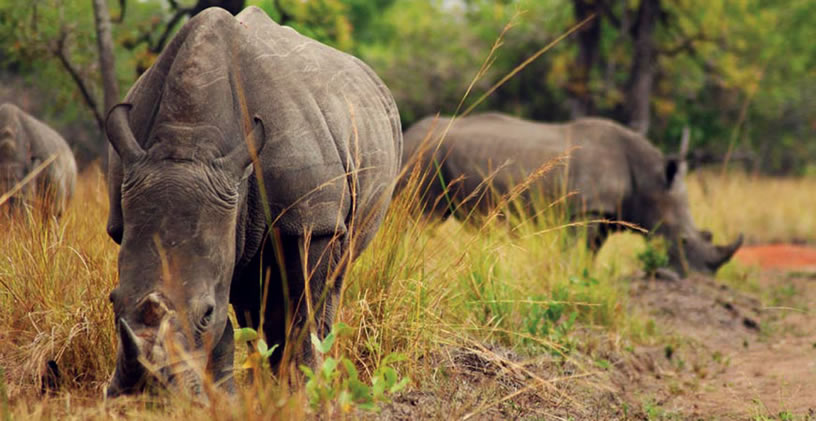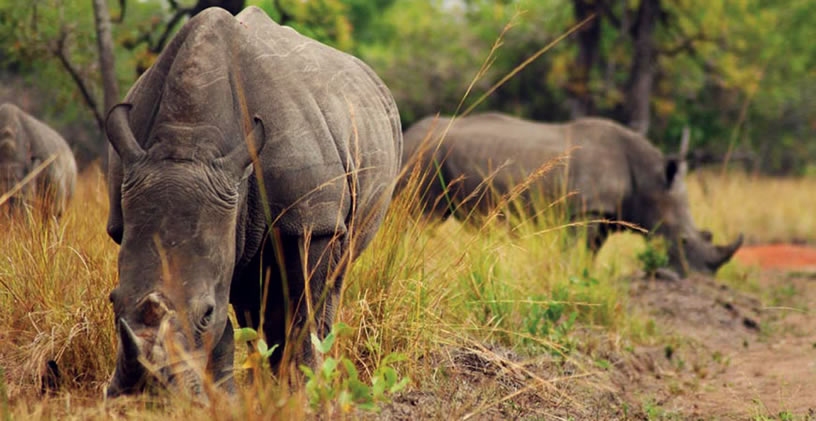 The Uganda Wildlife Authority (UW) is planning to return rhinos to national parks like Kidepo and Murchison Falls in the near future. However, keeping them safe in a remote park like Kidepo which is right at the border with South Sudan will prove a serious challenge.
Because of the insecurity in the neigh-boring country, poachers can easily infiltrate into park for rhino horns. Therefore, Kidepo might not be the first place of choice. Instead a new sanctuary might be created within Murchison Falls National Park, which is just 2-hour drive north of Ziwa Sanctuary. That will be easy to monitor and protect the species rather than releasing them into the wild to roam free that can expose them to poachers.
With such a challenge, the decision to restore rhinos back to the national parks will only come when the rhino numbers grow to surpass the carrying capacity of the sanctuary. Being relatively small areas with an electric fence, the rangers closely monitor the rhinos and that has kept away poachers.