Much as mountain gorillas are trekked in the Virunga conservation area, meeting these endangered species in the impenetrable forest of Bwindi national park is surely an adventurous and unforgettable experience. The national park is situated in southwestern Uganda bordering the Virunga national park in the Democratic Republic of Congo and is a home to the highest population of mountain gorillas in the whole world. Bwindi impenetrable forest national park comprises of mountane and lowland virgin forest comprised of 163 tree species, 104 ferns, and over 1,000 blooming plants which has favored the inhabitation of the endangered mountain gorillas.
The park covers a total land area of 330.8 square kilometers and was established in 1991 together with the sister Mgahinga gorilla national park purposely to protect the endangered mountain gorillas that inhabit there. Besides mountain gorillas, Bwindi impenetrable forest national park is a home to approximately 120 mammals 10 of which are primates. Also, there are over 45 small mammals, 220 species of butterflies, 27 frog species, 348 bird species among other animals.
Gorilla trekking is an exceptional focus for most if not all travelers to Bwindi impenetrable forest national park. At present, 12 gorilla families have been habituated for trekking at a cost of 600usd for a single permit. The families are split in the four sectors of the national park namely, Buhoma, Rushaga, Ruhija and Nkuringo sectors of the national park. The habituated families are Nkuringo family in Nkuringo sector, Nshongi family, Busingye family, Kahugye family, Bweza family and Mishaya in Rushaga sector, Bitukura family, Kyaguriro family and oruzongo family in Ruhija sector, Mubare family, Rushegura family and Habinyanja family in Buhoma sector of the national park.
Each family is allocated to a group of eight people maximum who interact with the gorillas for an hour. Travelers are required to keep a distance of seven meters away from the gorillas to prevent the spread of human wildlife diseases.
Gorilla permit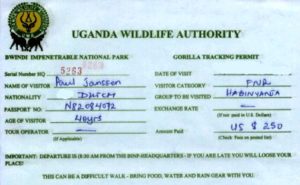 Accessed at a cost of 600usd, a mountain gorilla permit is a must have for every trekker. The permit allows a traveler to spend an hour with the allocated gorilla family after which the permit expires. After a single trek, travelers who are interested in double trekking buy new permits meaning that every permit is used once. The gorilla permits are accessed from the Uganda wildlife authority (UWA), a government body responsible for conservation and tourism in Uganda either directly or through any trusted tour operator.
Additionally, advance booking ad payment for these permits is highly recommended for timely and easy allocation of gorilla families to certain trekkers.
Trekking time
This starts in the morning after a simple briefing from the park rangers about the do's and don'ts while trekking. The time to spend in the jungle varies depending on where the allocated family slept the previous night and their movements. This means that time can vary from 30 minutes to 6 hours but the experience is surely extra ordinary.
Concerning the best time to trek gorillas, the endangered species can be trekked all year round. However, dry season is the best time to hike through this impenetrable forest.
Dressing code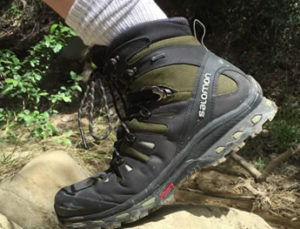 The park is a tropical rain forest with unpredictable weather conditions. This means that rain can shower any time of the day despite the season requiring travelers to dress right for the jungle. Dressing smart for trekking entails hiking boots for easy movements in the muddy and slippery grounds, hand gloves to protect against thorny bushes, rain gears and sweaters for warmth and protection from rain, hut and sun glasses against direct sun, long sleeved shirts and pants which protect trekkers from bites by ground ants and termites. Once a trekker is dressed properly for the trek, an enjoyable and memorable experience.
Porter's and walking sticks
Trekking Bwindi's mountain gorilla trekking is an actual venture that involves hillwalking through the dense impenetrable forest with slippery grounds and thorny bushes. This therefore calls for hiring of porters and walking sticks. The sticks provide support during the hiking whereas the porters carry baggage for trekkers plus holding their hands in the muddy and slippery grounds. Porters are local people and hiring them earns them a living hence improving their standards of living. Similarly, the money earned from walking sticks go back to local people, which is an indirect support.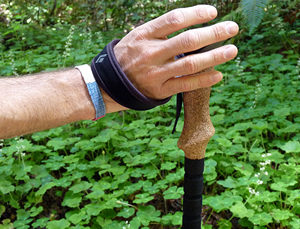 What to pack
Trekking is a tiresome adventure that compels travelers to carry packed lunch, enough drinking water and energy supplements. The trek entails ascending, descending uphill's while panting and sweating and panting in search of the gorillas.
Conclusively therefore, trekking mountain gorilla sin Bwindi impenetrable forest national park is a phenomenal experience that every traveler should have.