Located in southwestern Uganda, Kisoro district is an exceptional travel destination as far as tourism in the pearl of Africa is concerned. Made of rolling hills and green sceneries, kisoro is undeniably a hidden gem that every traveler should discover and enjoy on his/her Uganda safari. Kisoro district is roughly 10 hours drive from Kampala/Entebbe international airport. This gives you the best pre trekking experience, which makes your experience more fun. also, the numerous stopovers along the way and lunch stops give you an added chance to meet ad interact with Uganda locals making you feel like part of the community. Stop at the Uganda equator for photographs and enjoy the beautiful sceneries of Ankole plains and farms. If you are doing Kigali to Uganda safaris, flying into Kigali Rwanda, Kisoro is the nearest Uganda destination from Rwanda. The drive time from Kigali to Kisoro is roughly 3 hours through the Cyanika border. A day tour to Kisoro offers you a lifetime experience with unparallel value. The list of tourist things to see and do in Kisoro is endless.
Mountain gorillas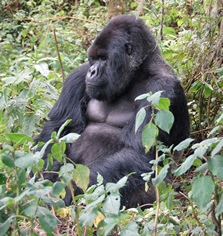 Trekked in the jungle forest of Mgahinga gorilla national park, Mountain gorillas are a key tourist attraction in kisoro district. It's definite that over 60% of travelers to Kisoro for gorilla trekking to have a close encounter with Nyakagyezi, the one and only gorilla family in Mgahinga forest. In October 2019, the Mgahinga forest as blessed to receive a Hirwa gorilla family, which migrated from Volcanoes National Park in Rwanda. Currently, there are two gorilla families in the Mgahinga forest hence 16 gorilla permits available every day. A single gorilla permit in Mgahinga costs $600 for foreign non-residents, $500 for foreign residents and UGX250,000 for East African residents. All permits are bought from Uganda Wildlife Authority (UWA) and can be booked directly or through Gorilla Trek Africa your ultimate Uganda safari company.
Lake Mutanda
A boat cruise the calm waters of Lake Mutanda is a must-do for every traveler to Kisoro district. The 60.5-meter deep and 26 square kilometers lake is one of the four lakes in Kisoro district along with Lake Mulehe, Lake Kayumbu, and Lake Chahafi. Lake Mutanda comprises 22 islands each of which is unique in its way and worth exploring. A cruise to Winner's beach Mutanda offers you a fresh feeling of the natural undisturbed natural beauty with less or no crowds unlike the beaches of Entebbe. For birders, the shore of Lake Mutanda is home to numerous bird species and some small animals, which feed on fish.
Golden Monkeys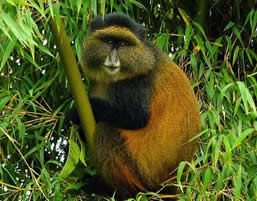 Besides mountain gorillas, Mgahinga Gorilla Park is also home to the endangered golden monkeys hence the best spot for golden monkey trekking in Uganda. over 500 golden monkeys call Mgahinga hence the best spot for golden monkey trekking. Interestingly, a permit to trek golden monkeys costs $100 which is undeniably affordable compared to mountain gorillas. Like gorilla permits, all golden money permits are issued by Uganda Wildlife Authority.
Echuya Forest
Located along the way to and from Kisoro district, Echuya forest is a wonder in southwestern Uganda. The montane forest is home to over 105 bird species 12 o which are endemic to this region, 53 butterflies, 20 species of mammals and 43 moths among others. Echuya forest is believed to have been a permanent settlement area for Batwa pygmies who were evicted from the forest in the 1990s to promote forest conservation.
Cave Exploration
More still, Kosoro district has numerous natural caves, which include Ngarama cave, Mwambike cave and Ruhenju cave among others. These caves were initially used as hiding places for Batwa pygmies. Local guides will guide you into these caves with the help of a torch for light. Also, remember to wear gumboots to deal with the muddy grounds inside these caves.
Churchill View Point
Endeavor to visit Churchill Viewpoint at Kanaaba hill in Echuya roughly 7 kilometers from Kisoro district. The strategic location of Churchill's viewpoint at the top of Kanaaba hill offers you specular views of Kigezi hills, local communities, twin lakes of Kayumba and Chahafi, Lake Gihondo, Lake Bulera, Echuya Forest, Lake Mutanda and the Virunga volcanoes in Uganda, Rwanda, and Congo. It's at this pint that Church hill Winston declared Uganda as the "Pearl of Africa". The temperature at Churchill's viewpoint is 360 degrees turn on a clear day.
Virunga volcanoes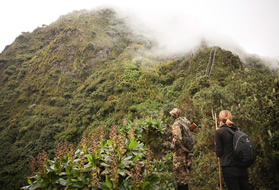 For more adventurous experience, hike to the summit of any Virunga Volcano. Kisoro district is home to three extinct Virunga volcanoes namely, Muhabura, Gahinga, and Sabyinyo all located in Mgahinga gorilla national parks. Related to these is a caldera walk and sabyinyo gorge walk which all offers you a relaxing memorable adventure.
In conclusion, Kisoro district is Uganda's treasure with lots to see and do within the shortest time possible. Contact Gorilla Trek Africa today, book a Uganda safari to kisoro district and discover this hidden gem.
To book a wildlife safari in Uganda and Rwanda,