Are you an adventure traveler? Are you looking to do something magical? Uganda the Pearl of Africa offers it all you need to meet, satisfy and even exceed your travel expectations. Uganda is naturally blessed with natural beauties comprised of endangered wildlife, lakes, mountains and beautiful landscapes, which together make it a complete Uganda safari package. However despite the very many natural attractions, some experiences outstand the others. YES, check the list of top adventure experiences in Uganda with Gorilla Trek Africa. These include:
Mountain Gorilla Trekking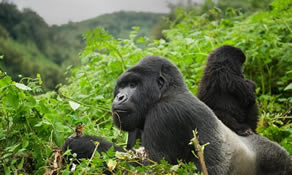 Done in the jungles of Bwindi Impenetrable Forest National Park and Mgahinga Gorilla National Park in southwestern Uganda. For over 25 years, gorilla trekking has been the leading adventure experience in Uganda. The experience entails hiking through thick forests to meet the gentle giants. Trekking to see gorillas is a real adventure, which can last for between 30 minutes to a full day of trekking. The trekking time to see gorillas may be short or long depending on the location of the gorillas and the traveler's physical fitness and hiking speed. Uganda shelters the highest number of mountain gorillas being home to half of the world's total gorillas. Gorillas in Uganda have been habituated into 18 gorilla families 17 of which live in Bwindi Forest while 1 Nyakagyezi gorilla family lives in Mgahinga Gorilla National Park. Each gorilla family is visited by a group of eight people for an hour. More so, Uganda offers the experimental gorilla habituation experience allowing you to spend four hours with the endangered gorillas. Travelers visiting gorillas must have valid gorilla permits @$700 for gorilla trekking and $1500 for gorilla habituation experience. Gorilla permit bookings are recommended at least 6 months in advance to ensure timely planning.
White Water Rafting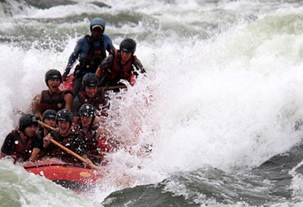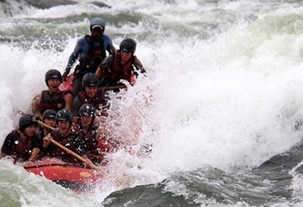 Go white water rafting at the source of the Nile for an exceptional adventure experience on the waters. Yes, enjoy this recreational outdoor up and down the grade five rapids of River Nile. Travelers are reminded to carry extra clothes since the first ones will be soaked. Rafting in Uganda is categorized into half day and full day depending on the traveler's time and budget. The experience is commenced with a briefing about safety precautions and some safety training skills.
Chimpanzee Trekking
Chimpanzee trekking is yet another interesting adventure experience in Uganda. Uganda chimpanzees live in the rain forests of Kibale Forest National Park, Kyambura Gorge, Kalinzu Forest and Budongo Forest. Like the gorillas, chimpanzee trekking entails hiking up and down hills through thick forests to meet these endangered species. Chimpanzee Habituation Experience (CHEX) in Kibale Forest offer you chance to spend extended time with the chimpanzees. The hustle of trekking through jungle forest in search for chimpanzees makes this experience a real adventure.
Bungee Jumping
You cannot dare eave out bungee jumping when it comes to adventure experiences in the world. The experience entails jumping off the top of the Nile down to the bottom of the river's surface. Bungee jumping is undeniably the most scaring experience but the magical feeling that comes with it is worth it.
Bungee jumping is done at the source of the Nile and the minimum weight required in 35 kilograms.
Rwenzori Mountain Hiking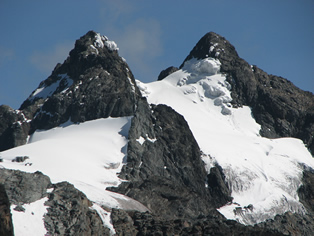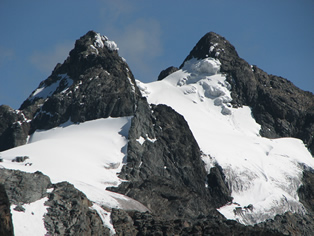 A hike to the summit of the snow caped mount Magherita peak is the best adventure experience you should not miss on your Uganda safari. Also called the mountains of the moon, Mount Rwenzori is the tallest volcano in Uganda standing at 5,109 meters above the sea level. A 9 Days Rwenzori hiking safari is the suitable package to explore this volcanic mountain.
In general, Uganda offers you the very best adventure experiences you will live to remember. Contact us today, book your desired adventure experience and enjoy this lifetime experience.