Sport fishing tours are one of the interesting travel experiences to enjoy in Uganda, the Pearl of Africa. Uganda is home to 4 of 7 African Great Lakes including Lake Victoria the second largest freshwater lake in the world and source of the Nile River, Lake Kyoga, Lake Albert and Lake Edward. The inland freshwater ecosystems are rich in biodiversity including over 90 tropical fish species including Nile Perch the biggest type of fish caught in Uganda among others such as Tilapia, catfish, lungfish, Eels, barbell, clarias, silverfish and sprat. Uganda safari offer opportunities for recreational fishing (sport fishing) due to the abundance of fish. Most importantly fish is an important source of livelihood, nutrition and economic opportunities given that the fishing sector produces over 461,000 metric tons worth $186 million in 2019 and employs 1.5 million people according to Ministry of Agriculture, Animal Husbandry and Fisheries in Uganda (MAAIF). The major fishing processing sites are found around Lake Victoria in Kampala capital city including Gaba, Sesse islands, Jinja and Entebbe municipalities. Boat rides offer access to several landing sites in Entebbe region including Buvumbo, Kigungu, Ssanya and Kalungi. Bulago Island in Sesse Kalangala district can be accessed by Mv Kalangala ferry which departs from Nakiwogo landing site in Entebbe town at 8am in the morning and 2pm for afternoon.
The common method of fishing in Uganda is traditional gillnet widely used by local fishermen. Hand-lines usually attached to a rod or held by hand while in a boat are used for sport fishing. Small fishes are used as bait on the hooks to attract the catch. Stronger reels of (60lb – 80lb) and Mustad 5X hooks are needed given that Nile perch can weigh up to 113 kg, tilapia at 80 kg, catfish 45kg and the 4feet lungfish. Fishing equipment are available for hire through a tour operator in Uganda. Alternatively, visitors can bring their choice of equipment to catch a particular type of fish. Visitors intending to do sport fishing need to acquire a permit which is available for booking through Uganda Wildlife Authority (UWA) head offices in Kampala capital city or a trusted tour operator. The wildlife authority provides conservation rules for sport fishing including 'catch and release' in Murchison Falls and a chance to eat your catch in Lake Victoria and Lake Mburo. Sport fishing in Uganda is done along other travel experiences which include gorilla trekking, game viewing, chimpanzee trekking and cultural tours among others
Top sport fishing sites in Uganda
Murchison Falls National Park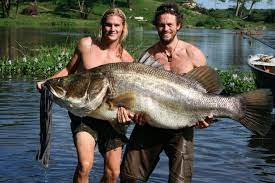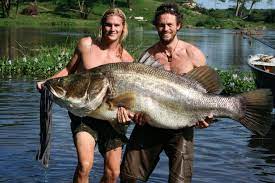 Uganda's largest protected area, Murchison Falls National Park is 305 sq.km (6-hour drive) north-west of Kampala capital city and can be accessed by air through Pakuba airstrip. The park consists of savannah wilderness dotted with Borassus palm trees, acacia, riverine woodlands, forests and swamps. The varied habitats support rich biodiversity including 415 species of birds, 76 mammal species such as lion, leopard, hippos, African elephants, Cape buffalo, Rothschild's giraffe, hippos and Nile crocodiles. The Nile River flows through the park into Lake Albert and creates the Murchison waterfalls (the park's most spectacular site) as the river squeezes through a narrow gorge and plunges over a 40-meter cliff with a thunderous roar into the "devils cauldron" to create a trade mark rainbow. The Nile River great provides opportunities for sport fishing with the current fish catch record of a 113 kg Nile perch. Other fish species including Nile tilapia, lungfish and the catfish can be found at several spots including the bottom of the falls, along the riverbank, Karuma falls and Chobe Safari Lodge. The park was visited by world famous anglers including Jeremy Wade and Zed Hogan of National Geographic (NAT GEO). Sport fishing in Murchison Falls National Park is done during dry season in December to January and July to September. This is also the best time for game viewing safari in Uganda including game drives, boat cruises along the Nile River and hot air balloon safari. Those intending to fish at Karuma falls, the site is 97 sq.km north of Masindi town along the Kampala-Gulu highway accessible by those using the northern Tangi entrance gate. There are boats that carry up to 4 people with rods to fit the fishing reels.
Sport fishing in Lake Victoria
Lake Victoria is the largest freshwater lake in Africa shared between East African countries including Uganda, Kenya and Tanzania. The country with the largest part of Lake Victoria is Tanzania (49%) and Uganda is second occupying 45% (31600 sq.km) of the lake's total area 69484 sq.km (26828 sq. Miles). The lake is famous for harboring over 300 tropical fish species including the endemic Cichlid Haplochromis Nyerere and silver fish (Mukene) among others such as tiger fish, carps and Minnows. The Nile Perch and Nile Tilapia were introduced in 1960s and are known to prey on smaller local species which has decreased their numbers at the same time providing abundance to catch. Fishing can be done around the fishing villages or landing sites including Gaba in Kampala, Bulago island Sesse. The local fishermen use their expertise to identify fishing spots on the lake depending on weather conditions. Speedboats, traditional canoes and motorized canoes are available for hire depending on interest and accessibility of the spot. Fishing trips begin at 10am in the morning and end at sunset depending on choice and time. Fishing trips are also available at night when the local fishermen find it easier to catch fish given that they are more active. Visitors can also participate in traditional fishing ways including use of nets and small hooks.
Lake Mburo National Park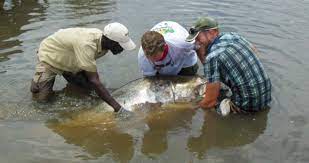 Lake Mburo National Park is 234 sq.km (4-hour drive) south-west of Kampala capital city along the Masaka- Mbarara highway. The park is mainly a savannah protected area but has forest galleries, swamps and 13 lakes including Lake Mburo the largest which support rich biodiversity including 6 fish species including Nile tilapia; over 317 species of birds and 69 mammal species including impala, plains zebra, Cape buffalo, Rothschild's giraffe, hippos and crocodiles. Lake Mburo offers game viewing in Uganda by different activities including day and night game drives, walking safari, biking and boat cruise. In addition, the park also offers sport fishing which is done at Mazinga landing site on Lake Mburo. Boat trips begin at 10 am or 2pm in the afternoon and provide a chance to navigate the lake in search of fish and wildlife. The main species of fish to catch in Lake Mburo include Nile tilapia and lungfish.
in Conclusion, sport fishing is a lifetime experience worth doing! Gorilla Trek Africa helps you book and arrange a tailor made sport fishing safaris at affordable rates.