Boat Cruise safaris have presently become popular on Uganda tours! Most adventurous travelers choose to take part in the lifetime watersports activities for a fresh breeze. Uganda is located across the equator in East Africa with the source of the Nile River and four of the seven African Great Lakes including Lake George, Lake Albert, Lake Kyoga and Lake Victoria – the largest freshwater lake in Africa. These physical features provide water for people and wildlife including elephants, hippos, crocodiles, birds which attract visitors on Uganda safari. In that regard, lakes in Uganda have been attracting development of fishing towns and industrial areas including Jinja city on the banks of the Nile River and Entebbe – the gateway to Uganda on the northern shores of Lake Victoria. Elsewhere, the water bodies that have remained untouched include Nile River in Murchison Falls and Kazinga Channel in Queen Elizabeth National Parks. For travel on water, people living in Sesse islands for instance used traditional canoes until the advance of motorboats. Water transport in Uganda has gained momentum due to improvement in boat cruise tour experiences. These include game viewing launch trips carried out in Murchison Falls, Lake Mburo and Kazinga channel and motorized canoes for birding especially at Mabamba swamp in search of shoebill stalk. There's also traditional canoeing at Lake Bunyonyi in south-western Uganda and leisure boat cruises on Lake Victoria from Entebbe to Sesse islands Kalangala district. Boat cruise safaris in Uganda vary depending on time of the day, purpose of the tour and location. Let's look at the best places to visit for boat trips in Uganda.
Launch trips in Murchison Falls National Park
Boat cruises are done on the Nile River and its delta swamps which flows through the center of Murchison Falls National Park – Uganda's largest protected home to 451 species of birds and 79 mammal species including big 4 (lion, leopard, Cape buffalo and African elephant). The park's most spectacular site is the Murchison waterfalls created as all the water that comes from Lake Victoria pass through a narrow gorge and plunge over a 45 meter rift valley cliff with a thunderous roar to create the devil's cauldron. Launch trips offer a chance to see the bottom of the waterfalls closely at a 10 meter distance and spot wildlife on the riverbanks including elephants, buffaloes, hippos, Nile crocodiles and a variety of water birds. There are two double-decked boats including the "African Queen" of Uganda Wildlife Authority (UWA) with a capacity of 45 people. The second one is Kabalega (40 guests) privately operated with a bar and serving area and toilets onboard. After the morning game drives or hot air balloon safari, the boat trips begin from Paara at 2p with guides to identify wildlife and last for 3 hours on the river. The scenery is spectacular and there are many crocodiles and regular elephant encounters. Lifejackets are available and should be put on where appropriate. In addition to the larger boats, there are medium-size aluminum motorized boats for small groups of 5 and 16 guests. These are suitable for spot fishing and keen birders looking to spot the shoebill stalk or even lions on the river banks while navigating the narrow river channels including the Nile-Lake Albert delta swamp departing anytime of the day. The sunsets on the Nile River can be spectacular and you can book a boat cruise specifically for that.
Kazinga channel boat cruise in Queen Elizabeth National Park
Kazinga channel is 32 sq.km long waterway in Queen Elizabeth National Park. The tropical channel, which links Lake Edward and Lake George is famous for harboring many hippos (about 2000 individuals) than you can see along the Nile River in Murchison Falls and Lake Mburo National Parks. In contrast, the channel is wide enough for different species of animals to gather together including waterbucks, African elephants, buffaloes and hippos. Most of the 612 species of birds found in the park cane be spotted while on the Kazinga channel boat cruise including the African fish eagle, African jacana, black crake and sacred ibis among others. There are three double-decked boats including the one for Uganda Wildlife Authority, Mweya and MV Kazinga which offer refreshments onboard. Boat trips in Queen Elizabeth National Park are available from 8am to 11am in the morning, 1pm to 5pm and for sunset viewing up to 6:30pm.
Lake Bunyonyi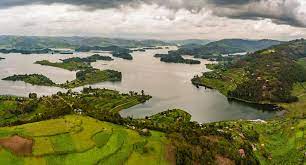 Lake Bunyonyi "a place of many little birds" is situated in south-western Uganda in closest proximity to Kabale Municipality, Bwindi Impenetrable Forest and Mgahinga Gorilla National Parks. The lake has 19 islands home to 200 species of birds and offers completely different boat tour experience. Canoe riding on Lake Bunyonyi offers a chance to explore several islands including the punishment island where unmarried girls who got pregnant would be dumped and left to starve or drawn while attempting to swim to the mainland. Though the practice among the Bakiga tribe was abolished with the coming of missionaries and the island seems to be sinking, human remains in the rock caves are still visible on another small island. In addition, Kayaking is also available among other activities including homestays, hiking on the islands, bird watching, biking, zip-lining and visiting the Batwa pygmies for their pre-historic ancient fire making Batwa style.
Boat cruise on Lake Mburo
Lake Mburo National Park is 236 sq.km (4-hour) south-west of Kampala capital city. Covering 370 sq.km, the park is the smallest savannah protected and contains short grass savannah, acacia and euphorbia trees in the north, forests and several lakes in the southwest which are part of the Nakivale wetland system. The variety of habitats support a rich biodiversity including 317 species of birds, several mammal species including hippos and is the only place to see plains zebras and impalas in western Uganda circuit safari. Lake Mburo which is the largest lake in the park offers boat cruise safaris available from 2pm to 5pm and can be scheduled for morning and sunset viewing in the evening. In addition, the park also offers walking safaris in Uganda, horseback riding and mountain biking with opportunity to view wild animals including Cape buffalo, eland, impala, zebra, warthog, klipspringer, oribi, bush and waterbucks. There are no elephants but leopards are present and could be spotted during night game drives. Paying for boat cruises and other safari activities is only accepted by card at park visitor centers or through Uganda Wildlife Authority head offices in Kampala.
Gorilla Trek Africa is your ultimate guide on your boat cruise safaris in Uganda. Contact us, book a cruise safari tour to the bottom of the mighty Murchison falls, Kazinga channel and Lake Mburo National Parks at affordable rates