Traveling solo is adventurous but a family trip with kids of all ages is undeniably exceptional. Traveling together as parents and children is one way of bonding with each us. Everyone on the trip despite the age deserves to be happy and meet all his/her travel expectations. To meet your kid's expectations, we offer you the best children friendly family wildlife safaris suitable for kids of all ages. Our family packages are kid friendly with tailored activities to meet, satisfy and exceed your kid's travel expectations. You are assured of comfortable car seats, strollers, snacks, juice, and bottled water to keep your kids happy and lively. Also, our kid-friendly driver guides entertain your kids making your safari memorable indeed. Family experiential safaris create lasting family memories.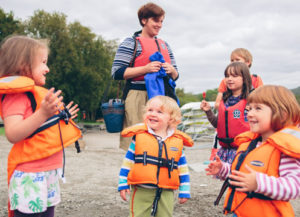 Best safari activities to do with kids
Game viewing
A game drive in the open savannahs is not only interesting but fun for the kids. Here travelers with their guides drive through the park following different tracks in search of wild animals. A game-viewing safari is an opportunity for the kids to see various animals like elephants, zebras, giraffes, lions, hippos, antelopes, kobs, waterbucks, bushbucks, leopards, elands, otters, bush pigs and rhinos among others grazing, browsing and hunting in the wilderness. The best game viewing spots in Uganda are Murchison falls, Lake Mburo, Kidepo Valley, and Queen Elizabeth national parks. These are Uganda's open savannah national parks with the highest concentration of wild animals.
Nature walks
A slow gentle walk in the wilderness is amazing with children; imagine walking through the forest while holding your kid's hard!!!!!!!!!!!! It's worth doing. A nature walk helps you enjoy the calm quite cool natural environment while enjoying the natural beauty. A nature walk is the best way to uncover the hidden treasures in the jungle, which cannot be, discovered in the vehicle. While parents go for gorilla watching in Bwindi, kids can go for forest walking in areas near the park headquarters. Nature walks can also be done in the open savannahs but with a ranger guide. Kids on a nature walk also enjoy the sweet melodies of birds, which sing sweetly up in the trees.
Boat cruise
Sailing on top of the water is something that kids always love, a boat cruise is, therefore, a not miss on your family safari with kids. Uganda boat cruising tours are done o lake Victoria, the source of river Nile, Murchison falls, kazinga channel and lake Bunyonyi. A boat cruise reward kids with fresh airs, spectacular views of the neighboring communities, not missing water animals (crocodiles, and hippos) and birds on the water shores.
Swimming
It's undeniable that swimming is a hobby for most kids. You can, therefore, take your kids for swimming on your African safari. Interestingly, most lodges and hotels have constructed swimming pools to provide swimming services. Swimming is well done in afternoon hours after which kids can for sunbathing. However, parents are reminded to be in full charge of their kids when swimming. Guardians/ parents must ensure kids do not go to deeper areas of the swimming pool.
Balloon safaris
This is the other form of game viewing in which travelers view wildlife from the sky. In Uganda, balloon safaris are done in Murchison fall national park where travelers have a chance to see wildlife in the park, the mighty falls and local communities adjacent to the national park. However, kids below 12 years old are not allowed to take [part in a balloon safari.
In general, a family safari with children is surely fun and interesting. Book an Africa safari with your family, spend time and bond together to enjoy a memorable wildlife experience.