Over years, Rwanda has proved steady progress in transforming her status from a once horrified to an exceptional luxury destination. Despite Rwanda's dreadful past associated with genocide, the land of a thousand hills now ranks as a new luxury travel destination in Africa. If you have recently been on Rwanda safaris, you should have realized that Rwanda is a changed country with various high-class developments in different corners of the world. The clean streets, hospitable people, rolling hills and new developments in Kigali city make Rwanda a distinct travel destination. Rwanda's beautiful primates including mountain gorillas in Volcanoes national park, chimpanzees in Nyungwe forest national park and the big five (lions, leopards, buffalos, elephants and Rhinos) reward travelers with memorable travel experiences. Between 2010 and 2016, Rwanda Development Board achieved a double increase in tourism revenue from $200 million to over $400 million while the number of travelers to Rwanda has increased to over 1.7 million in 2018 a clear indication of success. Rwanda's steady progress and tourism success is all attributed to the good governance of HE Paul kagame together with respective government bodies who have together put Rwanda on the world travel map. The things that make Rwanda a luxury travel destination include among others:
Natural attractions
The land of a thousand hills is blessed with four national parks, namely Volcanoes for mountain gorillas/golden monkeys, Nyungwe forest for Chimpanzees, Akagera for game viewing and Gishwati Mukura national parks.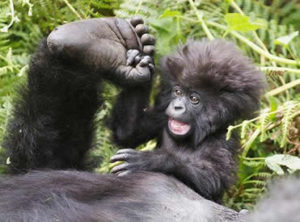 Also, the country boats in natural assets including six volcanoes, 23 lakes including the Bulere and Ruhondo twin lakes and countless meandering rivers which flow to different regions of the country. The rolling hills after which Rwanda named "the land of a thousand hills" make scenic viewing indeed wonderful. The green grasslands, tree-trimmed lakes, swamps, dramatic mountains and dense forest spread in different corners of the country make your safari complete. Expect to see plenty of zebras, giraffes, lions, chimpanzees, kobs, elands, topis, and antelopes among other animal and bird species. A hike to any of Rwanda's waterfalls especially Kamiranzovu and Rusumo falls the largest waterfall in Rwanda located on the border of Rwanda and Tanzania are worth visiting. Enjoy your free time on Rwanda's lakeside resort, which is one of the most relaxing and romantic places in Rwanda on the shores of tropical lake kivu. Resting on the lakeside is the best thing to do especially after the strenuous gorilla trekking hikes in Volcanoes national park. Lake kivu is the best place for water spot activities such as kayaking, boat cruising, swimming and fishing among others. a visit to the hot springs, sandy beaches and the steep hills of the Rubona peninsula is a not miss on your Rwanda safari. The stunning glimpse of authentic local life, charming homesteads and verdant gardens.
High cost Gorilla permits
First of all the high cost of Rwanda gorilla tours tells that its only luxury travelers that can trek Rwanda's mountain gorillas in Volcanoes national park. Gorilla permit prices in Rwanda were increased in 2017 when RDB doubled the cost of a single gorilla permit from $750 to $1500 paid by all travelers including Rwanda citizens. Ever traveler to see mountain gorillas must have a valid gorilla pass without which no one can be allowed to see these endangered species. Rwanda gorilla permits are sold by Rwanda Development Board (RDB) a government body responsible for tourism and conservation in Rwanda.
Exclusive lodges/Hotels/Camps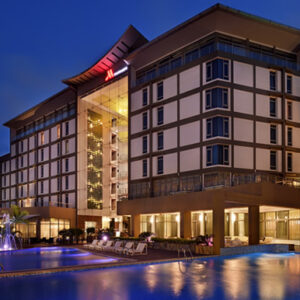 The construction of excellent lodges, hotels and camps in different parts of the country tells it all. Among the high-end accommodation facilities in Rwanda include Bisate lodge in Volcanoes national park, Radisson Blu within the Kigali convention center, Marriott hotel in Kigali, Magashi tented camp on the shores of lake Rwanyakazinga and the one and only Nyungwe house in Nyungwe forest national park. These offer travelers serve travelers with first class food and sleeping services.
Direct flights to African, American and west African Countries
When it comes to ease of access, Rwanda government through her national carrier (Rwandaair) has done great. The country has promoted direct flights to most African, West Africa, and European countries, which make connections from and to Rwanda quick. The ease of access to Rwanda has enabled short time travelers to exploit the country's natural beauties that offer memorable travel experiences.
Centre of MICE
Rwanda has presently ranked as the leading destination for meetings, incentives, conferences and events attracting the highest number of conference travelers from all parts of the world. Rwanda is a center of conference tourism made possible to the first class Kigali convention Centre which host over 5000 people. Also, luxury hotels especially Radisson Blu hotel with over 200 rooms provide conference delegates with excellent food and sleeping services. A city tour in Kigali is also
Virunga volcanoes
Rwanda is a home to three volcanic mountains in the heart of Volcanoes national park available for hiking. These include Mt Karisimbi which is the highest, Mt, Bisoke, and sabyinyo in the borders with Uganda's Mgahinga gorilla national park. A hike to the summit of any volcanoes rewards you with spectacular views of Volcanoes Park, neighboring communities and other attractions in neighboring countries. Also, the slopes of these volcanoes shelter mountain gorillas and other wild animals which travelers a chance to meet these endangered species without notice. Rwanda hiking tours also include hiking to the Dian Fossey graveyard, an American primatologist who lost her life in trying to save the gorillas.
It's undeniable that Rwanda is a luxury travel destination worth visiting. The expensive gorilla tour packages, plus luxury hotels. Lodge and camps all over Rwanda qualify Rwanda as one of the new luxury tourism destinations in Africa.