Anybody planning a safari to the Pearl of Africa must be aware of safari etiquettes for a Uganda Tour. The exhilaration of visiting Uganda on an African safari is second to none for anyone who wants to explore the true wilderness and its beauties. Travel etiquettes for Uganda safaris are highly recommended to ensure peaceful and enjoyable Uganda tours. The best way of knowing the code of conduct on a Uganda safari, which includes how to behave on your tour, what you need to pack, and what you need to know is by getting a local tour operator. Safari etiquettes are all about recognizing and respecting the culture of the society and the natural environment to explore. It seems so simple to adhere to the laws but easy to forget due to the excitement that comes when you see something unique you have never seen before. Check for detailed safari etiquettes to Uganda with Gorilla Trek Africa, the leading and trusted travel agency in Uganda, Rwanda and the Democratic Republic of Congo.
Ensure Your Safety and well being
Whereas one of the major roles of the tour company on a safari is your well-being and safety, you will have to play your part as an individual. Do not leave it all to your ground handler ensure to take care of your personal belongings. Keep your stuff out of reach of the temptations of pickpocketing and petty theft.
It is clumsy or reckless to carry large sums of money in crowded and public places such as local markets, shopping malls, and streets, particularly in the urban centres. Make sure that the doors and windows of the vehicle are locked and carry your precious items like phones, tablets, laptops and jewels when leaving a car. It is advised to come with a small backpack on a safari where you can safely keep and carry your valuables.
At the safari lodge, endeavour to keep your valuables and money in the safety facility rendered. Ensure to check the room thoroughly to pack every item that is tempting to steal before exiting.
Seek Permission for Photography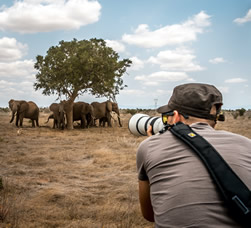 It is okay and permitted to capture visuals of the social setting in Uganda but request consent if you wish to take a picture of a certain individual. Some locals may solicit payment but this is done at the visitor's discretion. It is imperative to note that capturing photos or videos of military establishments and personnel is barred.
Behave while in  the safari car
If travelling in a group, endeavour to be considerate and create a conducive atmosphere especially when participating in tour activities. Note that people have different preferences and interests that differ from yours be thoughtful and let democracy prevail.
Smoking is not permitted in the car. Do not litter in the vehicle or throw rubbish out of it, a dust bin is provided by the safari guide where you can put it. It is against the law to degrade the natural environment in Uganda.
Manage your Mobile phone Calls
It is awkward and irritating to pick up calls in the wilderness or jungle such as a national park or any other natural place or even in a shared safari vehicle. Limit or completely restrain yourself from using your phone while engaging in an activity and around people. Other than that, you can use your phone privately and Uganda has a couple of great mobile networks with fast internet.
Ask to use the toilets
In case you get unease before reaching the stopover, feel free to notify the driver guide to make arrangements for your relief. If it is made in the bush, bury the waste in the ground.
Be Free with Local People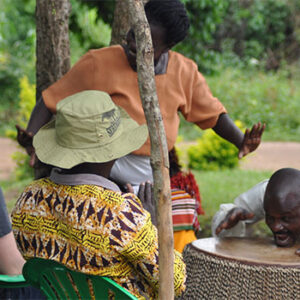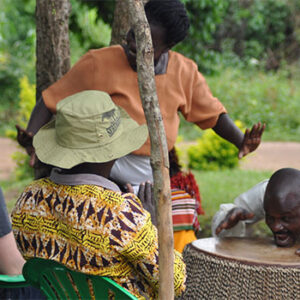 Ensure to be free with local people you find on ground. Uganda has one of the most hospitable and friendliest people in the world. It is a norm to start any conversation with a person by exchanging pleasantries. For instance, when inquiring or requesting directions begin off with "how are you?"
There are some reservations about handshaking, especially for different sexes. It is best to restrain from it with contrasting sex.
Drinks and beverages
Apart from drinks and meals indicated on your itinerary, you are responsible for buying your own drinks and meals. Most safari lodges have a wide range of international wines, spirits, juice, fizzy drinks and delicacies. Prices of the foods and beverages vary across the different lodges. Always drink bottled mineral water, tap water contains chemicals like chlorine and at times it is not treated well.
Most often tour companies provide drinking water and fruits to their clients.
Tipping
Much as tipping is not a must, the action is taken as a good gesture and encouraged. The token of appreciation can be in terms of money in either a local currency or a foreign one and also tangible items like clothes, footwear and jewellery. It is upon the visitor to give out any amount of the tip. The following rates are the ones popularly given out;
Porters for gorilla safaris and hiking expeditions: porters are normally hired to carry the heavy packs of the visitors during the aforementioned activities at US dollars 15-20$ per day. However, 10$ may be topped on as a tip.
Gorilla and chimpanzee rangers: there is a tip box at the head office at every primate park where 15-20$ per tourist on a tracking. The head ranger distributes the tip among the patrons and the rangers.
Safari driver guides: Renowned tour companies advise visitors to provide 10-15 dollars per day to safari guides.
Hotels/lodge stuff: the lodge personnel can be given $ 3-4 per stay. Some small accommodation establishments have a tip box where a guest can put any amount they wish. At the end of the day or month, it is removed and distributed among all staff by the hotel manager.
National park guides (cruises/bird walks/game drives)
The wilderness is the home of exotic animals henceforth they should be respected once on a game drive, tracking experience and nature walk. The national parks in Uganda draw lots of enthralling sightings of animals going about their business. For instance, a lion lazing on a bolder after a long hunt, hyenas savaging on the leftovers of the lion's kill and elephants walking around looking for foliage. If you let them be, there is a high chance of capturing nature pictures. If you intrude, they will run off or at times attacks you resulting in jeopardy. Wildlife must be left in its natural setting which is where animals feel more alive and peaceful.
Do not go off track on a game drive: The national parks have a fragile environment or sensitive vegetation that gets degraded and destroyed when tampered with. This vegetation is the habitat of the wild animals if destroyed they will have nowhere to live and hence vacating the area or dying because of an unconducive atmosphere. Visitors are instructed to remain on the demarcated game drive tracks to view the animals.
1. For the tracking expedition such as the gorilla and chimpanzee tracking, tourists must walk on the demarcated trails. Once they meet the primates, they are supposed to keep the seven-metre gap.
2. Voices must be lowered in the jungles of Uganda. Wild animals are irritated by loud noises. A deafening environment is disturbing to animals; they normally get rowdy hence getting violent.
3. The flashlight on the cameras must be turned off during the primate tracking activities. Primates such as mountain gorillas and chimpanzees are very sensitive to light.
Follow the safari guide, park rangers and other park staff's advice at all times during any park activity.