Most people from all over the world have known Rwanda majorly for mountain gorilla safaris in Volcanoes National Park. YES, Rwanda is one of few places to see mountain gorillas in the world and gorilla trekking attracts the highest number of travelers from all over the world. However, Rwanda safaris are such more than gorilla tours. The small country is full of surprises to meet satisfy and exceed every traveler's expectations. The beautiful landscapes, the natural forests, lakes, rivers, hills, and hospitable people make Rwanda a must-visit destination on your African Safari. Also, the clean and organized Kigali city, unlike other cities, makes Rwanda an exceptional destination worth exploring. Gorilla Trek Africa Brings you the top five wonders of Rwanda and these are:
Volcanoes National Park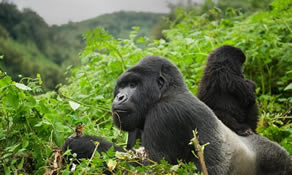 Perched in northwestern Rwanda, Volcanoes National park is the number one travel destination in Rwanda. Sheltering over 450 mountain gorillas, Volcanoes Park is your ultimate gorilla safari destination to meet and interact with the famous mountain gorillas. Rwanda gorillas have been habituated into 10 gorilla families namely Susa A family, Amahoro group, Karisimbi family, Umubano family, Sabyinyo family, Agashya group, Kwitonda family, Ugenda group, Hirwa family (currently living in Uganda), Ugenda group and Bwengye gorilla family. 8 people per day visit each gorilla family for an hour. Rwanda offers you luxury gorilla tours in Africa with a single gorilla permit costing $1500. Besides gorillas, Volcanoes National park is home to the endangered golden monkeys, Twin lakes, caves, Mt Karisimbi, Mt Bisoke and numerous bird species. Spare time and hike to the graveyard of Dian Fossey, the primatologist who lost her life in the struggle to save gorillas that were on the verge of extinction. Volcanoes National park shares Rwanda's part of the Virunga Conservation area bordered by Mgahinga National park in Uganda and Virunga National Park in the Democratic Republic of Congo.
Akagera National park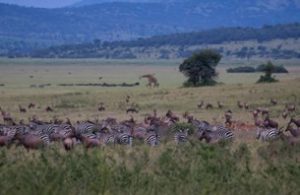 Akagera National park is Rwanda's only savannah park, home to the big five game. Akagera is located in eastern Rwanda named after river Akagera which flows in its heart. The park shelters a variety of wild animals including buffalos, Oribis, Lions, Elephants, Rhinos, Hippos, Roan antelopes, Bohor reedbuck, Topis, Waterbucks, Warthogs, Impalas, Sitatunga antelopes, Masai Giraffes and zebras among others. Day and night game drive through the park is a chance to meet different wild animals grazing, feeding, and hunting in the park. A boat ride on Lake Ihema and Akegera river is an added advantage. For birders, Akagera National Park is home to over 500 bird species which include Amur falcon, Red-faced barbet, Booted eagle, Blue shouldered robin chat, Crested barbet, Dimorphic egret, shoebill, Red winged francolin, Western reef heron, Grasshopper buzzard, Papyrus gonolek, White winged swamp warbler, Sooty falcon and short tailed pipit among others. Bird watching in Akagera National Park is done all year round.
Nyungwe Forest National Park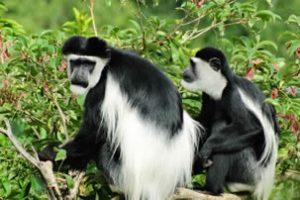 Protecting Africa's largest mountain forest, Nyungwe Forest is a true natural wonder for Rwanda. The forest is home to 13 primates including chimpanzees, colubus monkeys, grey-cheeked mangabeys, vervet monkeys, owl monkeys, and baboons. Nyungwe Forest is, therefore, Rwanda's best spot for chimpanzee trekking and primate safaris. The mountain forest is also home to over 250 bird species such as the Archer's robin chat, Blue headed sunbird, Handsome francolin, Mountain masked Apalis, Dusky crimson, Regal sunbird, Strange weaver, Red-collared babbler, Red-throated alethe, and Shelley's Crimson wing. Birding is done all year round. Rwanda safaris to Nyungwe Forest National Park also include a 2 hours canopy walk which give travelers aerial views of Nyungwe Forest, Virunga volcanoes and local communities making the whole experience memorable. Tourist activities in Nyungwe Forest include chimpanzee trekking, canopy walk, nature walks, waterfall hiking, bird watching and monkey trekking among others.
Rolling Hills
The endless rolling hills of Rwanda after which the country was named "the land of a thousand hills" are a natural wonder. The hilly terrains in all corners of Rwanda covered by local farms and gardens make Rwanda a beautiful country. The drives through Rwanda give you scenic views of the rolling hills good for photography. You will spot scattered settlements in Rwanda's rolling hills which make it more beautiful.
Lake Kivu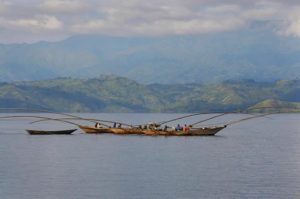 Located in Rwanda's borders with the Democratic Republic of Congo, Lake Kivu is Rwanda's largest lake and water body. A boat cruise to explore Idwiji the tenths largest island in the world is a not miss. Also, the sandy beaches of Lake Kivu are the best place for chilling and relaxation after strenuous gorilla treks and other tiresome experiences in Rwanda. Relax on the shores of Lake Kivu for sunbathing and enjoy a cool quite stay in the luxury lodges of Lake Kivu especially Kivu Serena for comfort and serenity. The top travel activities on Lake Kivu include Swimming, Hiking and biking, water trips, boat cruising, swimming, windsurfing and island exploration among others.
Discover and explore Rwanda's natural wonders to Nyungwe Forest, Volcanoes Park, Akagera savannahs, Lake Kivu and beautiful rolling hills with Gorilla Trek Africa.