How much does a gorilla safari cost is one of the unavoidable questions in gorilla tour reservations and booking processes? It's one of the first questions every traveler asks when inquiring about a gorilla safari to see whether it fits his/her budget. Different gorilla tour packages cost differently but all the experiences are life-changing. Upon the confirmation of every gorilla tour inquiry, a traveler is given an invoice for the total amount of money he/she is required to pay. Much as many people have on several occasions concentrated on the cost of a gorilla permit. This gorilla pass permit is just an inclusion in the gorilla tour package. The cost of a gorilla tour/safari includes everything the tour entails from the start to the end. The cost for gorilla tours vary depending on the length of the tour, the country one wants to trek in, nationality, transport costs, accommodation among other services that complement gorilla trekking experience. Gorilla trekking is only done in Bwindi impenetrable forest national park in Uganda and Virunga conservation area shared by Volcanoes national park in Rwanda, Virunga national park in Congo and Mgahinga gorilla national park in Uganda. Below is the breakdown of how much a gorilla tour costs:
Cost of a gorilla permit in Uganda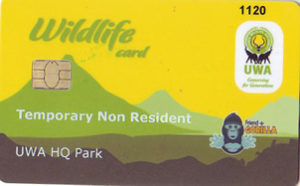 To trek mountain gorillas, each traveler must posses a valid gorilla pass, which costs 600usd from the Uganda wildlife authority. This permit is a must have and anybody without it is not allowed to see the gorillas. A permit can be booked directly with UWA or indirectly through any trusted tour operator. Interestingly the costs of gorilla permits in Uganda depend on one's nationality. Foreign non-residents pay 600usd, foreign residents 500usd and East African residents pay 250000ush. It's the permits that allow travelers to interact with these critically endangered species for an hour rewarding them with a memorable lifetime experience. Travelers are always reminded to book as early as 6 months in advance and pay a deposit for 30% to secure these permits so as to avoid any disappointments in the pat hour.
Cost of a gorilla permit in Rwanda
Trekking mountain gorillas in Rwanda is expensive compared to Uganda and Congo. A single gorilla permit costs 1500usd for all travelers despite the nationality, which makes the country a luxury gorilla destination. A permit can be accessed from Rwanda development board or indirectly through travel operators.
Cost of a gorilla permit in Congo
Congo sells the cheapest gorilla permit at 450usd high season and 400usd in the low season. This makes Democratic republic of Congo a best gorilla trekking destination for budget travelers. Also, mountain gorillas in Congo are less visited compared to Uganda and Rwanda, which make the experience more natural and enjoyable. However, insecurity issues in Virunga national park are a great threat to gorilla tourism in Congo. In early may 2018, two Briton travelers were kidnapped by unknown people in the park but were successfully rescued by park management and the ICCN team. Unfortunately the ranger guide was killed and it was a great loss for the national park and tourism fraternity. At present, the park has been closed for tourism till further notice, as investigations are still ongoing to ensure safety of travelers and their property in Virunga national park and Congo as a whole. Congo citizens are given discounted permits at 150usd, which is an added advantage.
Besides gorilla permits, a gorilla tour cost depends on the following:
The length of the tour
As already said, the cost of a package depend on how short or long the trip is. In Uganda a 1-day gorilla tour costs roughly 1150usd for 1 person, 2 days Uganda gorilla tour 1350usd and a 3 days gorilla trek in Uganda cost 1800usd. The reason for a high cost of 3 days gorilla tour is an inclusion of alternative activities such as golden monkey or Batwa cultural trail depending on the traveler's choice. Alternatively, travelers can take part in gorilla habituation experience, which is a four hours interaction with these endangered species in the jungle. Bwindi is the only place where gorilla training takes place in the Rushaga sector south of Bwindi Impenetrable forest national park.
The cost of accommodation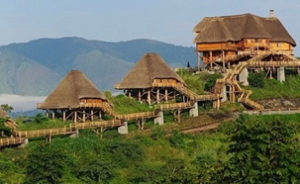 Unless it's a 1-day gorilla tour, every gorilla safari involves accommodation. The cost of accommodation varies depending on the quality of service luxury, midrange, and budget. A traveler who sleeps in a budget lodge or hotel pays little money compared to the one who sleeps in a luxury lodge. Sharing rooms make costs much lower since travelers share rooms for example twin and triple rooms. Every successful and enjoyable gorilla tour must include good and comfortable accommodations whose cost cannot be excluded. Also, the costs of accommodation depending on the number of nights. The longer the stay, the more money paid. The cost of lodges is 100usd for a single room budget room, 150usd for twin and double rooms. The cost increase as the standard for service improves, midrange is a bit higher while luxury rooms cost much higher.
Transport and the driver guide
You need a comfortable means of transport plus a knowledgeable and experienced driver guide. The cost of transport depends on the type of vehicle you use, fuel consumption, and distance traveled. The company pays the driver to guide an everyday allowance. In most cases, travelers choose to tip their driver guides but what to tip, when and how much is entirely a travelers choice depending on the service he/she receives from the guide. Charter flights can also be used for those connecting to Bwindi but it's quite expensive. Aero link is available to fly you to kisoro or kihihi airstrip from which travelers connect to the trekking destination.
Company Service fee
Just like any other business, every tour company that arranges gorilla charge service fee. The money charged varies from company to company. It's mainly used to pay workers in the office, the travel consultants, hotel reservationists and other workers in the office who together as a team make your gorilla safari a success. Also, the mark up is used to make improvements at offices such as buying new vehicles, office computers and other requirements for the company.
En-route meals and drinks
In some cases like driving from Kampala to Bwindi impenetrable forest national park or Mgahinga in kisoro district, travelers have en-route meals. The company pays these meals from the money the traveler paid. Also, travelers are given soft drinks to make fresh and energetic throughout.
The above is the break down of a gorilla tour excluding travelers flights, tips to the porters and guides, alcoholic beverages, phone calls, donations to local projects and all other personal services.
In general, a gorilla tour in Uganda, Rwanda and the Democratic Republic of Congo is a memorable life-changing experience in the whole world.