Have you considered visiting the Democratic Republic of Congo (DRC) for a safari? A Congo safari has got so much to offer including visiting some of the country's 9 national parks. These parks protect some of the richest biodiversity in the world with a variety of endemic wildlife species. DR Congo is a unique destination with unique experiences that are rarely found anywhere else in the world. The country is popularly known for primate experiences including trekking 2 subspecies of gorilla and hiking Africa's most active volcano, Mount Nyiragongo. Here is the detailed list of what you can expect to see in DR Congo
Mountain gorillas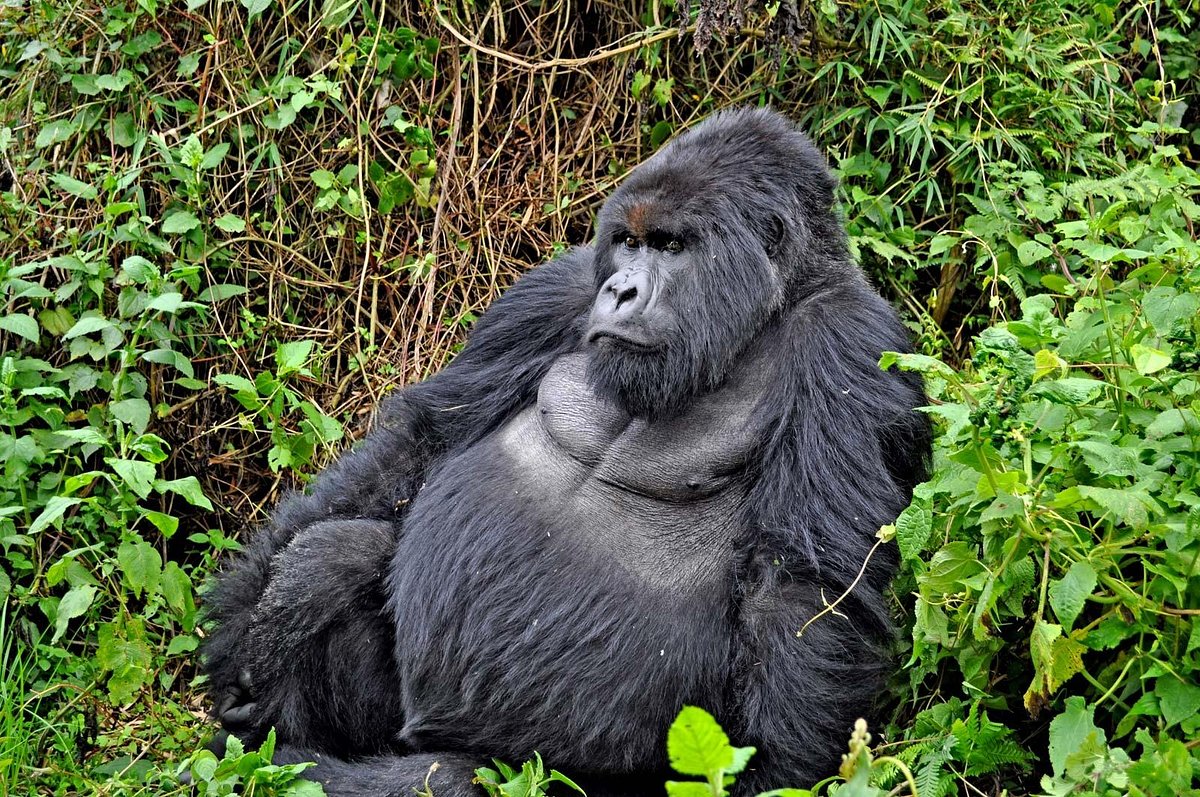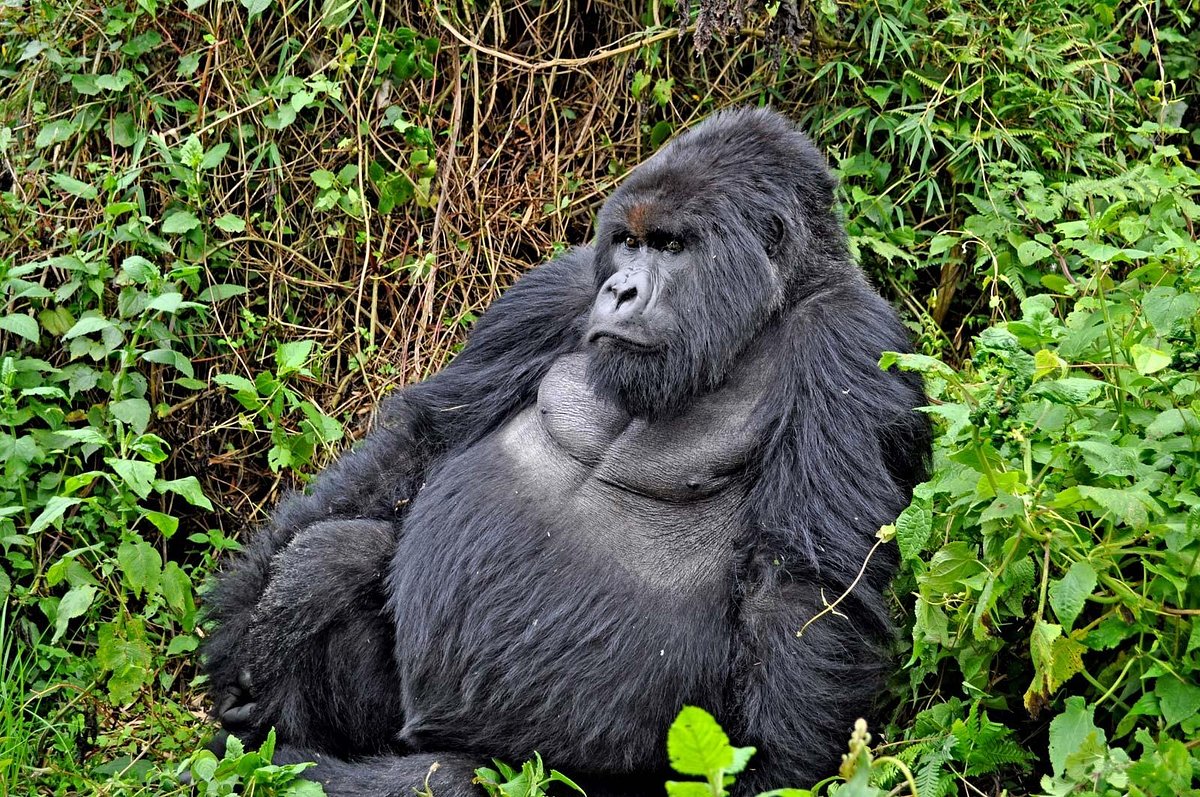 Mountain gorillas in DR Congo are found in Virunga National Park. The protected area is a UNESCO world heritage site with rich biodiversity including chimpanzees, forest and savanna elephants and over 700 species of birds. The main attractions are gorillas which can be tracked at Rumangabo centre in the park's southern sector. There are 6 habituated groups in the park and visitors get 1 hour to see gorillas. Trekking gorillas is a moderate activity and can be challenging due to the nature of terrain. But, you can hire a porter and the Virunga wildlife rangers provide maximum safety. The Virunga National Park gorilla permit cost is $400 available for booking through the official Virunga organization or tour operator.
Lowland gorillas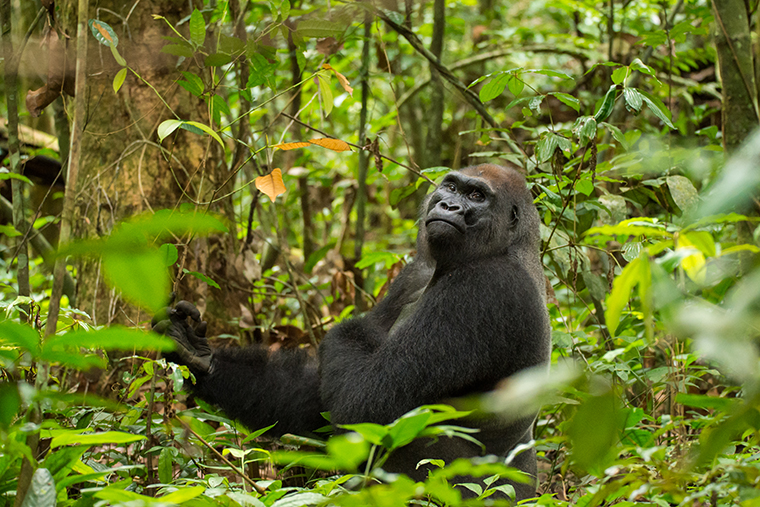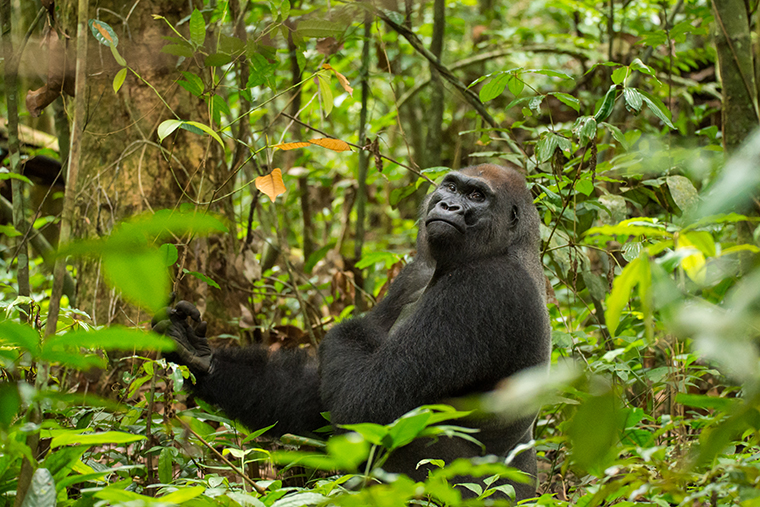 Lowland gorilla trekking is one of the best things to do in DR Congo. The best place to see lowland / Gruaer's gorillas is Kahuzi Beiga National Park situated 32 km from Bukavu town in South Kivu Province. The protected area covers 6,600 sq.km including two extinct volcanoes: Mount Kahuzi and Mount Beiga in the Congo Forest basin. This area contains the home range of the world's last population of 3,800 lowland gorillas. Lowland gorilla is on the IUCN red list of critically endangered species. Kahuzi Beiga is a UNESCO world heritage list and enjoys funding and high protection status to conserve gorillas. Tourism infrastructure is also being improved with accommodations for visitors to stay at Tshivanga, the park's visitor center and closer to the gorilla trailheads.
Nyiragongo volcano (3,470m)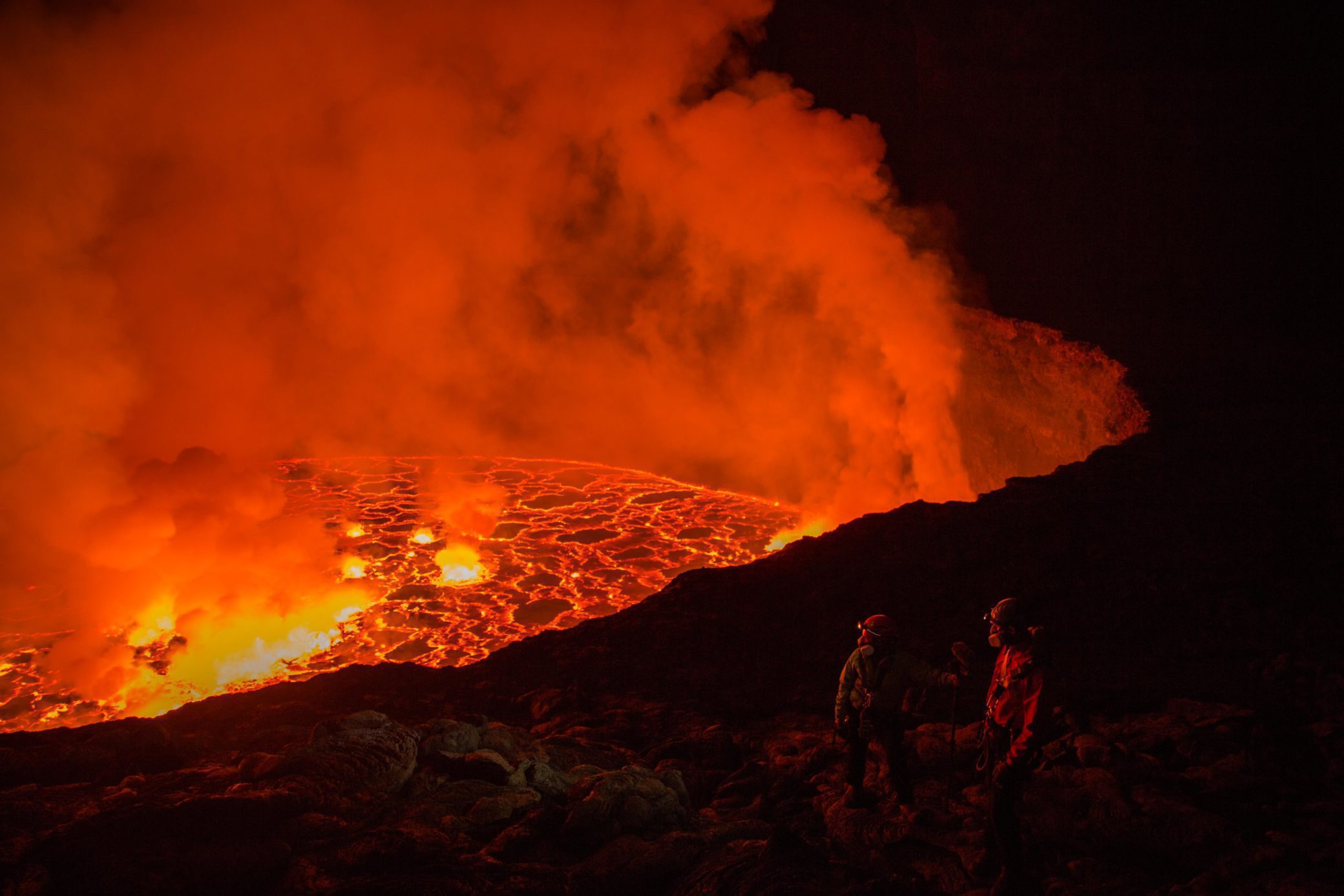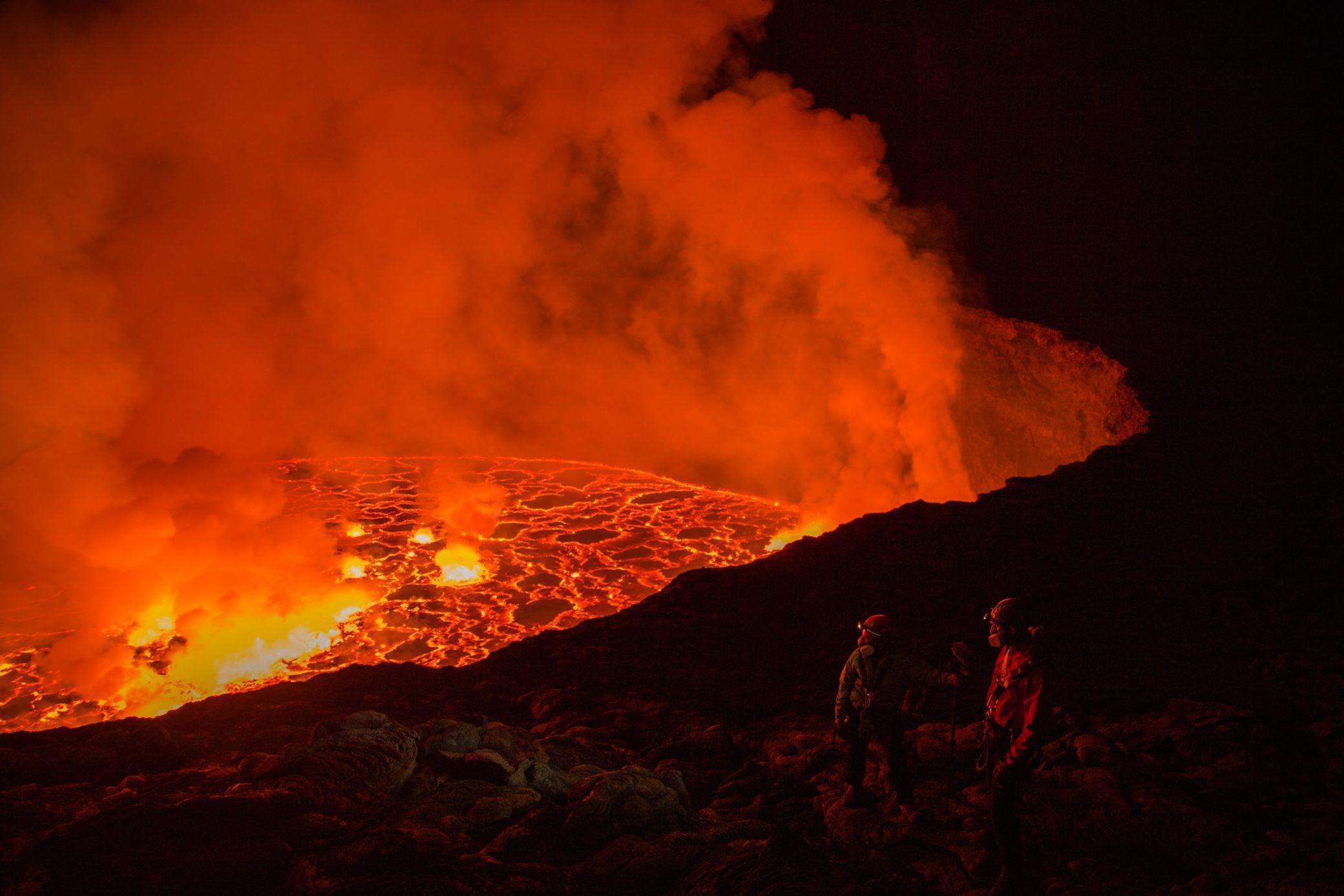 Mount Nyiragongo is the most active volcano in Africa. It has erupted more than 32 times, with most recent occurring in 2002 and 2021 respectively. These violent eruptions always cause damage and many are temporarily displaced in Goma city which is 15 sq.km (12 miles) south west of the volcano. The last eruption left a big lava opening and climbing Nyiragongo is not yet safe for travelers. However, you can still take a walk on the fresh lava fields around Goma just a year after the eruption. According to UNICEF, over 3,629 houses were affected across 20 villages in Kibati. The situation has been challenging to offer relief and restore access to healthcare, schools and clean water. Therefore, as a responsible traveler, you can play a role in giving a hand directly or through charities with donations of money, household items or anything else you wish.
Okapi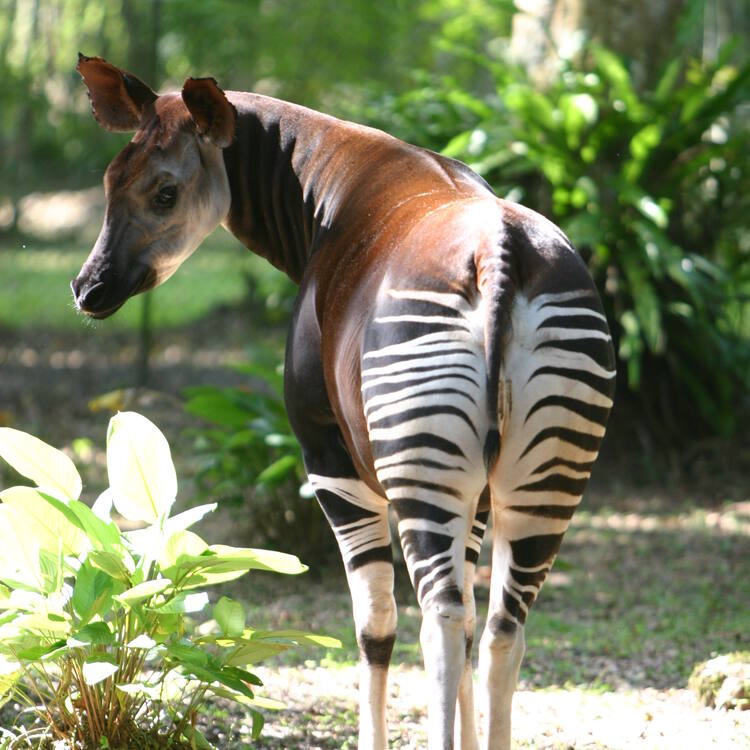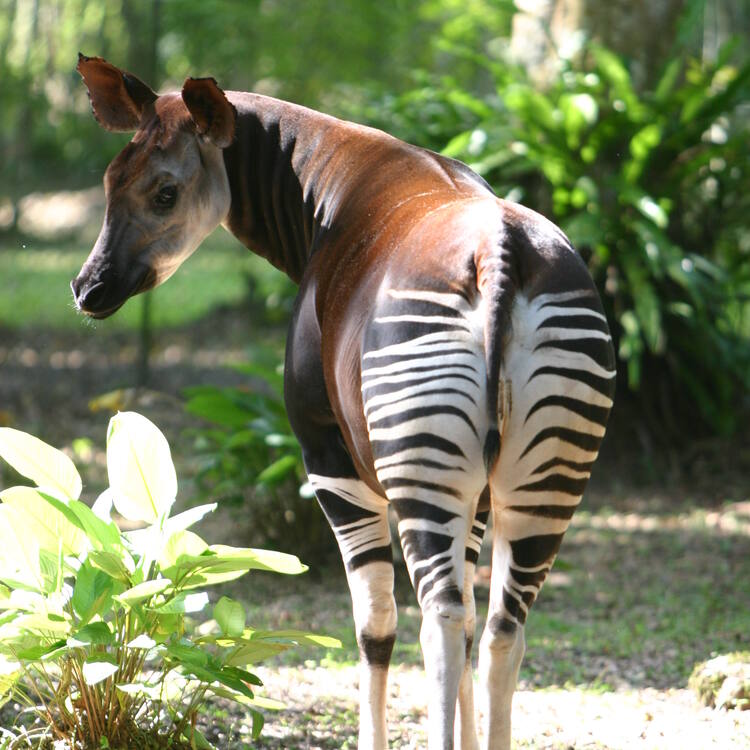 Okapi (Okapi johnstoni), also known as forest giraffe, is critically endangered. According to IUCN there are only 10,000 living in the Congo River basin of which 5000 Okapis are found in the Okapi Wildlife Reserve. Probably, this is the only area in the world where travellers might see the forest giraffe in its natural habitat. Sightings of Okapi have been reported by the Congolese Institute for Nature Conservation (ICCN) rangers. Thus there's hope when you visit Okapi Wildlife Reserve to discover rare wildlife and contribute to the Okapi conservation program.
The reserve covers 13,700 sq.km and is part of the great Ituri Forest situated in the north east DR Congo border with Uganda's Semuliki National Park. This region is rich in biodiversity including African elephants, buffaloes, leopards and over 300 species of birds. The flora and fauna in Okapi reserve has for a long time been affected by armed conflict. The project was therefore founded in 1992 to safeguard the wildlife and support the local communities including the Mbuti and Efe pygmies. These people are primarily hunter gatherers and live in the forest and it's challenging to tell them not to hunt animals for bush meat.
Lake Kivu islands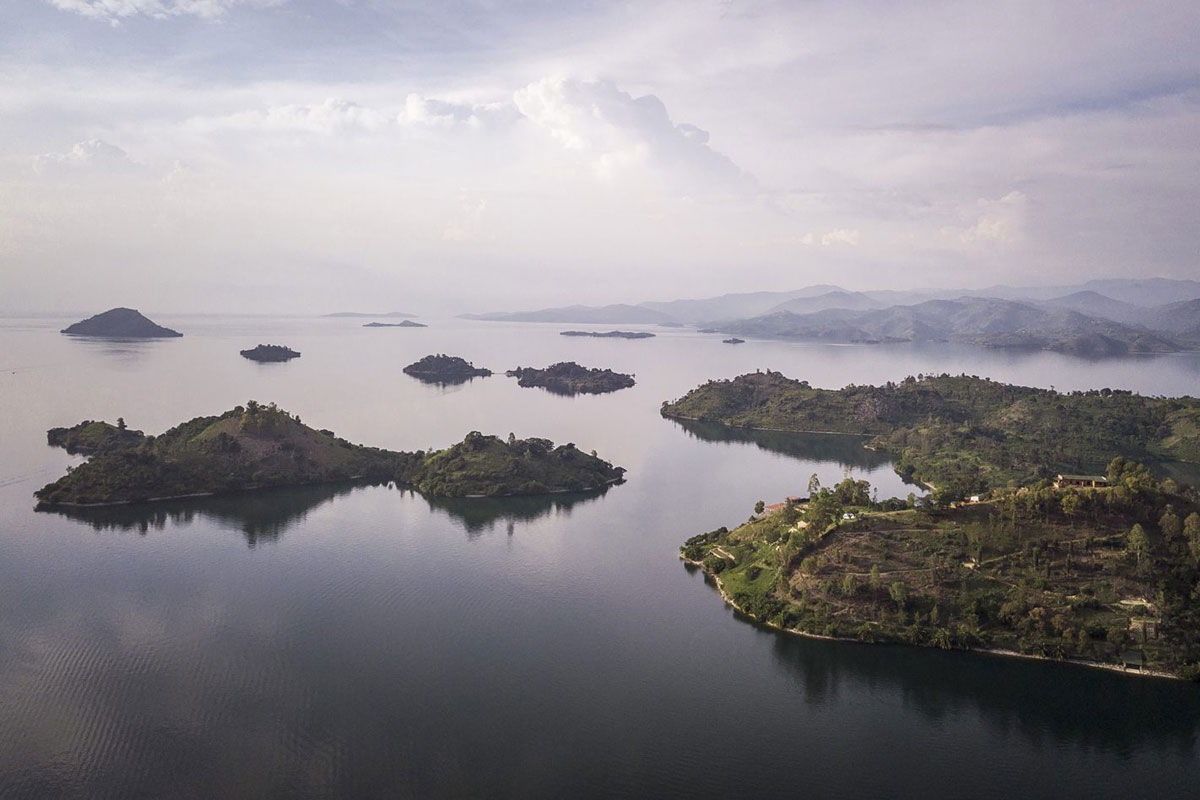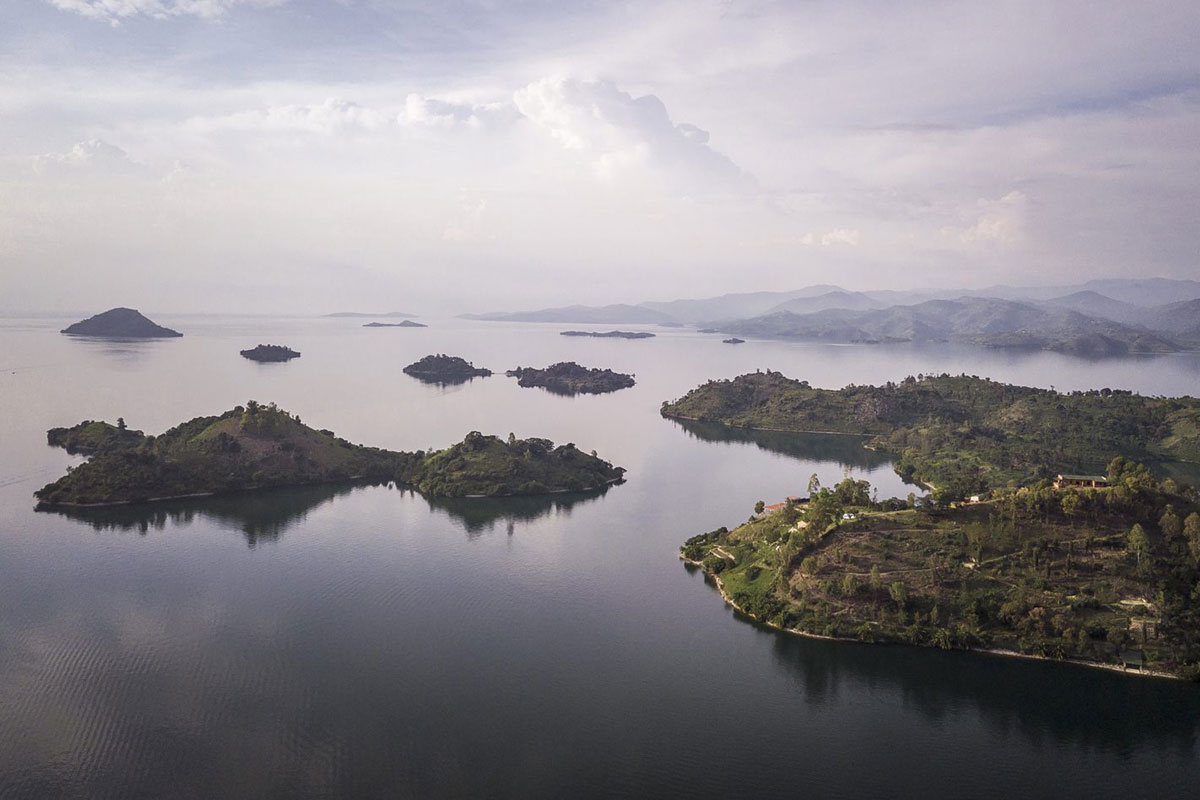 Lake Kivu, 89 km long (55 sq.miles) and 58 sq.km (33 sq.miles) is one of the 7 African Great Lakes. DR Congo shares over 50% and has most islands of which few have been exploited for tourism including Tchegera and Idwiji. These places provide opportunities to explore off the beaten path and for Congo safari at a time when Virunga and Nyiragongo are yet to open. This is especially a highlight for those intending to visit some of the Eastern Arc Mountain Ecosystem biodiversity hotspots including Nyungwe Forest is in the south west of Rwanda. It is much possible to travel between Ruzizi (Rwanda) and Goma city, making a perfect central African safari experience.
Tchegera Island, Lake Kivu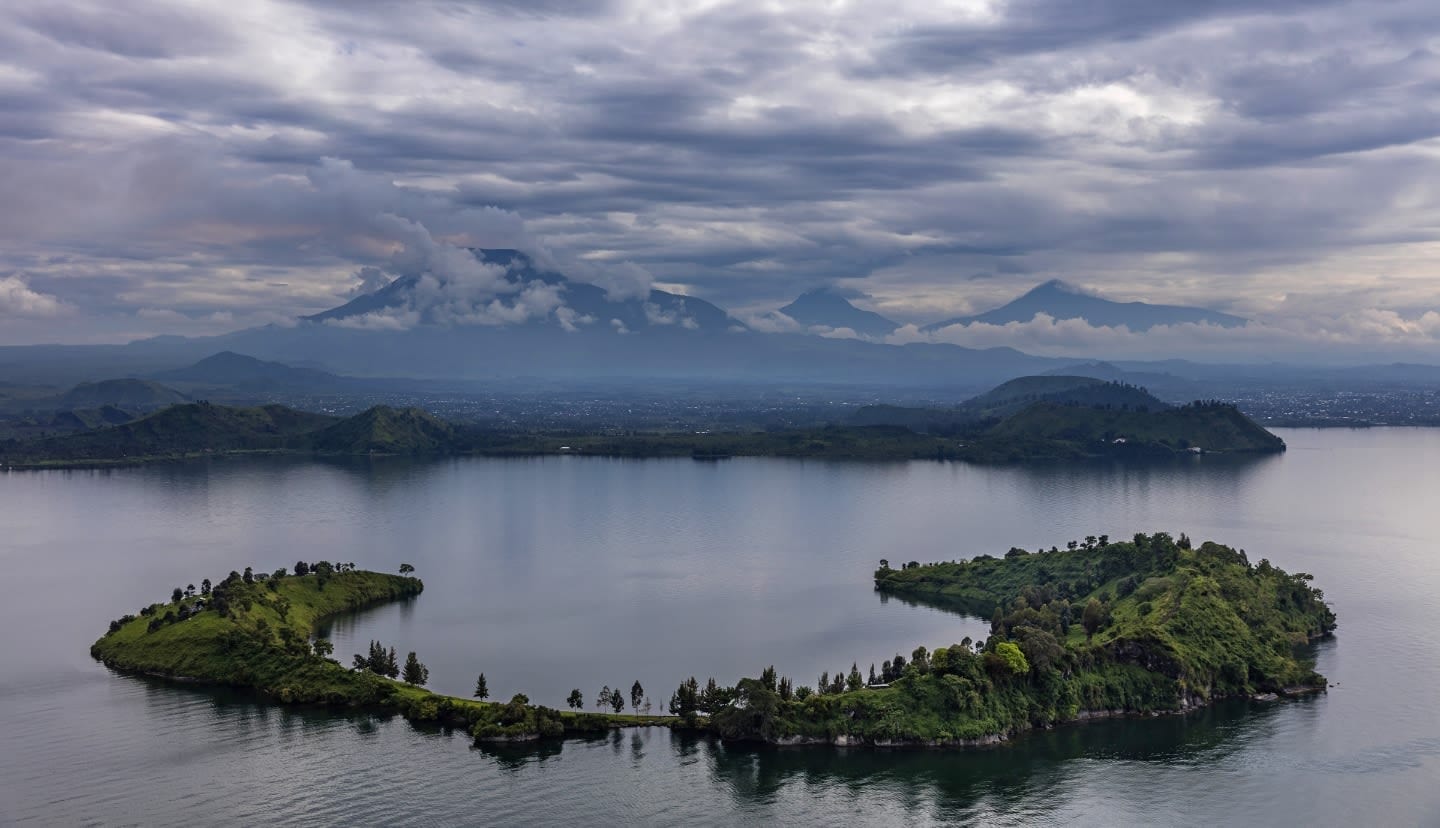 Tchegera island is relatively smaller compared to other islands in Lake Kivu. But it has a unique crescent shape at the northern shores of Lake Kivu. It is believed that the island survived the submersion of a volcanic caldera. Tchegera is 14 km (40-min drive) west of Goma city and can be reached by speedboat from Nzulu village. The island has a tented camp that offers lodging, making it the perfect place to unwind following a trek to see gorillas or Mount Nyiragongo.
The views on the island are beautiful, especially at night when the sky above Nyiragongo turns red. Tchegera Island tented camp has 6 tents with modern amenities including hot showers and en-suit bathrooms. Activities available at the camp include kayaking, stand up paddle boarding, boat tours, swimming, fishing, and bird watching. Additionally, you can explore Goma day trips to see volcanic rocks and even visit Gisenyi town in Rwanda.
Given that other habitable islands are mostly situated in Rwanda, Tchegera is one of the most significant islands for tourism on the Lake Kivu side of the DR Congo. Therefore, exploring the biodiversity of Lake Kivu is possible while visiting DR Congo. Lake Kivu island's biodiversity is not well studied but 28 fish species have been recorded of which over 5 are eastern Afromontane endemics including the Lake Rukwa minnow and Lake Tanganyika sardine and miodon. (limnothrissa miodon). Fish for sport were also introduced such as Nile tilapia and fishing is a big economic activity and is deeply ingrained in the culture of Congolese and Rwandans.
The singing fishermen
Men are particularly known to sing as they pull their catch. The lake doesn't have crocodiles or hippos and it's safe for people to swim in the lake. But this tradition is believed to have been part of giving thanks for the abundance of fish and to get courage through hard times. The evening is the ideal time to be on the lake, the lantern lighting is so spectacular at night. Those intending to see the singing fishermen of Lake Kivu can stay in Gisenyi or Karongi resort towns of Rwanda. Going beyond Tchegera, about 192 km south of Goma city lies the Idwji island, the largest of all islands on Lake Kivu.
Idjwi Island (Africa's Forgotten Island)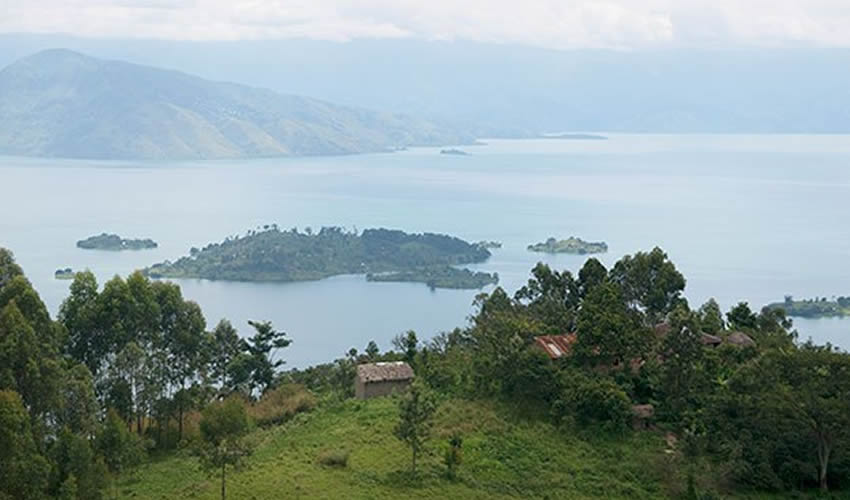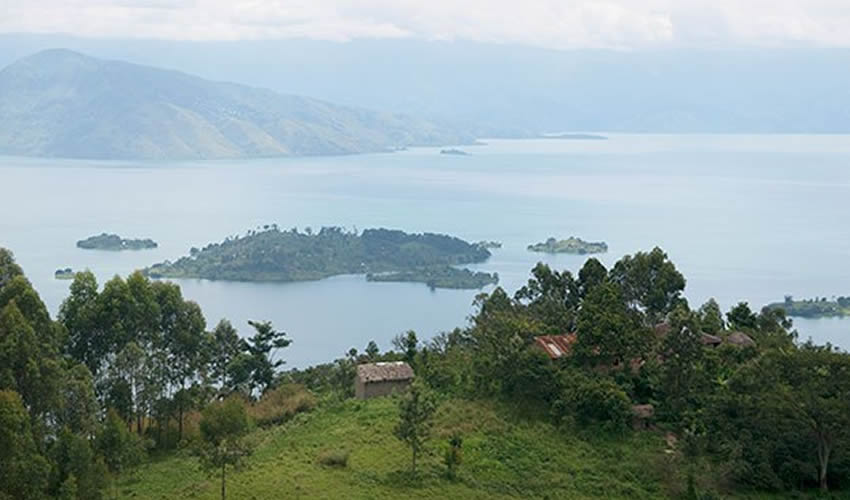 Idjwi, the largest inland island in Africa, has an area of 340 square kilometres (211 square miles) and is 70 km long. There are over 200,000 people of which 2,075 people occupy per square mile, indicating that the population is rapidly increasing. While the island hasn't been affected by civil war, a Harvard School of Public Health (HSPH) study discovered that human development is linked to environmental degradation and poor healthcare conditions.
Working with locals, the HSPH team was led by a Congolese New York based Dr. Jacques Sebisaho who founded Amani Global Works. A public health model for Idwiji was launched to determine the local community's health needs and carry out possible interventions to address other challenges including family planning and gender-based violence. This is hoped to set the stage for tourism development on Idwiji island. Those intending to take part in giving back to the community through donations or volunteer work, Idwiji would be the best place in rural Africa you can ever see in the DR Congo.
Goma town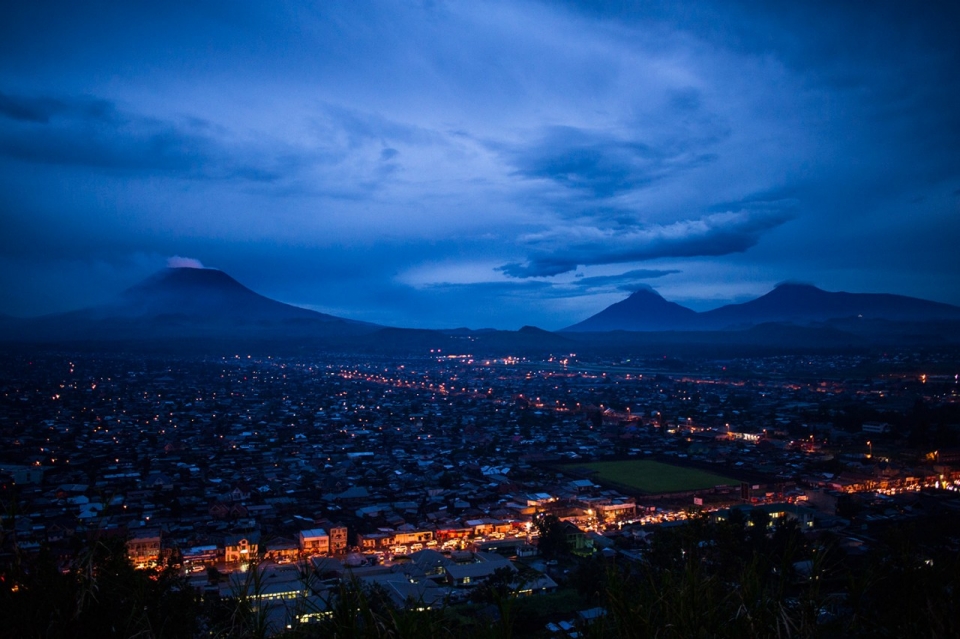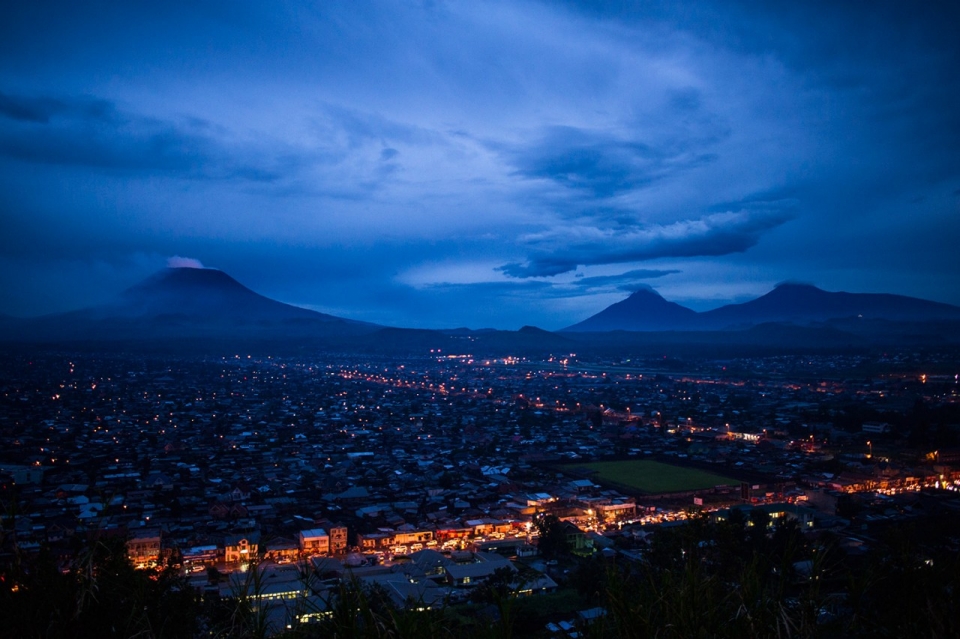 Goma, the capital city of North Kivu province, is a relatively large urban area with a population of over 700,000 people. As the largest town on the northern shores of Lake Kivu, Goma is now gaining momentum as a tourism hub with an international airport, interesting nightlife and culture. One of the amazing sights of Goma is to see a boy riding a Shukudu with heavy loads on it as he maneuvers on the streets. Shuduku, a wooden cart, is a common mode of transportation that locals even use to move between Goma and Gisenyi town of Rwanda, just 8 km apart. Since DR Congo is now a member of the East African Community, a number of airlines offer regularly scheduled flights to Goma international airport including connecting flights from Ethiopia and Saudi Arabia as well as regional flights from Uganda, Kenya and Tanzania.
Faith tourism in DR Congo 
Portuguese were the first to arrive in west and Africa at the mouth of the great Congo River in 1488 and thereby introduced Christianity to the Kingdom of Kongo. Historical records at the national museum of DR Congo in Kinshasa capital city indicate that besides spreading Roman Catholic religion, the Portuguese also persuaded African kings and chiefs with trade and material wealth. As the century moved on, Congolese adopted Christianity first from the Portuguese and then the Belgians who colonized the country from 1885 to 1960. Today, Roman Catholicism is the largest religion in DR Congo with over 50% of the population, followed by Protestants (20%) and 10% for both Muslims and Kimbanguism.
The Kimbaguist church
Situated in Nkamba town 200 km (125 miles) west of Kinshasa, the Kimbanguist church is one of the most significant religious sites in DR Congo. Though it has a relatively smaller number of followers, it has recently been attracting pilgrims of over 300,000 people who travel there to have an encounter with the Holy Spirit. The church was established by Simon Kimbangu, a Congolese Baptist Missionary who began a religious movement in 1920's called Kimbagusim.
Based on the principles of the Bible, Simon became a prophet and would heal the sick and preach the word. However, he turned political preaching against the Belgian colonial government and was sentenced to life imprisonment and probably spent more years in prison than Nelson Mandela. Simon later died at Elisabethville in Nkuma in 1951. Joseph Diangienda, the youngest of his sons, built the temple of the Kimbaguist Church in 1959 to keep his father's legacy alive. The church was recognized by the World Council of Churches in 1969 and today has an estimated 5 million members across central and west Africa.
Minerals in DR Congo
DR Congo is endowed with over 16 different minerals including petroleum, gold, diamonds, tungsten, tantalum, copper, cobalt, coltan, zinc, uranium, manganese, coal, cadmium, tin, germanium and cassiterite. Congo has Africa's largest deposits of limestone found across the country. The estimated value of mineral wealth in DR Congo stands at $24 trillion according to Global Ledge, an international business resource centre based in Toronto, Canada. Those intending to get minerals especially rough diamonds and gold whilst traveling to DR Congo should visit some of the mining centers. Most of the minerals, particularly gold and diamonds are mined artisanally by locals but those who benefit the most are some mining companies and militia rebel groups operating in the eastern part of the country.
Diamonds
Diamond mining is mostly done in the town of Kamonia (Tshikapa) in the Kasai province in the central southern part of the country. DR Congo has the 4th largest diamond production in the world according to the Kimberley Process Certification Scheme. Those buying rough diamonds in Congo should ensure the gems are Kimberley certified.
Gold 
Gold production in DR Congo was estimated at 46,000.00kg in 2018 according to the World Trend Plus database. There are several gold mines including the Twangiza-Nomoya gold belt in the South Kivu province, which is the largest covering 210 sq.km (130 sq.miles), the Kibali area in the north-east and along the Ulindi river in South Kivu province