It's been a frequently asked question by many travelers of which alternative activities children can take part in as parents trek gorillas or chimpanzees. Presently, various optional activities have been organized for children aged 15 years and below in all mountain gorilla and chimpanzee destinations in Uganda and Rwanda. The national parks with these extra activities for the children along side trekking experiences include Bwindi forest national park, Mgahinga gorilla national park, Kibale forest national park in Uganda and volcanoes national park in Rwanda. Age restriction is one of the rules and guidelines in mountain gorilla and chimpanzee trekking and all children aged 15 years and below are not allowed to take part in trekking despite their mature looks. Among the activities organized for the children include:
Nature walks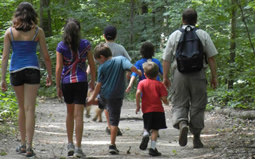 This is mostly done in Bigodi swamp as parents trek chimpanzees in the tropical rain forest of kibale forest national park. Bigodi swamp is a home to various bird species and other ground animals such as monkeys and baboons all, which are interesting to the children. More still, children in Kibale forest national park and Nyungwe forestsnational park are taken to the alternate forest exploration in which children will be taught about the forest, birds, monkeys, and butterflies among others which improve their understanding.
Buhoma community walks
This is done in Buhoma sector north of Bwindi impenetrable forest national park. Children friendly guides help to over see and interpret in details all community traditions and cultures to these young children. More still, children are taken to craft making shops, visiting traditional healers and local schools to interact with fellow children in the same age blanket among others, which make them feel at home. The speed of walking depends on the stamina of these children but the experience is surely memorable.
Batwa cultural experience
Here children are taken to the Batwa pygmies who were the traditional forest dwellers before it was established into the national park. Mostly done in Mgahinga gorilla national park, Batwa cultural village introduces children to the traditional forest life Batwa pygmies' such as hunting, fruit gathering among others. This expands their knowledge and understanding of these children concerning the Batwa and their traditional way of living.
Iby'iwacu cultural village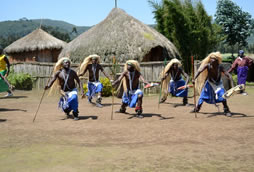 While in Rwanda's volcanoes national park, children visit iby'iwacu cultural village from where they are introduced to Kinyarwanda traditions and cultures. Children are allowed to take part in traditional Kinyarwanda dances, drumming and other local activities such as cooking local foods and dressing codes. This makes them feel as part of the local communities an experience they can never forget even after returning to their homes.
conclusively therefore, children have rwanda gorilla offers various activities for children easing the gorilla/chimpanzee trekking for the parents.