Are you getting ready for the mountaineering/hiking adventure? Are you set to hike to the summit of Mt Kilimanjaro, Mt Rwenzori or any volcanoes in Africa? Do you really feel ready for this strenuous adventure? No Worries, Gorilla Trek Africa has got you covered. Yes, you ought to take part in this adventure and your life will never be the same again. Unlike other treks such as gorilla trekking, chimpanzee trekking and nature walks, mountain climbing is much more than mere walking. It takes mental preparedness, commitment, and extra effort. Climbing up to 19,341 meters above the seas is not a joke but rather a commitment. Despite the strenuous nature of mountain climbing, everyone can accomplish this adventure given the key tips and hiking advice. Gorilla Trek Africa brings you basic tips for hiking/mountaineering safaris in Africa to ensure enjoyable, safe and memorable hiking adventure.
Go Slow – It's not a race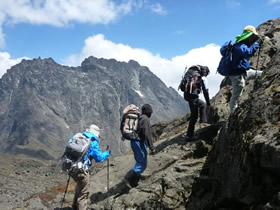 Climbers are advised to go slow not to strain your body with altitude challenges. As you climb higher, the air becomes thinner and oxygen becomes less hence no need to rush. The slower you move, the more your body will keep steady and with no difficulty in breathing. Moving faster will make you pant. sweat and even collapse if you are not strong enough. Climbers are also reminded that hiking is neither a race nor a competitive game to see who reaches the summit fast. What matters here is reaching. No slow, tell stories with your porter of fellow climbers moving at your pace and you will have no issues.
Drink plenty of water
You must drink plenty of water and energy-giving drinks to keep you dehydrated. Remember you will be sweating while climbing and your body will need the waters. The recommended amount of water is 3 liters a day. Keep refilling your camelpak and you will have no issues. More so, climbers are advised to take hydration salts to deal with common diarrhea in climbing. Hydration salts such as Dioralyte will work best for you.
Dress right for the adventure
You must be dressed in the right attire if you want to have a stress free and enjoyable mountain climbing experience. The recommended packing list for mountain climbing in Africa include:
• Hiking boots/shoes for easy movements through loose and slippery rocks
• Gardening gloves to protect our hands
• Sunglasses for your eyes
• Hats to cover your head and hair
• Scarf
• Down jacket
• Four season sleeping bags
• Warm sweaters/jackets
• Raincoats for the unpredictable mountain rains
• Thermal layers (fleece)
• Hand warmers
• Sun cream
• Head torch with enough batteries
• Toilet bag
Make friends/Company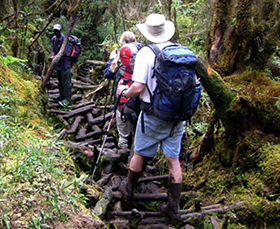 Endeavor to make friends who will make your trip fun. You cannot hike alone unless you want to wear out. The new friends will give you company, tell you stories, wait and look out for you in case you are left behind. Also, your allies will keep you motivated to keep moving when you are at your low point. A group of mates will joke, laugh, jazz and make fun, which keeps you lively throughout the hiking session.
Prepare physically
The fact that mountain climbing is not a walk away you have to be physically prepared. Physical fitness will help you overcome altitude sicknesses, which normally disturbs physically challenged climbers. Make sure you do physical exercises such as training hikes, climbing and walking to prepare for your hiking safari.
Be Mentally prepared
You must be mentally ready for the strenuous hike. Tell it your mind that you are going for a tough experience and let it be ready to deal with it. Mental preparedness will keep you moving even when you feel tired and down.
Sing and Laugh
You ought to keep yourselves busy if you want to keep strong during hiking. Talk, sing and laugh in your group and this will keep you moving despite the altitude. When morale goes low, sing a motivating song and trust me! Your energies will be restored.
Mountain climbing/hiking is an adventure you ought to partake in your travel lifetime. Contact Gorilla Trek Africa today, book your hiking trip to Mt Rwenzori, Mt and other Volcanoes in Africa for a memorable hiking experience.