Come 2018 January, all nationalities can obtain a 30 days Rwanda tourists Visa on arrival at the Kigali international airport and other border crossing points in Rwanda. Now you don't have to belong to a certain nationality to make online visa application when traveling into Kigali. The visa on arrival policy has been endorsed by a cabinet meeting shared by the president Paul Kagame.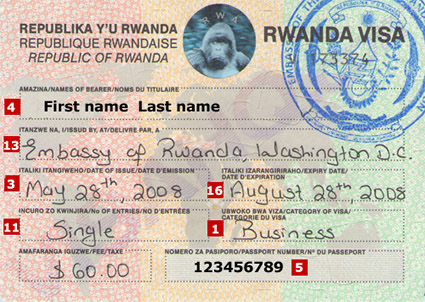 Previously only Africans and just a handful of other nationalities paid visa on arrival or crossing points, with many tourists frustrated for not being aware of the prior application and cannot enter Rwanda without visas.
The Rwandan government believes that free movement of people into the country will facilitate tourism and trade hence enhancing economic growth and development.
According to Rwanda's Foreign Minister Louise Mushikiwabo, Rwanda opening its borders to all nationalities is good for the continent's integration policy which Rwanda and its people stand to gain from, although ofcorse the negative effects cannot be overlooked but the positive largely overweighs the negative.
Rwanda largely depends on tourism, and with easy of movement to Rwanda, more tourist numbers are expected to arrive into the country as you don't need prior application before arrival.
Today, the Rwanda tourists visa costs $30 Per Person for 30 days into the country. According to the new visa policy with reference to reciprocal basis, the following nationalities are excepted from paying visa fess with immediate effect and enter Rwanda free; Seychelles. Chad, Ghana, Guinea, Indonesia, Haiti, Benin, Central African Republic, Senegal, Democratic Republic of Congo, Uganda, Kenya, Mauritius, Philippines, and Singapore.
In addition to these are diplomatic and service passport holder citizens from Djibouti, Ethiopia, Gabon, Guinea, India, Israel, Morocco and Turkey
A 90 day arrival visa is eligible for Comesa member state according to Article 4 of the Comesa Protocol on Free Movement of Persons, Labour, Services, Right of Establishment and Residence.
VISAS AND PASSPORT FEES IN FOREIGN CURRENCY
Medical Treatment : USD 20 , EURO 18 , GBP 15
Single entry Visa, Transit/Conference (T6-1) : USD 30, EURO 25, GBP 20
Conference, Tourism/ Business Multiple entry Visa : USD 50 ,EURO 40 , GBP 35
Multiple entry-v-1(m): USD 60, EURO 45, GBP 40
Group Tourism: USD 100, EURO 75, GBP 65
Ordinary Passport :USD 100, EURO 75, GBP 65