The new date for the long awaited CHOGM in Rwanda has finally been set! On 31st January 2022, Paul Kagame, the president of Rwanda made an official announcement about the new date for CHOGM in Kigali. The Common Wealth Heads of Governments' Meeting was initially set to take place in June 2020. However, the meeting has been postponed twice in 2020 and 2021 due to covid19 restrictions on travels and gatherings. While addressing the media, the president of Rwanda disclosed how the country is enthusiastic and to welcome and host delegates from all over the world come June 2022. Paul Kagame Said "Rwanda is pleased to welcome all delegates and participants to Kigali for a safe and productive CHOGM Rwanda 2022. The last two years have made it clear to us that we are more connected than ever before and we must work together to achieve the tangible and sustainable results we want. The long awaited meeting will be an important occasion to come together to address the challenges caused by the Covid19 pandemic and to build on innovative technological and economic opportunities to solve other key problems facing our citizens"
2022 CHOGM Theme
This year's theme is "Delivering a Common Future: Connecting, Innovating, Transforming." While in the meeting, government leaders will discuss on different ways of how to deliver the things discussed in the last CHOGM of 2018.
The upcoming CHOGM meeting comes four years after the last meeting that was held in 2018 themed at "Towards a Common Future"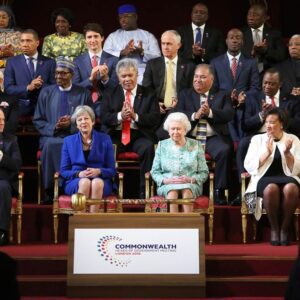 In response to president Kagame's announcements, the CHOGM secretary General Scotland confirmed the meeting and wrote" I am delegated that the Commonwealth family can finally be reunited, four years on from our last CHOGM in London. Our meetings in Rwanda will give us a real opportunity to reaffirm the values that bind the Commonwealth together and focus on vital issues, including the recovery from the COVID19 pandemic, tackling climate change and poverty, boosting trade and promoting sustainable development- all issues that can only be dealt with decisively through multilateral cooperation and mutual support."
The secretary general further wrote "We have adapted throughout the pandemic, holding meetings online. It is with great joy and anticipation that I look ahead to a face-to-face Commonwealth Heads of Governments meeting. This will be the first CHOGM to be held in Africa for over a decade and I would like to commend the government and people of Rwanda for their outstanding commitment and dedication to delivering an exemplary CHOGM in Kigali. I thank all Rwanda's for their grace and fortitude in undertaking such detailed preparations to ensure a safe, secure and productive CHOGM that drives the Commonwealth forward in these trying times."
Gorilla Trek Africa is excited to guide you through Rwanda after the CHOGM conference. We offer guided Rwanda day tours to complement conference tourism making your whole Rwanda safari memorable. Some of the top travel experiences in Rwanda include:
Mountain gorilla trekking: Rwanda is home to over 500 mountain gorillas, which is the highest population in the Virunga Conservation Area. Gorilla trekking is therefore a not miss on your tour to Rwanda. The land of a thousand hills offers luxury gorilla tours. A single gorilla permit in Rwanda costs $1500, which far higher compared to the neighboring Uganda and the Democratic Republic of Congo. There are 8 gorilla groups in Volcanoes National Park which guarantee travelers availability of 80 gorilla permits each day. A 2 Days Rwanda gorilla tour is a suitable short gorilla trip in Rwanda
Kigali City tour: After your CHOGM meeting, tour through the beautiful and clean Kigali city which ranks top in Africa. Driving in Kigali is on right and speed limit is highly emphasized. Explore different tourist attractions in Kigali city such as the Kigali Convention Centre, Inemo Art Gallery, Kimironko Market, Presidential palace, Kandt House Museum and Nyamata church among others.
Chimpanzee trekking & canopy walk
Go chimpanzee trekking in Nyungwe Forest National Park for close encounters with the endangered primates. Chimps in this park can be trekked in the main Nyungwe Forest or Cyamudongo Forest. The two forests were initially one but were detached by deforestation and human encroachment. In addition to chimpanzees, travelers to Nyungwe Forest enjoy canopy walk, which offers great aerial views of the iconic Virunga Mountains, Nyungwe Forest and local communities. Nyungwe Forest is also home to various monkey species such as the Grey cheeked mangabeys, Olive Baboon, Velvet Monkey, Ted tailed monkeys, Dent's Mona Monkey and L'Hoest monkey among others. The tropical rain forest is therefore a best spot for primate trekking.
Game Viewing Experience
Enjoy guided game viewing experience in Akagera National Park with Gorilla Trek Africa. The park is home to the "big five" best seen in the morning and evening hours. Expect to see a variety of wild animals such as Lions, Elephants, Buffalos, Leopards, Rhinos, Zebras, Giraffes, Roan antelopes, Topis, Duikers, Hyenas, waterbucks, Hippos, Warthogs, Oribis and wild dogs among others. Night game drives are also arranged on inquiry! Still in Akagera, enjoy boat cruise on lake Ihema and sport fishing on Lake Shakani
Volcano climbing
For the hikers, Rwanda offers best volcano climbing experience to Mt Karisimbi, Mt Bisoke and Dian Fossey gravesite. Mt Karisimbi is the highest peak in the Virunga Massif standing at 4507m located in Rwanda's border with the Democratic Republic of Congo. The 3 Days Mt Karisimbi hiking tour offers you opportunity to conquer this iconic dormant volcano. The slopes of the mountain shelter the endangered mountain gorillas, golden monkeys and other wildlife species.
What you require to visit Rwanda
Having decided on your plans to visit Rwanda, Gorilla Trek Africa brings you travel advisory to this small country to ensure peaceful and enjoyable stay. Among the travel requirements to Rwanda include passport valid for 6 months, yellow fever vaccination certificate and tourist visa. Travelers visiting Rwanda are also required to have relevant permits (gorillas, chimps, golden monkeys and hiking permits). If you are traveling through a travel agency, a welcome letter is also required upon entry to Rwanda. Travelers are also advised to be cautions about their safety while in Rwanda.
In conclusion we hope to receive you in Rwanda come June 2022 for the long awaited CHOGM. Visit Rwanda and explore the hidden gem in this small country with Gorilla Trek Africa.