With 20 years past the tremendous genocide, Rwanda is now aspiring as a next luxury travel hot spot. For those planning a luxury safari in Africa, the land of a thousand hills is the best place to be. Rwanda, home to a third of the world's mountain gorillas offers the luxurious gorilla safari experiences at a cost of 1500usd for a single gorilla permit. The high cost of a single gorilla permits the first indication that indeed Rwanda is a travel destination for high-end travelers. Similarly, Kigali Rwanda's first stop center is incomparable in terms of peace, order, and cleanness which all make it a unique place to stay.
To satisfy luxury traveler's expectations, Rwanda has invested in establishing luxury hotels and lodges in and outside the city all providing the establishment of five-star hotels and lodges in Rwanda prove luxury safaris to the country. These include among others:
Radisson blu Hotel and the Kigali convention center

This is a five-star hotel within the Kigali convention center situated in Kigali city. The hotel was a warded as a leading conference hotel in Africa in 2017's world travel awards. Radisson blue hotel was launched in 2016 having a total of 292 luxury rooms and is so far the leading modern hotel in Africa. The outside of the hotel is fabulous with colorful designs in metal ribbons and egg-shaped glasses, which surely make it unique. Similarly, Kigali convention center is the best place for meetings, conferences, incentives, and events accommodating over 5000 delegates at once. Of recent, Radisson Blu hosted the world travel awards where Rwanda was titled the leading tourism destination in Africa.
Kigali Serena hotel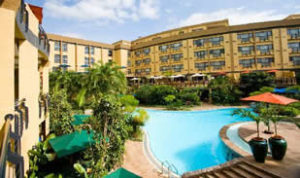 Also known as Kigali intercontinental hotel, Kigali Serena hotel is one of the oldest hotels in Kigali. The hotel dominated the market as a luxury hotel in Kigali and Rwanda as a whole offering quality services to travelers. Interestingly, Kigali Serena hotel h won in the world travel awards as Rwanda's leading hotel in 2013, 2014 and 2015. The hotel has a wide selection of rooms and suites (148 rooms), all of which have an air conditioner, satellite television, Wi-Fi. There is also Milima restaurant, Maisha health club, Sokoni café and bar, swimming pool, pool deck and gardens that make a stay there memorable.
Bisate lodge
Situated in volcanoes national park, Bisate lodge is an interesting place to stay. It is best for gorilla trekking and with the spectacular views of the virunga volcanoes mostly Mikeno, Karisimbi and Bisoke. Bisate lodge is under the management of wilderness safaris and is one of the most recent established lodges in East Africa. The lodge has six luxury comfortable en-suite rooms which overlook Volcanoes national park, wildlife, and the adjacent communities.
Kigali Marriott Hotel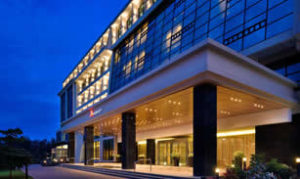 Situated in Kigali city center, Kigali Marriott is another five-star hotel with a total of 251 rooms. The hotel is one of the 2000 hotels under the management of Marriott hotels in the whole world an indication that Rwanda is also the best place for the investment. Radisson Blu hotel and Kigali Marriot hotel have upgraded the quality of services to the travelers.
Heaven boutique hotel
This is a 22-roomed luxury hotel offering excellent services situated in residential street steps from down in Kigali city. The hotel leads in serving international cuisine along with local Rwandan and African flavors for 24 hours. All rooms are self-contained assuring you of a peaceful stay.
A stay at any of these facilities is roughly 800usd an indication that Rwanda the land of a thousand hills is indeed a luxury tourism destination.