How much and when to tip on a gorilla safari.
Tipping is part and partial of safaris in Africa. The act is one of the key things you cannot rule out on a gorilla safari to Uganda/ Rwanda and the Democratic Republic of Congo. Much as tipping is not mandatory, appreciating someone for the service offered is very essential for a successful and enjoyable gorilla tour in any gorilla destination you choose. Tipping is all about a traveler appreciating any kind of services offered to him by his driver guide, rangers, porters and staff at lodges/hotels/ all aimed at meeting and fulfilling a traveler's expectations on a safari. Though most travelers have often asked how much to tip, whether to or not to tip, the choice to tip is entirely a choice of a client depending on the quality of service he/she is offered. Tipping is not part of our African traditional culture but the practice has presently become part of the tourism sector and ant trip without a tip can be a disappointment. Tipping is an indirect encouragement to the service providers to work very hard and ensure quality service delivery. If you have been wondering how to tip on your gorilla safari,  check for  the best tipping advice with Gorilla Trek Africa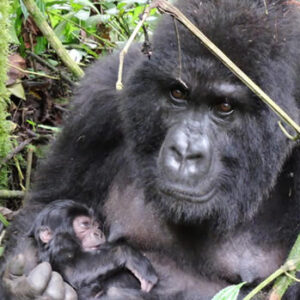 why should you tip?
Anyone who has traveled before can tell the wide smile and joy that driver guides, rangers, waitresses and other service provider's express whenever given a tip. The happiness and excitement that a tip comes along with is a clear indication that any safari without a tip is undeniably is a disappointment to the service providers. Also, a tip motivates service providers to do extra activities such as cleaning your muddy boots at the end of the trek without you necessarily asking them to do so.
Which currency to tip
Tipping can be done in any currency but a local currency (Uganda shillings & Rwanda francs) is highly recommended. The main reason why tipping should be in local currency is to save these local people from the hustle of exchanging little money with no forex bureaus in remote areas.
Tips for driver guide
A driver guide is a person who picks you right from the airport/hotel on the first day of the trip throughout the entire safari to the last day. He/she representative of the tour company with which you booked a gorilla safari. The driver guide is in full charge of which routers to follow, the stopovers for en-route meals and photographs which all make your safari enjoyable. This tells that a good driver is an assurance for an enjoyable safari. In cases where a driver is at the same time a driver, he/she is capable of answering any kind of question about wildlife, birds, people, culture any other information a traveler may require on a safari. As a form of appreciating the driver guides service, travelers are recommended to tip between 5 -10 dollars per day or more depending on the excellence of the service. Tipping can be done every day or else done once at the end of the safari as a driver drops you at the airport for a return flight. As soon as a driver guide picks up from the airport, he/she becomes a family with travelers, which make a safari more enjoyable. In case you are assigned a driver and a guide, you can choose to tip all of them separately or give a token to one person and inform the other one to share.
Tips for park rangers
On the actual day of trekking, travelers are assigned park rangers/guides by the management of the park. These rangers lead you through the forest in search of the mountain gorillas. It's a group of roughly 5 Rangers 2 of which move with you through the forest while other 3 go before you to track the whereabouts of the allocated gorilla family and give direction to the upcoming rangers with clients. Interestingly, park rangers are local people who will equip you with all the necessary information about the gorillas, local communities and other attractions in the park. These rangers are fully armed with guns to ensure safety to scare away wild animals in the bush hence ensuring the safety of travelers throughout. Also, ranger's help in slashing the path for travelers as well as continuously reminding them of the trekking rules and regulations like the seven-meter distance. During trekking, one ranger moves in front while the other one at the back to ensure travelers are safe and no one is left behind to wonder in the jungle alone. To tip rangers, travelers are required to put the money in the tipping box, which is opened at the end of the day and money shared among all the rangers. Alternatively, travelers can choose to tip independent rangers depending on how helpful he/she was to you.
Tips for the porters
Porters are local people who carry your baggage as you hike through the bushes in search of mountain gorillas. Hiring a porter is very helpful making it easy for travelers to hire through the jungle without heavy baggage. These porters are muscular indigenous people familiar with forest life hence find no difficulty moving through the forest unlike clients some of whom have never been in the jungle. Interestingly, some of these porters are former poachers who resorted to conservation hence hiring them is of great help. Though porters are hired for 10 dollars for a day, giving them a tip of any amount not less than 5 dollars is of great help. Each traveler tips his/her porters depending on how helpful a porter was to the client during gorilla trekking. Besides carrying the baggage, porters provide support to travelers in the muddy slippery forest grounds by holding their hands to avoid falling down.
Tips for hotel/lodge staffs
These are service providers at your hotel or lodges where you sleep and have meals from. The most tipped staff at lodges/hotels include waiter, waitresses, bar attendants and housekeepers among others. The tip at the lodges is mostly put in the central tipping box and all the staff can share at the end of the day. Also, you can choose to tip the immediate person who serves you well, for example, a waitress serving you with food without necessarily putting the tip in the central box. Remember tipping and the amount is entirely a traveler's choice.
Reminder: Tipping and the amount of money to give is entirely a travelers choice
Therefore, tipping is not mandatory but it's indirect support for local people helping them, to improve on standards. Tip service providers to ensure quality services in guiding, driving, food and sleeping services in lodges and hotels.