Are you wondering how you can easily get to and around Mgahinga Gorilla National Park? Not sure of the easiest route to this hidden gem? No worries, Gorilla Trek Africa has got you covered. Mgahinga Gorilla National Park located in southwestern Uganda is undeniably one of Uganda's mots visited National Parks, a hidden gem that offers exceptional experiences for a lifetime. Are you in Kampala or Kigali? Mgahinga Gorilla National Park can be reached by road and air transport depending on the traveler's choice. Each transport means is unique in its won kind and worth trying. Are you visiting Mgahinga Gorilla National Park for gorillas, golden monkeys, Virunga volcanoes, birds or nature walks, Gorilla Trek Africa offers a suitable guide on how best you reach Mgahinga National Park as quick and as comfortable as possible.
Road transport to Mgahinga Gorilla National Park
Road transport is the common used means of transport to Mgahinga Gorilla National Park. Most of travelers on Uganda gorilla safaris to Mgahinga park opt to use road transport over air. Firstly, road transport is cheaper and more fun. a whole day of driving from Kampala to Kisoro is a magical experience you ought to enjoy. The scenic drive via Ankole tea plantations, cattle farms, local communities and endless kigezi hills is indeed magical. Both public and private transport services are available for you to choose. Are you in Kigali Rwanda, enjoy a 5 hours scenic drive via Kigali connecting to Uganda via Cyanika border in Kisoro district. Kigali to Uganda gorilla trekking is the best option for travelers with short time.
Flights to Mgahinga Gorilla National Park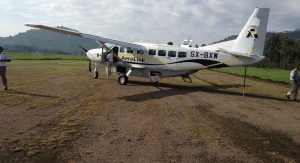 Do you have limited time? Book our scheduled gorilla flights to from Entebbe to Kisoro airstrip saving you long hours of driving. Unlike the full day of driving from Kampala to Kisoro, the flight from Entebbe to Kisoro lasts for roughly an hour. After landing at Kisoro airfield, travelers are picked by traveler vehicles and driven to Mgahinga Gorilla National Park. The park is located a short distance from Kisoro town which makes it easy to connect. After trekking, travelers connect back to the airfield and fly back to Entebbe.
What to see and do in Mgahinga Gorilla National Park
There are lots of things to see and do in Mgahinga Gorilla National Park. Depending on your travel itinerary, you can choose what to at a specific period of time. The top tourist activities and attractions in Mgahinga Gorilla National Park include mountain gorilla trekking, golden monkey tracking, batwa cultural trail, bird watching and batwa cultural trail. All activities can be done in one itinerary to make a complete Uganda safari package. A gorilla permit in Mgahinga costs $700 for foreign non-residents, $600 for foreign residents and UGX 250,000 for east African residents. A golden monkey permit costs $100 for all travelers while batwa cultural trail costs $80 per person. Booking can be done directly with Uganda Wildlife Authority or via Gorilla Trek Africa. The leading gorilla tour company in Uganda, Rwanda and the Democratic Republic of Congo.
In general. Mgahinga gorilla national park can be reached by both road and air transport. Contact us, inform us on which means you want to use and we shall get you sorted at affordable rates.