Rwanda is getting ready for the 2022 CHOGM conference scheduled for June 2022. The small land of a Thousand Hills expects to host thousands of delegates/heads of States from all over the world who will come to attend the CHOGM meeting. Are you coming for CHOGM and would want to explore more of Rwanda? The Rwanda Development Board together with the African Parks have put discounted offers for travelers who want to take part in different travel activities in Rwanda before or after their CHOGM meeting. Gorilla Trek Africa is your reliable gorilla safari company in Rwanda. We offer tailed gorilla trekking tours ranging from 1-day gorilla trek to over 10 Days depending on the traveler's available time and budget. Combining your conferences and gorilla trekking or any other travel experience in Rwanda offers you a lifetime experience you will live to cherish.
Discounted Rwanda gorilla permits
Tourists who want to add gorilla trekking on their conference experience are eligible to 15% discount. They will therefore pay $225 instead of the original $1500 for a single gorilla trekking permit in Rwanda. Do not miss this great opportunity of meeting face to face with the endangered Rwanda mountain gorillas at a low cost.
Other offers in Rwanda
Travelers who spend a minimum of 3 Days in other Rwanda National Parks i.e Nyungwe Forest National Park and Akagera National Park will be eligible to a 30% discount. This is only for those travelers who have also done mountain gorilla trekking in Volcanoes National Park.
Cost of Gorilla Trekking in Rwanda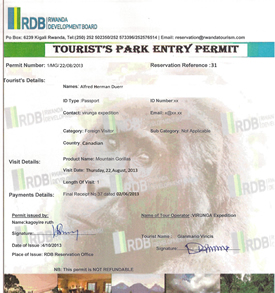 The actual cost of trekking mountain gorillas in Rwanda is $1500. All people including Rwanda nationals pay this money. Rwanda offers the highest gorilla permits since 2017 when Rwanda Development Board doubled the prices from the then $750 to $1500. The double increment transformed the country into a luxury gorilla tour destination compared to the neighboring Uganda and the Democratic Republic of Congo. The $1500 for a permit is also inclusive of park entrance fee, conservation fees, government taxes and the contribution to local communities. The cost excludes accommodation, meals, transport, driver guide allowance, drinking water, porters and extra activities. You are therefore reminded to plan ahead and save more money if you want a lifetime experience. Accommodation services are categorized into budget, midrange and luxury. Each category is charged different depending on the budget and interest of the travelers.
Other activities to do in Rwanda
In addition to mountain gorilla safaris, Rwanda offers a wide range of other interesting activities for travelers to take part. These include among others:
Game viewing
Go game viewing to see the "big five"(Elephants, Lions, Rhinoceros, Buffalos and Leopards) in the savannahs of Akagera National Park. Game viewing is best done in the morning and evening times when wild animals are very active. Other wild animals to see in Akagera National Park include Giraffes, Zebras, Warthogs, Waterbucks, Oribis, Topis, Roan Antelopes, Duikers, and Impalas among others. Still in Akagera, enjoy a boat cruise at Lake Ihema located in this heart of this park. The cruise offers you scenic views of Rwanda's beautiful rolling hills and the flat savannahs of the park.
Chimpanzee Trekking
Enjoy guided chimpanzee trekking experience in Nyungwe Forest National Park located in southwestern Rwanda. Chimps in this park are scattered in the main Nyungwe Forest and the Cyamudongo Forest, which was detached from the park by deforestation and human settlement. The experience offers you chance to have close encounter with the endangered chimpanzees which share over 98% DNA of human genes making them man's closest relatives. Chimpanzee trekking in Nyungwe is complemented by the famous canopy walk, which offers you great aerial views of the forest and other attractions in the neighborhood.
Volcano climbing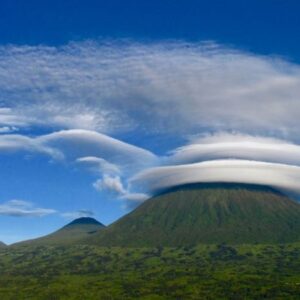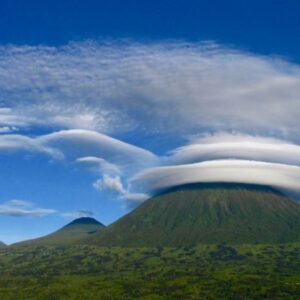 Join Volcano climbing adventures to the summit of Mount Karisimbi and Mount Bisoke both located in Volcanoes National Park. A 2 Days Mt Karisimbi hike and a 1-Day Bisoke hike offers you memorable hiking adventures on your Rwanda safari.
Golden Monkey trekking
Do not miss trekking the playful golden monkeys in Volcanoes National Park. Two golden monkey communities have been habituated in this park and open for travelers. A single permit to see these endangered primates costs $100 allowing you to spend an hour in their presence.
Kigali City tour
Explore the beauty of Kigali city! Ranked as the cleanest city in Africa, Kigali is worth visiting. The small city is surrounded by beautiful rolling hills best for photography and scenic viewing. More so, the city is a business Centre for Kigali and also a conference Centre hosting the famous Kigali Convention Centre in its heart. Some of the places to visit in Kigali include the presidential palace, Inemo art gallery, Kigali genocide memorial Centre and Kimironko market among others. A drive through the clean streets of Kigali is enjoyable and relaxing.
Enjoy discounted offers for conference travelers to Rwanda for the year 2022 with Gorilla Trek Africa.