Conference Tourism in Rwanda
Conference tourism is one thing that has made Rwanda an exceptional destination. Rwanda is widely known as a hub for conferences, which has put the small land, locked country on the world travel map. In 2016, the International Congress and Convention Association (ICCA) ranked Rwanda the 3rd best conference tourism destination after South Africa and Morocco based on her capacity to hold international meetings. MICE is another form of tourism that was introduced in Rwanda in 2014 purposely to complement other tourism activities such as gorilla treks in volcanoes national park, chimpanzee tours in Nyungwe forest national park, game viewing in Akagera national park, cultural tours, ecotourism and other community based tourism, which together make a complete Rwanda safari package. Conference tourism comprises of meetings, incentives, conferences and events that bring in thousands of diplomats from all parts of the world all year round. This year, the Rwanda Development Board (RDB) targets to raise the revenue of 74 million U.S Dollars through conference tourism. Last year, over 192 conferences were hosted in Rwanda, which makes RDB optimistic, that the set target (74m USD) will be undeniably achieved.
Since its establishment (2014), Conference tourism has become one of the top things to do in Rwanda. The ability and commitment of Rwanda to facilitate meetings and conferences hence enabling the flow of businesses and investment opportunities in Rwanda, unlike other east African countries. Also, the good governance of Rwanda under the leadership of Paul Kagame has created peace and security in the country making it the best place to stay in
Other tourism activities in Rwanda
Besides conferences, Rwanda is a stop center for several other tourism activities, which make your Rwanda safari a lifetime experience. These activities include among others
Mountain gorilla tracking in Volcanoes national park with 10 gorilla families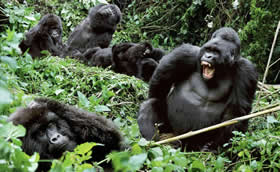 habituated for trekking. In 2017, Rwanda raised her standards as a luxury gorilla tourism destination by the double increase of gorilla permits from 750usd to 1500usd paid by all travelers irrespective of one's nationality. Interestingly Rwanda's gorilla national park is located roughly 3 hours drive from Kigali city which makes it easier for travelers with limited time. The ease of access has set make Rwanda the first stop for last time travelers. Still, in volcanoes national park, travelers can take part in golden monkey trekking, which rewards them with a memorable encounter with these playful and lively creatures.
Chimpanzee trekking is a must do for a complete Rwanda safari package.
Chimpanzees inhabit the tropical rain forest of Nyungwe forest national park in southwestern Rwanda and are the only place to see these amazing creatures in the whole of Rwanda. Two chimpanzee communities have been habituated in Nyungwe for trekking at a cost of 100usd for a permit, which is surely cheap compared, to 1500usd for a gorilla permit. Besides chimpanzee, travelers have a chance to do canopy walk, which rewards them with aerial views of the national park, wildlife, and the neighboring communities. The canopy walk was built in 2010 to diversify tourism activities in Nyungwe forest national park and travelers walk for 2.1kilometers. A canopy walk is relatively cheap costing 600usd but the experience is memorable.
Museums and cultural sites
Rwanda is a center for various museums and cultural centers split into different parts of the country. A visit to any of the museum reward travelers with extensive knowledge about Rwanda traditions, culture, beliefs and norms. The most visited sites include Kigali genocide memorial center, Inema art center, Niyo art gallery, national museum of Rwanda, Murambi genocide memorial center, Ivuka Arts Centre, Mama Rwanda Hostel, Rwanda Art Museum, Ethnographic Museum, Kigali Arts Centre, the national art gallery, Ivuka Arts Kigali, Murugo cultural center, Ikaze showroom, the national art gallery, Uburanga Arts Studio, Tongo Art Gallery, Campaign against genocide museum and Mothaland Arts among others. A variety of books, documentaries, and CDS are available for travelers to read.
Game viewing
A game viewing safari in Rwanda takes you to Akagera national park in eastern Rwanda a home to the big five game and other wildlife animals. On your game drive expect to see herds of elephants, lions, Leopards, Buffalos, Rhinos giraffes, antelopes, lands, oribis, Masai giraffe, Defassa waterbuck, Reedbuck, Sables, Topis, and Bushbucks among others. Game viewing s well don in the morning and evening hours to have clear views of wildlife grazing before retiring to rest.
Volcano climbing
Rwanda is home to Virunga volcanoes, which share borders with Uganda and Rwanda. Hike to the summit of mount karisimbi, Mount Muhabura, mount Sabyinyo, and the Dian Fossey graveyard. Fortunately, a stand at the summit of any volcano reward travelers with clear views of the neighboring countries, local communities and national parks in different parts of the country.
In conclusion, therefore, Rwanda is the best destination for conferences, incentives, meetings, and events. Enjoy your conference tour to Rwanda, trek gorillas, chimpanzees, and birds among others for a memorable experience.
To book a wildlife safari in Uganda and Rwanda,