Safaris can be private of group depending on what the traveler wants. Group safaris entail joining a team of other travelers (10 and above) some of whom you will meet for the first time in your travel life. Whereas some people especially the introverts love private tours, group safaris are best for extroverts. If you are a people's person, there are many advantages of group safaris you should not miss out on your African tour. A group safari can be arranged by friends who join together to travel at once or else arranged by a travel operator who welcomes anyone wanting to join a group. Gorilla Trek Africa offers tailor-made private and group safaris to meet, satisfy and exceed all traveler's expectations. The advantages of group safaris include:
Budget friendly
There is no doubt; group safaris are budget friendly compared to private tours. Unlike on some activities such as gorilla safaris where permit prices are fixed, group safaris are known to be cost effective. On this safari, travelers share costs such as accommodation, transport and some activities, which charge per group. This is not the case with private tours where a client caters for all expenses alone. Therefore if you are traveling on budget, group safaris are the best for you.
Meet new people & make new friends
As said before, you will probably meet new people on a group safari. These people will share their life and travel experiences, which make the whole trip fun and enjoyable. Some of the new people you meet on a group safari may even become your lifetime friends. Group tours are therefore one way of meeting and making new friends
Group discounts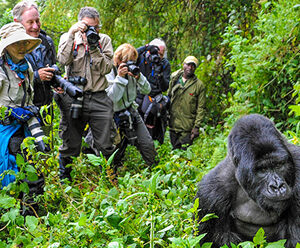 In addition to sharing costs, group safaris attract discounts from service providers especially lodges/hotels and tour companies. If a hotel realizes that one single group will fill up all rooms at once, it gives discounts to such a group. This makes a safari cheaper and affordable for budget travelers.
Doing activities as a group
You can do some interesting activities such as mountain gorilla trekking, boat cruise and chimpanzee trekking as a group. Imagine you as a group trekking a mountain gorilla family at once. This makes the experience fun as you hike along your friends who keep the group lively despite the toughness of the trek.
It gives you confidence
Given the fact that you will meet new people of different personalities; you will automatically gain confidence in yourself at a certain point. You have to be there for yourself for people to recognize you on a trip. Introduce yourself, share your own experiences and believe in yourself. This is not a case with private /solo travels where you are all there alone with no one to challenge you. Make sure you are an active member.
You get a ready made itinerary
On a group safari, you find an already made itinerary either by a group leader or a travel agency. Each group has a different itinerary to different destinations and covering different activities. He/she will then join the one that suits his interests and budget. This is not the case with private tours where a client tailor makes his/her trip from scratch.
Other things to know when booking a group safari
Choose an itinerary that suits your interests
Since you find an already made itinerary in a group safari, you should be very careful to choose the itinerary that suits you. Failure to do this will ruin your experience
Be careful with people
Group safaris involve meeting different people of different personalities. You are therefore reminded to be very careful with the people you find in a group. If you are not a drunkard, do not be forced to booze because of the influence of the group. You are advised not to engage in any activity which is not of your choice
How to book a group safari
You can gather your friends/mates and plan a group safari at a relatively low cost. Alternatively, you can contact any trusted travel agency who offers group tours to destinations of your choice. Gorilla Trek Africa offers guided group safaris to trek gorillas in Uganda, Rwanda and the Democratic Republic of Congo plus many other wildlife experiences.
In conclusion, group safaris are very interesting and worthy doing. Contact us, book a gorilla safari and enjoy the best of your African safari.