This 5 days tour helps you unravel the mysteries of the two magnificent Ugandan savannah parks. You are likely to be thrilled with the unprecedented beauty of nature as it unfolds before your eyes. Elephants crowding the banks of the Kazinga channel in the hot afternoons, lions roaring at dusk as they fight over territories and enormous buffalo herds grazing across the grassland plains, will all crown your safari experience You may not miss out on the refreshing sights of the Nile crocodiles and Hippos busking in the channel while the giraffes and zebras adorn the acacia woodlands with their beautiful patches and stripes.
Brief Itinerary
Day 1. Pick up from Entebbe or Kampala and transfer to Queen Elizabeth NP
Day 2. Game drive and afternoon boat cruise
Day 3. Visit Imaramagambo Forest for a nature walk and transfer to L. Mburo NP
Day 4. Nature walk/ horseback safari and afternoon boat cruise
Day 5. Game drive and transfer back to Entebbe or Kampala
Detailed Itinerary
Day 1: Pick up and transfer to Queen Elizabeth NP (about 6hrs drive of transfer time)
After a sumptuous breakfast at your hotel, our driver guide will pick you up and drive you southwestwards to Queen Elizabeth NP, a journey of about 393Km (about 6hrs and 30mins). En route you will have a stopover at the equator for photographs and then proceed to have a lunch break later along the way. Do not let your eyes skip the site of the 1520 AD eclipse monument on Biharwe hill (that is significant to the history of the area) as you approach Mbrara city. You may choose to have lunch in Mbrarara if it is time for lunch and then proceed to enter Queen Elizabeth NP in the afternoon. If time allows, you may have a short game drive before checking in at your lodge. Overnight and dinner at Enganzi Game lodge (deluxe)/ Kataara lodge (luxury). Meal Plan; lunch and dinner
Day 2: Game drive and afternoon Boat cruise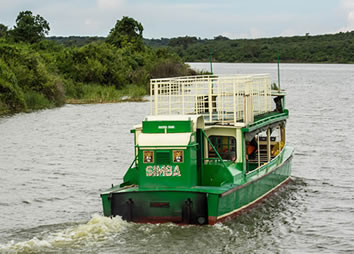 In the morning, you will have a cup of coffee and hit the Kasenyi track to explore the wildlife of this area. Anticipate to see a variety of wildlife species like lions, elephants, buffaloes, hyenas, elusive leopard (if you are lucky) and a number of antelope species. Kasenyi area is the hub of wildlife concentration in this magnificent national park. You will then return to your lodge to have a late breakfast as you wait for lunch. In the afternoon, you will be driven to the Mweya peninsular for a boat cruise along the Kazinga channel. The 3 hrs ride on this channel that connects L. Edward and L. George may reward you with beautiful views of the Nile crocodiles and hippos busking in the water as well as other wildlife that usually storm the channel in the afternoon to quench their thirst. You will later return to the lodge in the evening. Dinner and overnight at day 1. Meal Plan; breakfast, lunch and dinner.
Day 3: Visit Maramagambo forest for a nature walk and transfer to L. Mburo NP (about 3-4hrs of transfer time)
In the morning, you will go for a visit to Maramagambo forest, one of the oldest and rain forests remaining in the country. The forest is home to enormous bird and tree species and shelters the popular Bat caves. You will take a nature walk through the forest up to the viewing platform for the bat caves. Along the way, you may be gifted with sights of chimps, black and white colobus monkeys and several other primate species amidst sweet melodies of birds. You will then return to transfer to L. Mburo NP. Overnight at Mihingo lodge (luxury)/ Rwakobo Rock lodge (deluxe)/ Mpogo lodge (budget). Meal Plan; Breakfast, lunch and dinner.
Day 4: Nature walk / Horseback ride and afternoon boat cruise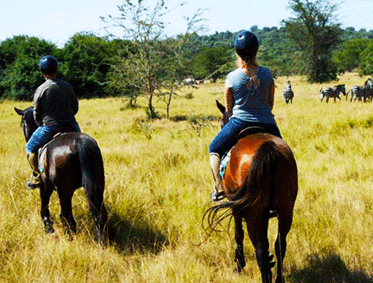 In the morning, you will take breakfast and roll out for a nature walk to the salt lick where most animals gather in the morning to lick the salty rocks. You will be led to the viewing platform where you will catch a glimpse of these animals unaware of your presence. Alternatively, you may choose to do a horse back safari as you move around on riding horses with your horse guide. Riding past zebras and impalas in the acacia woodlands is one of the most refreshing experiences especially for those that love adventure. You will then return to your lodge and relax as you wait for your lunch. In the afternoon embark on a boat cruise along L. Mburo where you may be rewarded with beautiful sites of hippos and crocodiles as well as some water birds. You will later drive back to the lodge. Overnight at day 3. Meal Plan; Breakfast, lunch and dinner.
Day 5: Game drive and transfer back to Entebbe (about 4hrs drive of transfer time)
In the morning, you will go for a game drive following the designated tracks in this park as you look out for impalas (the park's endemic), zebras, giraffes, buffaloes, elands (the largest antelope) as well as the topi among many others. You will then proceed on your 4hr drive back to Entebbe for a drop off at your hotel or airport. Meal plan; breakfast, lunch.
The above itinerary costs USD1450 per person sharing in deluxe and USD1700 per person in luxury accommodation

Safari Lodges and Vehicles