Uganda Gorilla Safaris – Bwindi Gorilla Trek & Wildlife tours
Uganda Gorilla Safaris to Bwindi Forest National Park
Book guided Uganda safaris for day gorilla tours to Bwindi Impenetrable Forest and Mgahinga gorilla national parks with Gorilla Trek Africa Limited your number one travel company in East and Central Africa. Our gorilla safaris have been tailor made to suit each client's travel expectations. The pearl of Africa offers travelers a thrilling gorilla trekking experience at affordable rates. Besides gorilla tours, Uganda offers you exceptional gorilla habituation experience in Rushaga sector south of Bwindi,  game viewing, chimpanzee tracking, mountain hiking tours, white water rafting, kayaking, bird watching, cultural experiences and so much more to meet and exceed all our traveler's expectations. Presently, Uganda has experienced an increase in the gorilla population with 17 gorilla families for trekking.The recent hike of Rwanda gorilla permit prices has made Uganda an affordable spot for budget gorilla tours costing $600 for a gorilla permit. At Gorilla Trek Africa, we are ready to help you customize your Uganda safari to include only the attractions and places you want to visit.
Top Uganda Gorilla Tours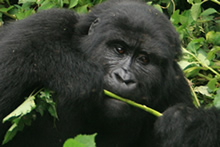 A 2 days Gorilla trekking in Bwindi National Park, the home of mountain gorillas in Uganda. This is the best trip for those with less time for gorilla trekking and is very much interested in Trekking Uganda Gorillas!
Meet the rare gorillas and see them face to face on this 3 Day gorilla adventure in Bwindi! The park comprises of 10 habituated gorilla families, ready for tracking.
Gorilla safari to Uganda's Bwindi national park and wildlife viewing along the Kazinga channel and on a game drive in Queen Elizabeth national park.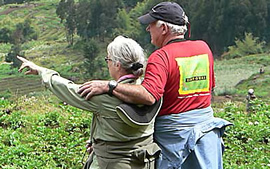 The 6 Days Uganda Gorilla safari takes you to Bwindi national park, Kibale national park for chimps trekking & Murchison falls national park for an amazing view of the waterfalls.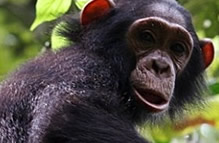 Adventurous taking you to see Uganda's prime National parks like Queen Elizabeth for wildlife, Bwindi for gorilla tours, Kibale for Chimps
A Grand Safari in Uganda that includes Uganda Culture, Gorilla Trekking, chimps trekking, Murchison falls & Lake Mburo tour. This is one of the most rewarding trips offering much to see in less time!
Explore Uganda and all that it has to offer on this 10 days adventure! Included in this tour are gorilla trekking, game viewing, chimp tracking, golden monkeys, boat cruises, Game drives, scenic viewing etc.
Reasons to Visit Uganda
The highest concentration of primates, and a guarantee of unclose views. Bwindi offers the highest number of habituated gorilla families for visitors and also offers gorilla habituation experience.
Great wildlife viewing opportunities in the different Uganda national parks of Murchison falls national park, Queen Elizabeth, Lake Mburo national park
Very safe for tourists
Birder's destination with over 600 species of birds have been recorded Queen Elizabeth National Park
Rwanda Gorilla Tours
Uganda Gorilla Safaris
Uganda Rwanda Combined Tours
Top Tour Destinations