Book a customized 14 Days Rwanda,Congo and Tanzania wildlife safari. The 14 Days safari entail guided gorilla trekking & chimpanzees  in Rwanda, hiking Nyiragongo volcano in Congo and wildebeest migration in Tanzania.  Go chimpanzee trekking and canopy walk in Nyungwe Forest National park located in south western Rwanda and meet up with man;s close relatives. Visit Volcanoes National Park located in south western Rwanda, home to the endangered mountain gorillas habituated into 10 families.  Gorilla trekking is ranked as the best wildlife experience which attract a high number of travelers from different parts of the world.  You will then cross to Virunga National park in Congo  for Nyiragongo Volcano hiking experience.  Nyiragongo is an active volcano which last erupted in 2022 and its summit shelters the world's  largest lava lake . The volcano is one of the eight volcanoes in the Virunga Conservation Area. Other volcanoes include Mt  Bisoke, Muhabura, Mufumbira, Gahinga, Sabyinyo, Mikeno, Nyamuragira and Karisimbi. The 14 Days safari also entail the great wildebeest migration in Serengeti national park crossing the Mara River and game drives in the famous Ngorongoro Crater guided by Gorilla Trek Africa. sssSpreading over 14,763 square kilometers, Serengeti National Park is the largest park in Northern Tanzania. Besides wildebeest migration, Serengeti offers excellent game viewing, nature walks, community tours and hot air balloon safaris.  You will also visit Ngorongoro crater for game and scenic viewing experience.  This safari starts  in Rwanda ending in Tanzania
Safari activities
- Guided walking safari to the edge of Victoria Falls.
- Ngorongoro crater
- Serengeti National park-Wildlife migration
- Nyiragongo active volcano
- Mountain Gorilla Trekking
Trip summary
Day 1: Transfer to Nyungwe
DAY 2: Chimp Tracking and colobus monkey working
DAY 3: Canopy and Nature walks.
Day 4: Transfer to Volcanoes national park.
Day 5: Gorilla trekking and transfer to Lake Kivu
Day 6: Nyiragongo in DR Congo
Day 7: Nyiragongo to Rwanda
Day 8: Transfer back to Kigali airport
Day 9: Arusha to Tarangire national park
Day 10: Transfer to Ngorongoro Conservation Area
Day 11: Ngorongoro Crater
Day 12: Ngorongoro to Serengeti National park
Day 13: Central Serengeti National Park
Day 14: Serengeti to Arusha
Detailed Itinerary
Day 1: Transfer to Nyungwe.
Of recent Nyungwe chimps are increasingly becoming unpredictable as they keep moving forth and backward between forests of Nyungwe and Kibira in Burundi. Thus Gorilla Trek Africa Ltd undertakes to pay for your Ugandan visa to enable you to track chimps in Kibale Forest national park in Uganda where chances of viewing the chimps are over 98%.
In the morning, transfer southwards to Nyungwe national park with en route visit to the national museum in Butare, the Murambi genocide memorial site, the Nyanza king's palace. Dinner and overnight at stay Nyungwe Forest Lodge(Luxury).

DAY 2: Chimp Tracking and colobus monkey working.
Have an early Breakfast and go for briefing at the park headquarters. You will be told the do's and don'ts while with the chimps before entering the forest. Enjoy them feeding, playing around while taking observations and photographs. In the afternoon, you may go for colobus monkey tracking where you will encounter other primate species as vervet monkeys, blue hoest monkeys among others. Dinner and overnight stay at(Day 2)
DAY 3: Canopy and Nature walks.
After breakfast, you will go for a canopy walk within the forest expecting to enjoy the beautiful sights and sounds of different bird species such as the Rwenzori Turacos, Hornbills among others. You will also have a self guided walk after lunch around the nearby environment and the Kamiranzovu waterfalls. Dinner and overnight stay at (Day 2).

Day 4: Transfer to Volcanoes national park.
In the morning, you will enjoy a scenic long drive to Volcanoes national park in Ruhengeri. Dinner and overnight at Muhabura hotel(Budget)/La Palme hotel(Deluxe)/Mountain gorilla view lodge(Luxury) as you prepare for the following day's memorable adventure.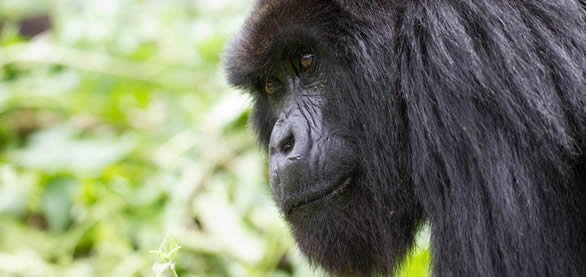 Day 5: Gorilla trekking and transfer to Lake Kivu
After breakfast the tour guide will transfer you to the park headquarters for briefing by the park ranger as you get ready for the gorilla trek. Be part of history and see some of the mountain gorillas remaining on Earth, and nearly half live in the forests of the Virunga mountains in central Africa. These gorillas live on the green, volcanic slopes of Rwanda, Uganda, and the Democratic Republic of Congo — areas that have seen much human violence from which the gorillas have not escaped unscathed. Later transfer to Gisenyi - Lake Kivu. Transfer through Goma border post and enter the DR Congo. Drive for about 3 hours to Mikeno lodge or Bukima lodge for an overnight stay.

Day 6:Day 12: Nyiragongo in DR Congo
Transfer to Kibati patrol post where the hike starts from—one hour drive from the Mikeno Lodge in Rumangabo. The hike takes 4 – 6 hours to reach the summit at 3470m (11,382ft). Hike to the top and you will admire the lava lake all the evening. Overnight: Cabanas at the top of the volcano.


Day 7: Nyiragongo to Rwanda
Descend from Nyiragongo Volcano and have a city tour of Goma which gives you an insight into the impact of the 2002 eruption that left Goma resembling a modern day Pompeii with cars and houses trapped in the lava flow. Transfer to Gisenyi on Lake Kivu. If you are still strong, take a boat cruise to the coffee island and witness how coffee is grown, processed and made ready for consumption. Overnight stay at Hotel Paradis Malahide / Lake Kivu Serena Hotel
Day 8: Transfer back to Kigali airport
Return to Kigali for your flight to Kilimanjaro airport. Overnight stay at The African Tulip
Day 9: Arusha to Tarangire national park
The Tarangire national park is named after river Tarangire. During the dry season most animals in Manyara region migrate to this river. Thus it has a very high concentration of elephants, tree climbing lions, cheetahs, zebras, giraffes, ostriches, etc. A full day game drive is highly rewarding. Overnight stay at Tarangire Safari Lodge / Maramboi Tented Lodge


Day 10: Transfer to Ngorongoro Conservation Area
After breakfast, transfer to Ngorongoro Crater rim for views of a breathtaking sunset over the ancient caldera. The Ngorongoro Crater is a breathtakingly beautiful setting and the best place in Tanzania to see the Big Five. Have a chance to encounter a healthy population of black rhino and some of the largest tusker elephants left in Africa today. Supported by a year round water supply and fodder, the Ngorongoro National Park supports a vast variety of animals, which include herds of wildebeest, zebra, buffalo, eland, warthog, hippo, and giant African elephants. Another big draw card to this picturesque national park is its dense population of predators, which include lions, hyenas, jackals, cheetahs and the ever-elusive leopard, which sometimes require a trained eye to spot. Over night at Ngorongoro Serena Lodge


Day 11: Ngorongoro Crater
After breakfast descend to the Ngorongoro Crater floor and catch up with the early risers! A massive extinct volcano, the sheet walls of Ngorongoro Crater drop 600 metres to a "Noah's Ark" of animals on the verdant floor below. Enjoy the views of Africa best animals including herds of zebras, buffalo, antelopes and wildebeest graze while lions laze in the sun. Overnight Ngorongoro Serena Lodge


Day 12: Ngorongoro to Serengeti National park
You start your day early with an exciting drive into the heart of wild Africa - the Serengeti National Park. Look out for famous African Big Five - Elephant, Leopard, Buffalo, and Rhino and of course Lion but also hundreds of colorful and lesser-known species such as lilac-breasted rollers, intricately marbled Charaxes butterflies and umbrella thorn acacia trees. Day safaris are conducted in open 4 x 4 safari vehicles. Over night at Four Seasons Serengeti Safari Lodge
Day 13: Central Serengeti National Park
Experience the day trip in Serengeti National Park as it provides a good overall experience at a relaxed pace. You will experience Serengeti's natural beauty, capture boastful wildlife photographs and have amazing African wildlife encounters. With so much on offer, a full day in Serengeti Park safari is the best way to experience the park if you have limited time and want to learn more about the park from a knowledgeable guide. Enjoy a full day game drive in northern Serengeti to have higher chances of spotting migrating wildebeests, Burchell's zebras, elands and Thomson's Gazelles filling the entire stretch of landscape. Overnight at Sayari Camp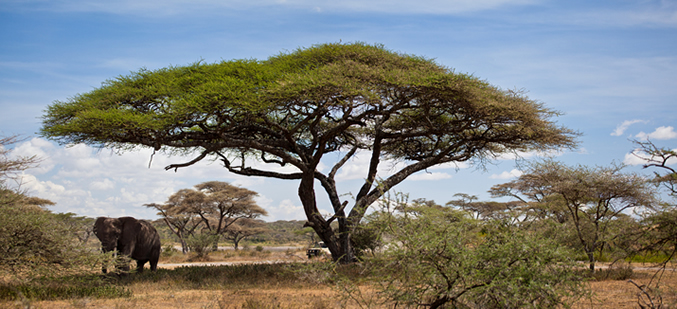 Day 14: Serengeti to Arusha
Early morning breakfast and then depart for game drives in Northern Serengeti with your expert guide. Enjoy the last day of Serengeti while looking out for more game, before flying out to Kilimanjaro airport for your international flight.
Included in this tour package;
• Gorilla Permits
• Park Ranger Fees
• Nyiragongo hiking permit
• Chimpanzee permit
• Golden monkeys permits
• Full Board Accommodation
• Full time English speaking Driver/Guide
• Ground Transportation by a 4×4 safari vehicle
• Airport transfer, as long as your flight is on the same day on which the safari ends.
Exclusions:
• Airfares
• Visa Fees
• Personal Insurance
• Expenses of personal nature such as; drinks, tips, laundry, telephone, cigarettes, accommodation & meals not indicated in the itinerary and optional activities.
Inquire
Safari Lodges and Vehicles