Rwanda is a landlocked country located in East Africa bordering Uganda to the north, Burundi in the south, Democratic Republic of Congo in the west and Tanzania in the East. Known as the 'Land of a Thousand Hills,' Rwanda covers an area about 26338 sq.km which encompass numerous rolling hills including 3 of 8 Virunga mountains, Congo-Nile dive ridge and montane tropical forests including Nyungwe in the Albertine Rift Valley. The country has relatively limited natural resources with only four national parks protecting rich biodiversity including mountain gorillas in Volcanoes National Park, the 'Big Five' mammals in Akagera including Eastern Black Rhinos and over 650 bird species including Albertine Rift Endemics. Nyungwe Forest National Park, also, boasts of protecting 13 primate species including the endangered chimpanzees, Hamlyn's monkeys, red colobus monkeys, troops of over 400 Angola colobus monkeys, blue monkeys, olive baboons, red-tailed monkeys, velvet monkeys etc.
Committed to conservation, Rwanda has a monthly community clean-up day and banned single-use of plastic bags. Wildlife eco-tourism experiences including gorilla trekking along with world-class luxury eco-lodges in Volcanoes National Park such as Bisate Wilderness Lodge and Singita-Kwitonda is a significant part of economic recovery after the genocide. Kigali capital city the main gateway into the country is clean and safe both in terms of crime and covid-19 pandemic with strict Standard Operating Procedures (SOPs) to follow on arrival including regular use of disinfectants and wearing of face masks even when visiting gorillas.
Rwanda wildlife safari highlights include the following:-
•
'Big Five' safaris in Akagera National Park
Established in 1934 by the Belgian government with an area about 2500 sq.km, poaching and encroachment in Akagera National Park during the 1994 genocide led to extinction of black rhinos, lions, African wild dogs and the size of the park was reduced to 1122 sq.km. The African Parks Network (AP) and Rwanda Development Board (RDB) partnership since 2009 has restored wildlife making Akagera a 'Big Five' safari destination. Game drive experience in the Magashi concession north of the park offers an opportunity to visit the 'big five' including black rhinos, lions, leopards, elephants and buffaloes; hippos, crocodiles, Masai giraffes, plains zebras, eland, impala, hyenas etc.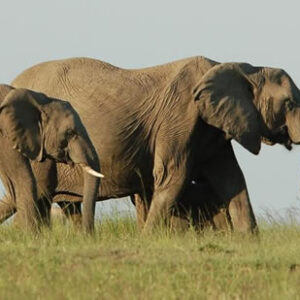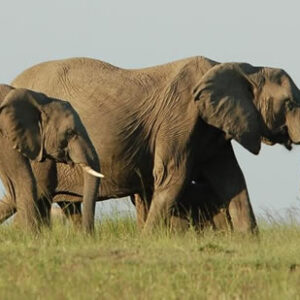 With the transformation of the park through security and anti-poaching measures including rhino monitoring, wildlife numbers have increased a lot with about 7892 large mammals including elephants, buffalo, zebra, eland and giraffe has improved game viewing experience in the Kilala Plains with abundance of grass and water (according to AP). Accommodation was once scarce but there are now good lodges to choose from, including Magashi Camp, Ruzizi Tented Camp and Mantis Lodge (Akagera Game Lodge) allowing visitors to enjoy the wilderness.
The landscape of Akagera National Park contains diverse habitats including savannah plains and Akagera River which form a string of forests, papyrus swamps and lakes including Ihema and Shakani known as Rwanda's Lake District. The park boasts of stunning scenery, over 482 species of birds including globally threatened species such as shoebill stork and papyrus gonolek. Boat trips to Nyirabiyoro islands on Lake Ihema provide a combination of bird watching and game viewing with a chance to spot water birds including papyrus gonolek, shoebill, kingfishers, cormorants, grey-crowned crane, darters, red-faced barbet, swamp flycatcher etc.; hippos, crocodiles, elephants, buffaloes, waterbucks and Sitatunga a rare aquatic antelope.
For those intending to extend their stay in Akagera beyond game drives, the rural communities neighboring the park including cattle keepers and cultivators offer cultural experiences including banana beer activity, milking long-horn cows and visiting a nursery school available for booking in the morning and afternoon.
Getting to Akagera by road from Kigali capital city is 110 sq.km (3-4 hours' drive) and by air through Akagera Aviation helicopter flights.
Trekking mountain gorillas
Rwanda offers the shortest gorilla safaris in terms of accessibility. Volcanoes National Park is 105 sq.km (2-hours' drive) from Kigali capital city which is possible for those intending to do a day gorilla trek. Rwanda gorilla permit costs $1500 and is definitely worth it owing to the fact that gorilla tourism contributes $1.49 million to local economic development according to Rwandan Development Board (RDB). With a maximum of 8 visitors allowed to visit the gorillas for an hour in their natural habitat. Rwanda gorilla trekking offers an off-the beaten path experience.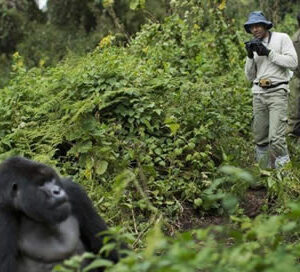 Volcanoes National Park is located in the Virunga Mountains - a habitat for mountain gorillas and golden monkeys. The park is famous for gorillas and is home to Karisoke research center of Dian Fossey Gorilla Fund International (DFIGF), a non-profit organization for gorilla conservation in Africa. DR Dian Fossey is remembered for her dedication to save gorillas in Rwanda. In honor of her efforts, visitors can visit Fossey graveyard in addition to gorilla trekking. Covering 168 sq.km, the park's area is limited for the growing population of gorillas including 12 families which have been habituated for tourism. The need to protect and expand the habitats compelled the increase of compelled the increase of Rwanda gorilla permit cost to $1500 which has positioned Rwanda for luxury gorilla tours with establishment of high-end eco-lodges in Volcanoes National Park including Bisate Wilderness Lodge and Singita-Kwitonda Lodge. Hiking in the park to see gorillas is challenging owing to the nature of terrain ranging from 2400m to 4500m with open bamboo and tropical forest vegetation.
Besides gorillas, the park offers golden monkey tracking and excellent bird watching opportunities with 178 species of birds of which 13 are Rwenzori mountains and Albertine Rift Endemics including purple-breasted sunbird, Rwenzori turaco, handsome francolin, collared sunbird, masked apalis among others such as great blue turaco, scarlet-chested sunbird etc. Going for Village walk is a good thing for community conservation at the Gorilla Guardians Village located outside Volcanoes National Park. Formerly known as Iby'iwacu Cultural Center, the community tour includes an entertaining session for Rwandan traditional dance, music and marriage performances at the king's palace.
Chimpanzee trekking and Canopy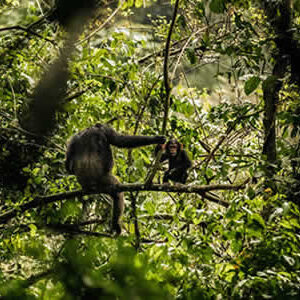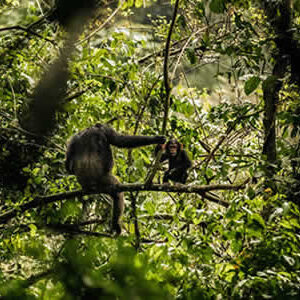 Nyungwe Forest National Park covers an area about 1000 sq.km of lowland and montane tropical vegetation including Cyamudongo forest (300 hectares) located within the Albertine Rift Valley southwestern part of Rwanda. Established in 2004 to protect its rich biodiversity, Nyungwe boasts of harboring 13 species of primates including chimpanzees, Hamlyn's monkeys, L'hoest monkeys, 400 troop of Angalo colobus monkeys as well as olive baboons, velvet monkeys; over 300 species of birds of which 16 are and Albertine Rift Endemics including Graur's swamp warbler, strange weaver, Rwenzori turaco etc.; 120 butterflies, over 1100 plant species and 96 mammal species including giant forest hogs, leopard, forest elephants and buffaloes, bushbucks, western tree hyrax etc.
A trip to Nyungwe offers visitors a chance for chimpanzee trekking, canopy walk experience, bird watching, hiking and colobus monkey tracking. The canopy walk on the suspension bridges (56 meters high above the ground) offers a chance to take breathtaking photos. The floor of the bridges are built well, you cannot see through which makes it less scary for children. It begins with a 1-hour hike along the Igishigishi trail from Uwinka visitor center. For those interested in exploring nature, there are more than 13 hiking trails including Kamiranzovu waterfall hike and Congo-Nile divide trail for mountain biking around Lake Kivu. Make sure you wearing hiking shoes and long pants owing to the nature of thick vegetation. Chimpanzee trekking in Nyungwe forest takes place in Cyamudongo forest (1700m – 2100m) which is 52 sq.km (1-hr 30 minutes' drive from Uwinka.
The park is 218 km (4-5 hours' drive) southwest of Kigali capital city and 204 km east of Gisenyi and Lake Kivu. Getting to Nyungwe forest is also done by air at Kanombe airport which is 33 km away from the park.
Bird watching in Rwanda
Protected areas of Rwanda including Nyungwe Forest, Akagera, Volcanoes and Gishwati-Mukura National Parks are home to over 650 species of birds. Rwanda is a must visit destination for bird watchers. Popular places to visit for birding in Rwanda include Nyungwe Forest National Park with over 300 bird species including 16 Albertine Rift Endemics.
In addition to wildlife, Rwanda offers a variety of activities including Kigali city tour, Lake Kivu beach holiday, hiking Virunga Mountains including Karisimbi, Bisoke and Muhabura volcanoes.