The 3 days Lake Mburo tour brings you in touch with one of Uganda's most iconic safari destinations with a variety of antelope species as well as an assortment of bird varieties. The Park is an extension of the Tanzanian savannah grassland plains coupled with rocky hills and savannah woodlands. It is one of the least visited and the smallest of all Ugandan savannah national parks yet with a hugely rewarding fauna and flora density
Its cluster of small lakes adorned with swampy shrubs along their peripheries are home to beautiful aquatic life including but not limited to crocodiles, hippos and the swamp dwelling antelopes like the rare sitatunga.
The park is also home to enormous birdlife that occupy the different vegetation zones. Notable among these is the rare shoe bill stork that can be sighted around the swampy areas and the endemic African fin foot as well as several woodland birds.
3 Days Lake Mburo Tour - Trip summary
Day 1: Pick up from Entebbe or Kampala and transfer to L. Mburo NP and afternoon boat cruise.
Day 2. Nature walk/ Horseback ride and afternoon game drive
Day 3. Cultural experience and transfer back to Entebbe.
Detailed 3 days Lake Mburo Tour Itinerary
Day 1: Transfer to L. Mburo NP and afternoon boat cruise. (about 4hrs drive)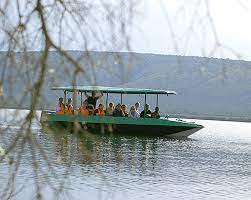 In the morning, your driver guide will meet you at the hotel or airport for a meet and greet. After tour briefing, you will set off to L. Mburo NP in the south western part of Uganda. This 228km drive takes about 4hrs but could take slightly more time with en route stop overs for sightseeing and pictography. First, a mini stop at Mpambire town (about 40 mins drive into the journey) to see the Buganda drum makers and their well-crafted drums could interest you as you marvel at the artifact of one of Africa's medieval musical instruments; the drum. You will find out that different drum types have different meanings and roles. You will proceed for another stop at the Equator to take pictures and witness a water experiment to prove to you that you are standing in the centre of the earth; where the northern hemisphere meets the southern hemisphere. Our driver guides prefer to have breakfast there in case you left the hotel without breakfast. You will then proceed on your journey to L. Mburo NP, arriving by early afternoon to check in at your lodge. In the afternoon, embark on a boat cruise along L. Mburo for a chance to see hippos and crocodiles sun bathing during the hot afternoons. You could be lucky to see more wildlife species including buffalos as well as zebras and several antelopes that usually come to quench their thirst. You could also witness some interesting bird species. You will then retire to your lodge. Overnight at Mpogo lodge or Rwankobo lodge (deluxe)/ Kigambira game lodge or Mihingo lodge (luxury)
Day 2: Horseback riding / Nature walk and afternoon game drive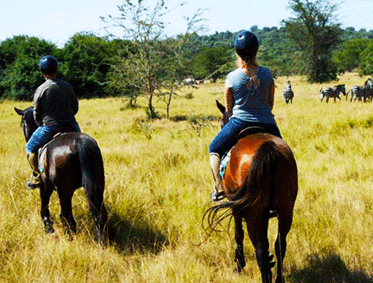 In the morning, you may choose to embark on a horse back safari around the park using the Mihingo lodge horses as your horse back guide leads the way. This is an interesting activity and sport as you will not only enjoy the beautiful experience of riding your own horse but also have a chance to view the game while on the back of a horse. The experience will be reminiscent of the historical cow boy lifestyle you could have read about in books or watched in movies about the Texas cow boys.
Alternatively, you may go for a nature walk to the salt lick where most animals usually gather in the morning to lick the salty rocks. The magnificent views from a wooden platform of the unsuspecting animals will captivate you. You will then return to your lodge for recuperation. In the afternoon, roll out for a game drive in your safari vehicle as you traverse the park through its demarcated tracks to explore its diverse biodiversity. While on this drive, you may expect animals like buffalos, giraffes, zebras, impalas, elands, topis and if you are lucky, you could as well come across the elusive leopard and the hyena. You will return to your lodge to relax in the evening.
Day 3: Cultural experience and transfer back to Entebbe
In the morning, you will drive to Mpogo lodge and delve into the Ankole culture, specifically the Hima traditional way of life that is very much associated with a strong bond with their Ankole long horned cattle. You will be taken through a herdsman's way of life that starts very early at around 6am with cow milking and then learn about the entire process of making ghee and many other products as well as the norms and beliefs of this society. The sight of the magnificent long horned Ankole cattle with their large and elegant white horns that sometimes grow up to 2 meters long, is itself rewarding. You will then embark on your journey back to Entebbe with a relaxed drive, reaching in the late afternoon for drop off at your hotel or airport.
End of Tour
The above tour costs USD950 per person in deluxe and USD1250 per person in luxury accommodation
Safari Lodges & Vehicles