Join our customised 13 Days Uganda gorillas and wildlife safari for game viewing and Launch experience in Murchison Falls National Park, Lake Mburo National parks and Queen Elizabeth National park. The safari also takes you to Bwindi forest National park for gorilla trekking and Kibale Forest National park for chimpanzee trekking and bigodi wetland nature walk.
Trip Summary
Day 1: Pick Up and Transfer to Jinja
Day 2: Jinja - Kampala
Day 3: Kampala – Murchison Falls National Park
Day 4: Game Drive/ Launch Cruise
Day 5: Murchison Falls – Kibale National Park
Day 6: Chimps Tracking
Day 7: Transfer to Semliki National Park
Day 8: Transfer to Queen Elizabeth
Day 9: Game drive &Launch Cruise along the Kazinga Channel
Day 10: Transfer to Bwindi
Day 11: Gorilla tracking
Day 12: Transfer to L. Mburo National Park
Day 13: Transfer to Kampala
Detailed Itinerary
Day 1: Pick Up and Transfer to Jinja - Source of the River Nile for Rafting.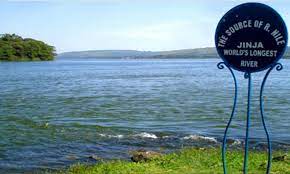 After an early breakfast our guide will pick you up from your hotel and transfer you to the source of River Nile in Jinja. You will have a brief tour to the Ssezibwa Falls that are believed to have been born by humans many years ago. You will be welcomed by the hissing of the waterfalls as you make your way through the thick green shrubbery hides with a variety of nature's wonders like the birds. You will then raft the whole afternoon starting at the Nile for about 31km. You will spend the Night in Jinja town at Jinja Nile Resort Hotel / Hotel Triangle.
Day 2: Jinja - Kampala
Have breakfast to have an interesting time at the adrift site while you bungee jump, kayak and do some quads. It is a breathtaking experience! Dinner and overnight in Kampala
Day 3: Kampala – Murchison Falls National Park
Our company guide will pick you from your hotel after your breakfast and leave for Murchison falls national park. Have an enroute lunch stopover in Masindi town with a detour at the Zziwa Rhino Sanctuary. Proceed to the park and marvel around the magnificent top of the falls and have fun during the hiking experience with a breathtaking sight of the raging Nile as it forces its way through a rocky gap.
Day 4: Game Drive/ Launch Cruise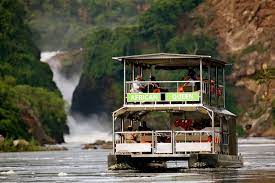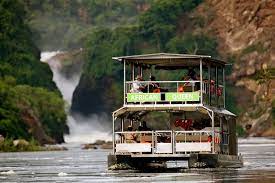 An early morning game drive on the Northern Bank of the Murchison Falls National Park after your breakfast will reward you with possible sightings of animals that are unique to the African Savannah like giraffe, elephant, antelope, lion, and the Uganda Kob. After lunch you will take a launch cruise on the Nile that will take you to the bottom thriving falls. Were you may possibly spot the huge crocodiles, hippos, buffaloes, elephants and a variety of water birds like herons, ducks, cormorants, bee-eaters, skimmers, kingfishers, fish eagle and the rare shoebill.
Day 5: Murchison Falls – Kibale National Park
Spend this day on a long drive from Murchison Falls national via Hoima and the Great Western Rift Valley. If you never took with you packed lunch, then you may make a stop-over in Masindi for lunch and then proceed to the park.
Day 6: Chimps Tracking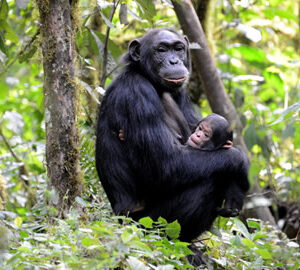 Assemble at the park headquarters after your breakfast for briefing about the tracking code of conduct before you go for chimpanzee tracking in the Kibale tropical rain forest. While tracking the chimps, you may come across other primates and mammals like the Red tailed monkeys, black and white colobus monkeys, the Blue Mangabeys, Bushbucks, Warthogs, Bush pigs, Duikers, Golden cats among others, several bird species including African Pita, Warbler, and Blue headed sun bird among others.
Day 7: Transfer to Semliki National Park
Today you will leave Kibale after your breakfast for the crown and hot springs. Enjoy a game drive in the jungle that hosts variety of bird species with exceptional primates which may include black-and-white colobus, De Brazza's monkey, vervet monkey, red-tailed monkey, grey-cheeked mangabey, olive baboons and blue monkeys upon your arrival in the park. After your lunch a visit to the geothermal Sempaya Hot springs through the loveliest tracts of the Semliki forest will reward you with clear views in to the forest canopy to spot monkeys and birds.
Day 8: Transfer to Queen Elizabeth
After an early breakfast, leave for Fort portal. Detour the Kings Royal tombs in Fortportal besides other cultural groups like the Burungu community which is rooted in Traditional Toro culture where you will be exposed to their ways of life through their music, dancing and storytelling. Spend the whole half day with the local community and on village walks/tours and in the afternoon you will be transferred to Queen Elizabeth National Park for Dinner and over night at Mweya safari lodge
Day 9: Game drive &Launch Cruise along the Kazinga Channel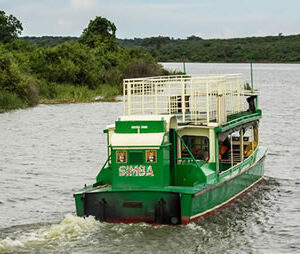 Today you will have an early morning game drive after your breakfast along the Kasenyi track and the Queens mile. Expect to see Lions, Elephants, Cape buffalo, Warthogs, leopard, hyena, mangoose, waterbucks, Uganda kobs, Topi and lots many small animals and birds. After your lunch you will take launch cruise on the Kazinga channel and into the Lake Edward through the known place for the highest concentration of Hippos. You will also be rewarded with views of other animals as they drink on the shores. The cruise also offers an excellent platform for photography besides game viewing and bird watching.
Day 10: Transfer to Bwindi
Today you will depart for Bwindi, through the southern sector of the park; you will drive through the Ishasha sector where you will have spectacular views of the famous tree climbing lions as the rest up in the fig trees. Take a community walk in the nearby villages after your lunch and get exposed to their ways of life.
Day 11: Gorilla tracking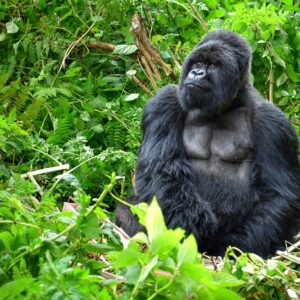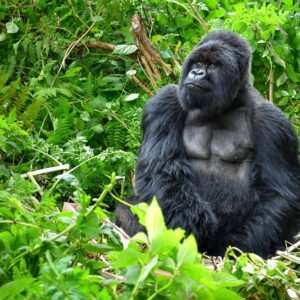 Have an early breakfast after which you proceed to the park headquarters for briefing on the tracking code of conduct then continue on for the trek. You will trek, with your guide, to find the family of the mountain Gorillas and you will have a memorable experience of viewing them in their nature habitat. In the evening, a forest walk will reward you with views of other residents in the impenetrable forest. Possible sightings may include bird like the Crimson wings, sunbirds, starlings, Illadopses warblers and many more. Dinner and overnight at Gorilla resort
Day 12: Transfer to L. Mburo National Park
After your breakfast you will drive through Uganda's rolling green hills to Lake Mburo National park. You will have lunch and go for an afternoon boat ride on Lake Mburo. Possible sightings on this trip may include a variety of animal species as they drink on the lake shores, for example the hippo, and crocodile. However sightings of the Papyrus gonolek, blue headed coucal, southern ground hornbill and mosque swallow may be possible on this trip. Dinner and overnight at Mihingo lodge
Day 13: Transfer to Kampala
Enjoy a game drive in the park after your breakfast before you drive back to Kampala. Expect to see the Impala, oribi, zebra, buffalo, elephant and topis among others. You will proceed to Entebbe International airport for departure.
Included in this tour package;
• Gorilla Permits
• Nyiragongo hiking fees
• Park Ranger Fees
• Relevant Government Taxes
• Full Board Accommodation
• Full-time English speaking Driver/Guide
• Ground Transportation by a 4×4 safari vehicle
• Airport transfer, as long as your flight is on the same day on which the safari ends.
Exclusions:
• Airfares
• Visa Fees
• Personal Insurance
• Expenses of personal nature such as; drinks, tips, laundry, telephone, cigarettes, accommodation & meals not indicated in the itinerary and optional activities
Safari Lodges and Vehicles