Are you planning an African safari to Rwanda? Check the detailed travel tips to Rwanda for those trekking to see gorillas, chimpanzees, birds and game safaris with Gorilla Trek Africa Limited. We believe the information below will be useful to you before you come to Rwanda and Uganda for your adventure safari with us. We shall provide you more information 2 weeks prior to the commencement of your trip. You need information such as weather conditions, lodges, driving time duration from one destination to another, tipping, emergency call numbers and contact phone numbers of your tour guide.
INSURANCE
We do our best to minimize or eradicate risks in all safaris organized by Gorilla Trek Africa. Nevertheless we encourage you, before commencing your safari, to seek travel insurance cover in respect to delays and unexpected cancellations; loss of baggage, etc. We advise our prospective guests to contact reliable Insurance companies such as World Nomads & Worldwide Travel Insurance for excellent coverage
Some of our safaris in East Africa may require proof of vaccinations, medical coverage or evacuation coverage before we allow you to proceed with confirmation of your safari.
MONEY
The Rwandan franc ( FRW, and possibly RF o RWF) is the Rwandan currency. It is subdivided into 100 centimes. A proposal exists to introduce a common currency, a new East African shilling, for the five member states of the East African Community (ref. http://en.wikipedia.org/wiki/Rwandan_franc). The Rwandan exchange rate was last updated on October 22, 2013 from Yahoo Finance. The RWF conversion factor has 5 significant digits. Banknotes and coins are both used as legal tender for Rwanda. You can exchange money in the several exchange bureaus in Kigali city, right from the airport. However it is advisable to exchange foreign currency outside
Kigali city.
Most Banks open from 08.00 am – 8.00pm on weekdays (Monday to Friday) and on Saturday 8.00am 1.00 pm; on Sundays 10.00 am to 6.00pm. On the Umuganda Day banks in Kigali open from 2.00 to 6.00pm. Credit cards are acceptable at most supermarkets, restaurants and accommodation in Kigali. In the rural areas it is only money in Rwanda Francs that they can comfortably accept.
Most banks in East Africa have difficulty accepting MasterCard. In Kigali counter service for withdrawals at Ecobank and Access Bank accept MasterCard withdrawals at a price.
Bank of Kigali (In Town)
ATMs at bank of Kigali accept international visa cards. They offer 2 options: either Rwanda francs or Dollars. However they are inconsistent as they are on and off. Many times, one has to walk to the bank counters with a visa or MasterCard, Pin number and the passport to be helped though at a small cost.
Access Bank (Inside UTC 2nd Floor)
To withdraw money from your debit or credit card, one has to go to the counter and show a passport.
Fina Bank ATM (In downtown past the Gorilla roundabout towards Serena Hotel)
Note: –
– ATM withdrawals have a limit of $700 a day.
– Be aware that plastic bags are strictly not allowed in Rwanda. Ensure you use paper bags for packaging.
Airlines operating in Kigali airport
Kigali airport is a small but well organized airport by international standards. There are several international flights operating in this airport including:-
• Dutch KLM airline started operations to Kigali from Amsterdam on 31 October 2010
• Brussels Airlines flies to Kigali from Brussels in Belgium
• Kenya Airways has daily flights from Nairobi
• Ethiopian Airlines operates daily between Addis Ababa and Kigali
• South African airways has daily flights between Kigali and South Africa
• Rwandair, the national carrier, has several daily flights to various African destinations, as well as Dubai in Middle East.
• There are regional flights between Kilimanjaro in Tanzania and Kigali daily
• Turkish Airlines begun flights to Kigali from Istanbul in May 2012
Gorilla Trek Africa can help you to book flights for you.
It is advisable to have a Yellow Fever certificate before boarding any plane to destinations such as Tanzania and South Africa. Immigration Officials at the airport will not hesitate to request for it. Some announcements are not loud enough. So as you sit in the café at the airport be very attentive as most times there are overbookings on some airlines whereby you may end up left at the airport.
DIETARY REQUIREMENTS
In case you have special dietary requirements, make sure it is communicated to our tours consultant, Nicholas.
Gorilla safari packing list
1-2 long sleeved shirts
– 3 short sleeved t-shirts
– 2 –3 pairs of light weight slacks/trousers – that can dry quickly (if wearing on treks)
– 1 pair of shorts
– A waterproof and windproof jacket
– 1 skirt ( for women)
– 1 sweater or sweatshirt
– Pair of sports sandals like Tevas
– Lightweight wool socks
– Gloves – gardening or similar (for gorilla trekking)
– Strong waterproof walking boots – pants should be tucked into socks and boots while trekking (heavy soled rain boots also work well)
– Hat-wide brim or with a visor for sun protection
– Sleepwear
– Underwear
– Swimsuit (and a plastic bag)
Miscellaneous
– Sunscreen
– Insect repellent with DEET
– Small day pack
– Kleenex tissues
– Sunglasses with neck strap
– Camera and extra lenses
– Flashlight
– Prescription medicines and possibly prescription itself
– Binoculars
– Extra batteries
– Film particularly fast film for the gorillas.
– Personal toiletries
– Small notebook
First Aid Kit with anti-diarrhea, motion sickness pills, rehydration sachets, medicine, aspirin, cold medication, antiseptic cream, band-aids, lip balm, eye drops and personal medication.
Electric sockets in Rwanda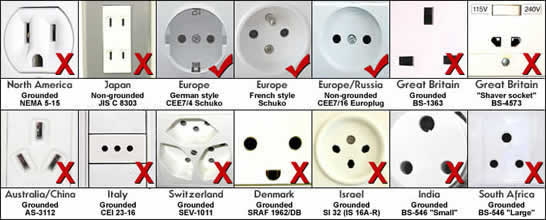 In Rwanda, the electrical sockets (outlets) used are the "Type C" Europlug and the "Type E" and "Type F" Schuko. Often times we advise our guests to travel with plug adapters since many of our guests to Rwanda end up crossing to Uganda as well where the sockets are also different.
The Rwanda electrical sockets (outlets) supply electricity at between 220 and 240 volts AC. If you are to plug in an appliance that was built for 220-240 volt electrical input, or an appliance that is compatible with multiple voltages, then you need an adapter.
Travel plug adapters do not change the voltage. The electric current coming through the adapter has to be the same 220-240 volts the socket is supplying. United States of American sockets supply electricity at between 110 and 120 volts, far much lower than in most of parts of the world.
NB: The ticked sockets are those supported in Rwanda
Rwanda climate
Rwanda is mountainous country in nature. Owing to her closeness to the Equator, Rwanda enjoys a tropical temperate climate. Her average annual temperature ranges between 16 and 20°C. In the Volcanoes national park area the temperature may at times get as low as 0°C. In the intermediary altitude (the lowland East and West), average temperatures vary between 19 and 21°C. Winds are normally around 1-3 m/s. Rainfall is quite enough despite some irregularities at times. Rainfall ranges from about 900 mm in the east and southeast to 1500 mm in the north and northwest volcanic areas of Ruhengeri.
Rainfall is generally well distributed throughout the year, with some spatial and temporal variability. Eastern and southeastern regions are the most affected by prolonged droughts while the western and northern areas receive heavy rainfall that at times culminate into soil erosion, landslides and flooding. The spatial variability is due to the complex topography and the existence of large water bodies within the Great Lakes Region.