As you travel to Uganda, Kampala is the first stop Centre before proceeding to other tourism destinations in the country. Roughly 40 kilometers from Entebbe international airport, Kampala city is a hub for tourism in Uganda and a getaway to all other tourism sites in different parts of Uganda. The capital site is good for urban tourism offering a variety of excursions ranging from historical, cultural. Religious and urban life all, which make your pre- experience surely memorable. Explore Kampala, the capital city of Uganda with Gorilla Trek Africa, the number one travel agent. Among the most visited tourism sites in Kampala city include:
Kasubi tombs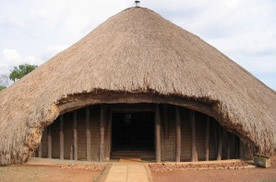 Located just 5 kilometers from the city center, this site is the burial ground for the past kabaka's of Buganda kingdom and other members of the royal family. Interestingly, kasubi tombs are regarded as UNESCO world heritage site in Uganda and are an important spiritual site for the people of Buganda kingdom. As of present, the bodies of four kabaka's of Buganda who were kabaka Muteesa1, kabaka MwangaII, kabaka Daudi ChwaII and kabaka Sir Edward Muteesa11 have been laid at kasubi burial ground. Travelers have an opportunity to see various cultural objects that represent the kingdom of Buganda such as drums, spears, arrows and back cloth among others. Travelers are also taught the history of Buganda kingdom hence increasing their understanding of culture.
Kampala city trekkers


Here travelers ride on motorcycles along the streets of Kampala and to different tourism sites all over Kampala. Smart boda-boda guys dressed in helmets and speaking fluent English ride you safely to whereever you want to go and at a negotiable price. Our guide will escort you to each tourism site for detailed information.
The Uganda museum
This is the custody of Uganda's traditional culture. You travel just a few kilometers from the city center along Kiira road to the Uganda museum a historical site in Uganda. On reaching there, travelers are exposed to various ethnological and natural historical collections of Uganda culture. The ethnography gallery contains over 100,000 historical objects such as the bark cloth showcase, traditional justice showcase, Gomesi and Kanzu traditional outfits and traditional wooden stools among others.
Gaddafi national Mosque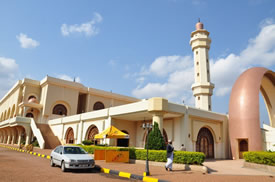 This is the oldest and largest mosque in Uganda situated on old Kampala hill 2 kilometers from the city center. The mosque hosts the headquarters of the Uganda Muslim supreme council and hiking upstairs to the last point provide travelers with a spectacular view of Kampala and the surrounding communities from above. Travelers are also taught in depth the Muslim belief and culture. Guides both ladies and men dress decently in long trousers, as women put on long dresses with veils to cover their heads. Its surely a not miss.
Baha'i temple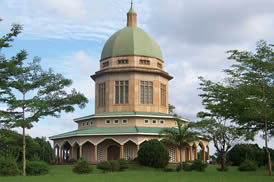 This is the only temple for the Bahal faith in the whole of Africa one of the seven Baha'i temples in the whole world. The temple is approximately 7 kilometers from the city center comprised of the pretty, idyllic gardens, and the quite environment, which make it worth staying. The temple has seven entrances for seven religious faiths in Uganda and all people are allowed to enter freely. The beautiful gardens are good for photography and relaxation. Travelers are also introduced to the history of the Bahal, faith that make it interesting.
Nakasero market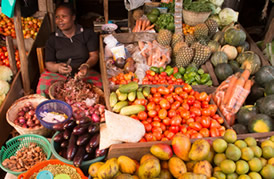 This is Kampala's famous market situated in Nakasero in the city center is one of the busiest and biggest market in Kampala. The market supplies everything including clothes, row and dry foods, metals, shoes and other utensils. Travelers always visit Nakasero market to interact with traders and shop various products which include processed goods, spices, fruits, vegetables, beans, electronics, rice, textiles, chicken and spices among others. Prices vary depending on one's bargaining power and the quality of the product.
A city tour in Kampala is the first experience to enjoy in Uganda in addition to other experiences in Uganda such as mountain gorilla trekking, game viewing, chimpanzee tours, bird watching and bird watching among others.