The 5 days Congo Nile trail is an exceptional package taking you for cycling through the rolling hills of Rwanda with spectacular views of lake Kivu, national parks, kigali city and the beautiful sceneries of local communities. The Nile trail follows rocky dirty roads winding up to the numerous hills connecting Gisenyi to kamembe. You will have several stopovers at local shops, guesthouse and camping sites. The trip starts in Gisenyi ending in kamembe.Cycling offers you opportunity to meet and interact with local people who share their traditions, norms, customs and beliefs. Enjoy scenic views of tea plantations, banana farms and local homesteads as you ride through. You are advised to be physically fit and mentally ready since this experience is somewhat strenuous but worth the effort. In most cases, Congo nile trail is done as a complement to mountain gorilla trekking , golden monkey trekking, chimpanzee trekking, canopy walk, bird watching, cultural tours and mountain hiking among others to make a complete package. Gorilla Trek Africa, the number one gorilla safari company in East and Central Africa is your best guide on this 5 Days safari
Trip summary
Day 1: Gisenyi to Kinunu
Day 2: Kinunu to Kibuye
Day 3: Kibuye to Mugonero
Day 4: Mugonero to Kibogora
Day 5: Kibogora to kamembe
Detailed Itinerary
Day 1: Gisenyi to Kinunu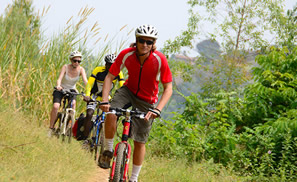 This is the first day of cycling. After a morning breakfast, set off from Gisenyi roughly 41 kilometers to kinunu. You will ride on the steepest elevation, which will take you roughly 5 to 6 hours. Dinner and overnight at Kinunu guesthouse.
Day 2: Kinunu to Kubuye
Have breakfast, and setoff for kibuye. This is quite a strenuous and taxing ride through the hilly ridges, which spread over Kibuye. Expect to ride for 50 kilometers, which will last for roughly 5 to 8 hours ride. Dinner and overnight at Home Saint Jean.
Day 3: Kibuye to Mugonero
After a morning breakfast, get on to your bikes and set of for Mugonero which is roughly 35 kilometers from kibuye. This day is a short and less tiring since it does not include highest elevation. The ride takes you 2- 5 hours on an average speed. Dinner and overnight at L'Esparance Guesthouse.
Day 4: Mugonero to Kibogora
On this day, you will ride descending to the lake kivu roughly 144o meters down after which you will ride back to 1750 meters above the sea level. The ride ascending is roughly 10 kilometers. Dinner and overnight at Kibogora guesthouse
Day 5: Kibogora to Kamembe.
This is the last day of riding. Have breakfast and ride approximately 54 kilometers on a tamarck road to kamembe. This ride is less strenuous with minor hills, which make it easy to ride through. It will take you 5 to 6 hours reaching in the early evening. Dinner and overnight at Peace Guest House.
You are reminded to bring a camera, rain jacket, enough drinking water and sunscreen for a memorable experience.
Included in this tour package;
• Park Ranger Fees
• Relevant Government Taxes
• Full Board Accommodation
• Full time English speaking Driver/Guide
• Ground Transportation by a 4×4 safari vehicle
• Airport transfer, as long as your flight is on the same day on which the safari ends.
Exclusions:
• Airfares
• Visa Fees for Rwanda
• Personal Insurance
• Expenses of personal nature such as; drinks, tips, laundry, telephone, cigarettes, accommodation & meals not indicated in the itinerary and optional activities.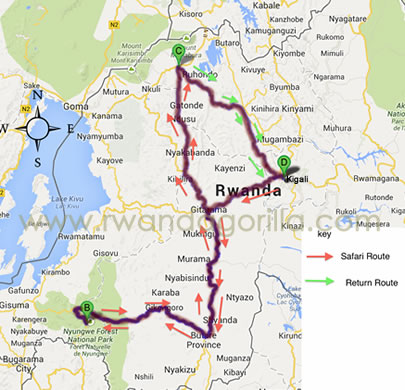 Safari Lodges and Vehicles