The 3 days flying gorilla tour to Bwindi starts from Entebbe international airport to either Kihihi or Kisoro near Bwindi impenetrable national park. This flying safari designed to help those travellers who don't want to undertake long road distances to connect to Bwindi easily. The flight takes about 45 minutes which cannot be compared to about 10 hours that are taken to reach Bwindi via road.
3 days flying gorilla tour to Bwindi – Trip Summary
Day 1: Fly to Bwindi National Park
Day 2: Mountain Gorilla Tracking and afternoon nature/cultural walk
Day 3: Transfer to the airstrip and fly to Entebbe
Detailed Itinerary of the 3 days flying gorilla tour to Bwindi
Day 1: Fly to Bwindi National Park.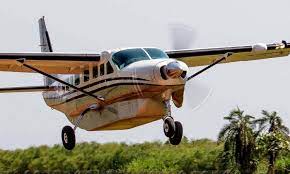 You will be picked from the hotel and in Entebbe and be dropped off at the airport to board your flight to Bwindi NP. It is about 45mins to 1hr flight to any of the two airstrips serving Bwindi NP. If your gorilla permits are secured in the eastern part of the park (Ruhija tracking section) or northern part (Buhoma tracking section), you will fly to Kihiihi airstrip and in case your permits are secured in the southern part of the park (Rushaga and Nkuringo), you will fly to Kisoro airstrip. Upon arrival, our driver guide will pick you up and drive you to your lodge. Overnight and dinner at Gorilla heights lodge/ Clouds Mountain Gorilla lodge (southern section)/ Mahogany Springs / Buhoma lodge (northern section)
Day 2: Mountain Gorilla Tracking and afternoon nature/cultural walk.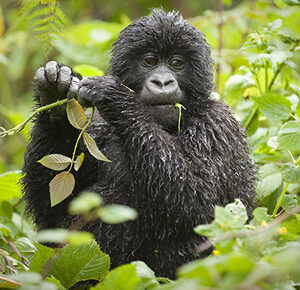 Assemble at the park headquarters for a briefing in the morning together with your trekking gear, a snack and drinking water. The Park officials will belief you about the dos and don'ts while you are on the trek and then allocate you gorilla groups to track after dividing you into groups of 8 people maximum. You will then ascend into the forest to track the gorillas as your park guide and rangers lead the way. Once you have caught up with them, you will be allowed not more than an hour to observe, learn and take photos of these gentle giants before returning to your lodge. In the evening, you may go for a community visit to learn about the traditional lifestyle of the Batwa pygmy community. Dinner and overnight stay at your Lodge.
Day 3: Transfer to the airstrip and fly to Entebbe.
In the morning after breakfast, your driver guide will drive you to the airstrip to catch your flight to Entebbe where you will board your international flight from or transfer yourself to a hotel of your choice.
Price: USD3400 per person
Safari Includes
-Gorilla permits
-airstrip pick up
-Ground transfers
-internal Flights
-accommodation on full board including non-premium drinks
-Park entry fees
Excluded; country visas, tips, and any other activity not included in the itinerary.
More about the 3 days flying gorilla tour to Bwindi
The 3 days Uganda gorilla tour is a flying package which will help you avoid the long journey to and from Bwindi NP with Gorilla Trek Africa. You will sleep at some of the most luxury lodges in the area and enjoy the ambiance of nature in this ancient tropical rainforest. You will enjoy the panoramic aerial views of the fascinating landscape from your aircraft seat as your traverse the countryside.
The 3 Days flying safari to Bwindi forest saves you many hours of driving (roughly full day) via districts Masaka, Mbara, Kabale and other districts. Bwindi Impenetrable Forest National park is home to the highest population of gorillas in the whole world. The trip offers you chance to meet face to face with the endangered gorillas in their natural habitats. 17 gorilla families have been habituated for trekking in Bwindi Impenetrable Forest National Park. These are Habinyanja, Nkuringo, Rushegura, Mubare, Nshongi, Oruzogo, Katwe, Christmas, Kutu, Mishaya, Busingye, Muyambi, Bitukura, Kyaguliro, Mukiza, Mushaho, Binkyingi and Mucunguzi gorilla group.
Bwindi Forest is also a centre for the experimental gorilla habituation experience which takes place in Rushaga gorilla sector. The experience is all about training wild gorillas to make them familiar with people. A single habituation permit costs $1500 allowing you to spend four hours with the endangered primates.
Safari Lodges & Vehicles